Melding Mexico's Supply Chain of the Future
February 21, 2023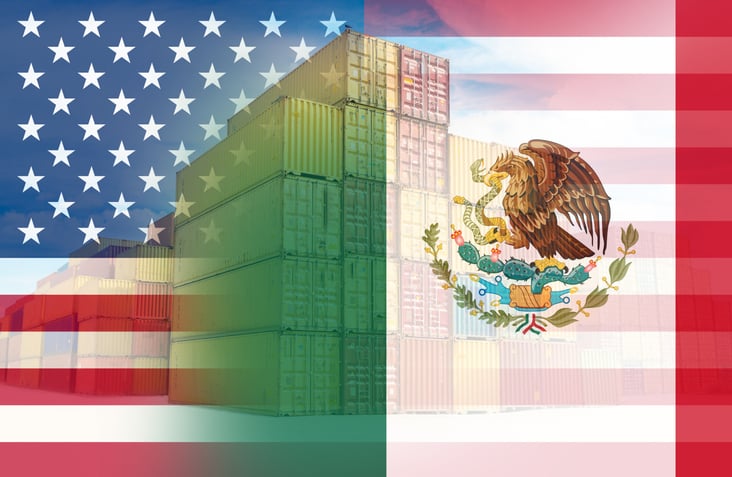 Recent global geopolitical strains and inflationary pressures have caused many supply management professionals to revisit current supply chain client relationships to reassess spend, product quality, logistics efficiencies and ROI.
North American manufacturers, suppliers, carriers and distributors are shifting perspective on doing business in China, with increasing interest in Mexico supply chain viability.
The United States-Mexico-Canada (USMCA) trade agreement of July 2020 is currently managed by the U.S. Customs and Borders Protection Office of Trade, Trade Policy and Programs Directorate. The tri-country agreement supports establishing and encouraging safer supply chains, improving go-to-market speed and reducing sourcing and logistics costs for businesses in the regions.
Survey respondents from the manufacturing sector provided insights on where they anticipate near future supply chain shifts, noted in Institute for Supply Management®'s (ISM®) 2023 Economic Outlook. Twenty-five percent of respondents stated their companies have a supply chain presence in Mexico, with 30 percent of those tied to China supply chains moving or planning to move from that country.
Given the increasing interest in Mexico, Raine Mahdi, CEO and founder of Zipfox, a global sourcing platform connecting importers to factories in Mexico, calls the ideation and 2022 launch of the company "crazy timing."
Sourcing Closer to Home
The premise of Zipfox comes from a procurement mindset and based on an early value proposition: Build the sourcing platform you wish you had when you started. "Mexico remained top-of-mind," Mahdi recalls. "The more I thought about it, the more excited I was," he says, and noted the specific benefits to opening trade with a country void of tariffs, time zone constraints and volatile shipping costs.
Benefits in aligning with a Mexico supply chain are in the average cost and time for shipping. "From Mexico, it can be as much as 75 percent lower than shipping from China," Mahdi says. In addition, he says, for North American businesses, there is no ocean to cross, resulting in a five- to 10-day end to end ship time compared to a typical five- to 10-week delivery from China.
For anyone considering sourcing products or materials from Mexico, Mahdi recommends:
Ask to see examples of products like those of interest
Communicate deadlines up front
Get quotes from more than one supplier
Consider all costs when comparing to China sourcing
Request and review a detailed invoice in advance
Test the relationship with a smaller order
Adjust order details after first successful order received.
Deceptions in Procuring Overseas
Mahdi, having worked as a buyer for years, created another business in 2016, with the focus on serving U.S. importers who were hesitant to try sourcing platforms like Alibaba. Over time, he says, it became obvious that there was "an overarching need for an intermediary sourcing company." Honing his company offerings to packaging, that start-up hit a promising rhythm — until the trade wars began in 2018.
"In the beginning, we were sourcing materials from China, but the correspondence and purchasing were done virtually," he says. "Pricing, the turnarounds for delivery, everything was negotiated to a point that was comfortable, and so I thought, doable," he says. But what his initial suppliers promised did not come to fruition.
Before long, "I realized that what I was told was completely misrepresented. There were no manufacturer relationships, no quality control and no support. The people I was dealing with were individuals, salespeople with laptops posing as 'trading companies' with no direct manufacturer relationships. The products I did receive were of poor quality or with defects. Admittedly, I was scammed," he says, and added that it was a painful, yet valuable lesson. He says the experiences were no different than what other buyers endured.
After several failed attempts, Mahdi landed a relationship with a viable packaging manufacturer providing in-person visits to facilities in China. Once the trade war began, even a top-tier manufacturer in China became less attractive. He considered sourcing from Vietnam, South Korea and India as alternatives to China but "the challenge was in finding direct contact with a trustworthy manufacturer and a safe way to engage them," Mahdi says. Ultimately, the arduous process forced him to step back and take a big picture look at the challenges and how to orchestrate a solution.
Mexico Supply Chain Brings Social Impact
According to research findings from international professional services network Deloitte, equipment and machinery investments made in Mexico, from January 2020 to August 2022, increased by 17.4 percent. Warehouse and industrial plant construction also grew, within the same time frame, by 12.9 percent. But more business engagement within the country can also shed new light on prevalent concerns in the region.
For businesses considering an alliance with Mexico, the subject often prompts other discussions, Mahdi notes. "There's the ongoing struggle with the border, immigration and fentanyl. But what if our partnerships bring better opportunities for their people?" he says. Everyone wants business success but being purpose-driven through relationships can support social responsibility, which is what matters, Mahdi says.
Mahdi acknowledges the supply chain challenge in finding and retaining employees. For him, combatting employment attrition is simple. When doing business in developing countries, "pay employees more than the living wage," he says. "There is no reason to exploit people for the sake of increasing profits. Through their hard work, reward them with good compensation, include stock options for example, as you would for an American employee."
Implementation of new processes will increase visibility and transparency through the procurement-manufacturing-distribution cycle, worldwide, he says.
(Image credit: Getty Images/David Wall)