Report On Business® Roundup: November Manufacturing PMI®
December 01, 2022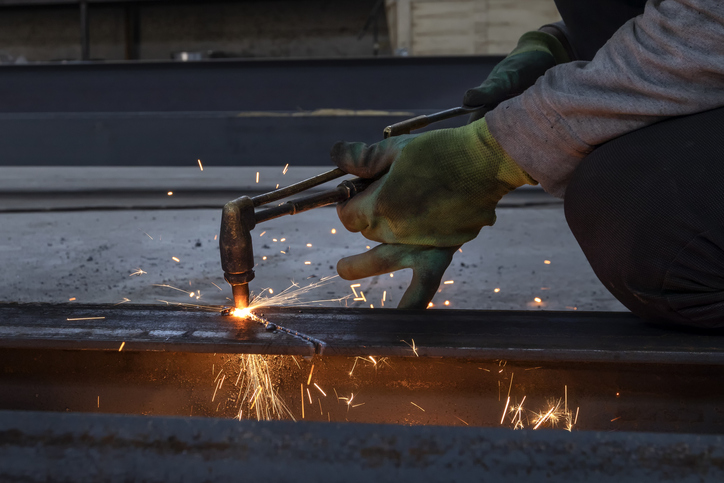 Each edition of the Manufacturing ISM® Report On Business® includes a chart detailing 12 months of composite index readings, and it was not hard to notice a trend that culminated in a pivotal November number.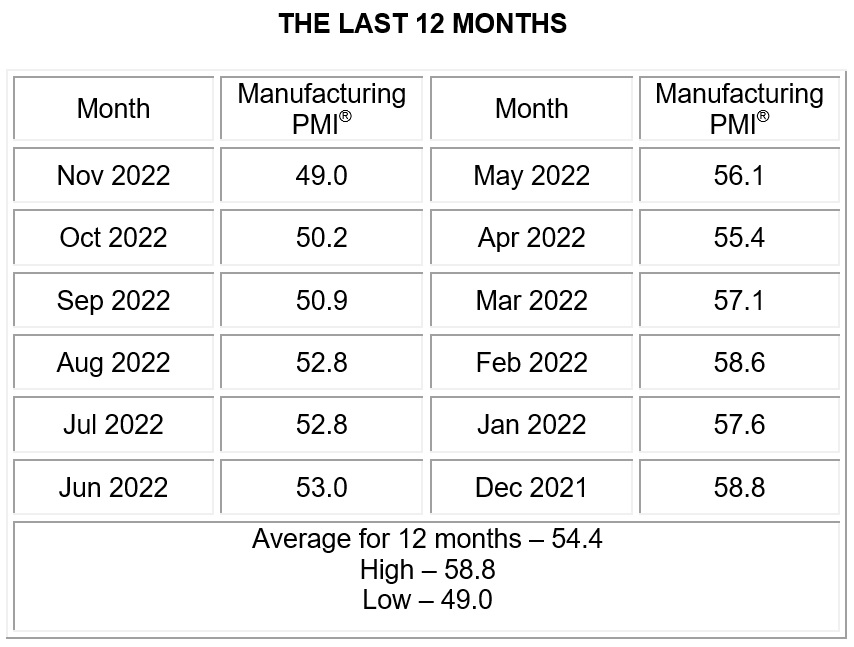 For six months in a row, the lowest Manufacturing PMI® reading on the chart has been the just-released one (with one tie), including the November figure on Thursday. However, that reading was especially notable, as the composite index came in at 49 percent, indicating that U.S. manufacturing activity contracted in November, ending a 29-month period of expansion.
The contraction is the sixth since 2000 for U.S. factories, with the most onerous period from February 2008 to July 2009, when the Manufacturing PMI® was under 50 percent in 16 of 18 months. After a five-month period of shrinkage, the sector expanded slightly in July and August of 2008, before the financial crisis instigated 11 straight months of contraction.
In November, eight of the 10 subindexes registered below 50 percent; the Manufacturing PMI® data was as subtle as a solar flare on the challenges faced by factories and supply chains, from demand to inventories to employment to imports. Still, Timothy R. Fiore, CPSM, C.P.M., Chair of the Institute for Supply Management® Manufacturing Business Survey Committee, said, "I don't think there's anything coming out here that indicates the sky is falling."
Economic activity in the manufacturing sector contracted last month for the first time since May 2020 after 29 months of growth, according to the ISM purchasing managers index.

The index declined to 49% from 50.2% in Oct.

The prices paid component also hit a post-pandemic low

— Nick Timiraos (@NickTimiraos) December 1, 2022
On a conference call of reporters, Fiore noted a critical distinction: The PMI® showed the manufacturing sector in contraction, but it remained above the 48.7-percent breakeven line indicating expansion in the overall economy. Based on historical data, the November reading of 49 percent corresponds to a 0.1-percent annualized increase in U.S. gross domestic product.
The coming months will tell the tale, Fiore said, of whether two potential silver linings — the Supplier Deliveries Index (47.2 percent) showing the best month-over-month lead time performance in more than a decade, and the Prices Index (43 percent) in "decreasing" territory for a second straight month — entices previously hesitant buyers.
"The last two or three months have pointed to the PMI® settling into a range between 48 percent and 52 percent, and at this point, I don't see much that would change that," Fiore said. "I'm hopeful that some demand will come back, as we've had seven straight months of new order rates softening, primarily due to the fact that lead times were extended and prices very high."
Overall, manufacturing activity has weakened, with sentiment at post-pandemic lows, consistent with other surveys. Manufacturers remained challenged by supply chains, workforce shortages, soaring costs and economic and geopolitical uncertainties.

— Chad Moutray (@chadmoutray) December 1, 2022
Fiore said he believes many companies still have, as he put it, "robust production plans for 2023." In that regard, ISM's Semiannual Economic Forecast, scheduled for release on December 15, should provide clarity.
For now, tepid growth in the Production Index (51.5 percent) is complicating many organizations' inventory management — one of the more challenging supply chain disciplines, even in the best of times. The Inventories Index decreased to 50.9 percent in November; with demand and production lower, companies are not taking on extra stock, which is expensive to keep when it doesn't sell.
Meanwhile, the Customers' Inventories Index (48.7 percent) at its highest level since April 2020, another sign of cooling demand. Continuing turbulence surrounding China's zero-COVID policy is an X-factor; the Imports Index (46.6 percent) went into contraction. "The supply chain inventory situation seems to have come into equilibrium," Fiore said. "It will be interesting to see what happens in December in January, if companies can turn their stocks into sales."
Finally, it was an eventful month for the U.S. manufacturing sector if the Employment Index (48.4 percent) contracting is the last item mentioned in this space. Some Business Survey Committee respondents reporting their companies have moved from hiring freezes and attrition to layoffs.
Fiore said that with yet another indication of low demand, the Backlog of Orders Index (40 percent, a 5.3-percentage point decrease from October), some companies felt they lacked the new orders and backlog levels to justify their staffing levels. Among employment-related comments from Business Survey Committee respondents, 14 percent mentioned layoffs.
"That doesn't mean they considered it or talked about doing it next month; that means they did it," Fiore told Bloomberg TV on Thursday. He added, "I think companies took action (because it was) much better to do it in November than around the holidays; you don't want people to go out and drive up their credit cards to find they don't have a job. (Companies) had to pull the trigger because they didn't see strong demand coming in January and February."
The Report On Business® roundup:
Agence France-Presse: U.S. Manufacturing Activity Contracts In November. "While manufacturing output held up despite previous logistics disruptions and shortages, new orders — along with exports and imports — are shrinking. … Data also showed new export orders shrinking for a fourth straight month and the employment index moving into contraction."
Barron's: Manufacturers Just Entered Recession Territory. "The U.S. manufacturing economy is now contracting. The Fed's interest rate hikes are having an effect. … The November reading is the first reading below 50 for the overall index since the early months of the pandemic. PMI® levels peaked at almost 70, in late 2021, indicating very fast manufacturing growth. Things have been slowing down for about a year."
Nov ISM mfg index misses at 49.0 vs consensus 49.7. First contractionary reading since COVID recession. Fwd-looking new orders also missed, 47.2 vs consensus 48.5. Orders below 50 in 5 of last 6 months. Production at 51.5 but orders suggests IP to moderate in coming months. pic.twitter.com/1rdRhBSoG0

— Ken Kim (@KenKim_1) December 1, 2022
Bloomberg: Manufacturing in U.S. Contracts for First Time Since May 2020. "A measure of prices paid for materials used in the production process fell for an eighth straight month, the ISM report showed. Input prices shrank at the fastest pace since May 2020 in a welcome sign goods inflation is easing amid less stress on supply chains. … The overall gauge was further weighed down by shrinking payrolls in the sector, as manufacturers cope with both labor shortages and a moderation in demand."
Mace News: November ISM Manufacturing Index Posts First Contraction Since May 2020 on Lower Orders. "The manufacturing sector is in its sixth contracting phase in the past 20 years, (Fiore) said. Previously, the ISM Manufacturing PMI posted contraction just before the pandemic hit the global economy, from August to December 2019 and from March to May 2020. The deepest slump in the past two decades was recorded from September 2008 until July 2009 (the bottom was 34.5 percent in December 2008), triggered by the U.S. credit crisis."
Markets drop on lower than expected ISM Manufacturing PMI.

Buckle up, it might get volatile.

— Game of Trades (@GameofTrades_) December 1, 2022
MarketWatch: U.S. Factories Face Toughest Time Since Start of Pandemic in 2020. "Manufacturers are bearing the brunt of the slowdown in the U.S. economy brought about by higher interest rates. The Fed is raising rates to try to tame the worst inflation in 40 years. Consumers have also shifted spending from manufactured goods to services such as travel and recreation. That's also reducing demand."
Reuters: U.S. Manufacturing Sector Contracts in November. "Manufacturing is also being pressured by the rotation of spending back to services from goods as the nation moves away from the pandemic. The ISM survey's forward-looking (New Orders Index) dropped to 47.2 (percent), remaining in contraction territory for a third straight month. Order backlogs also dwindled further also a function of improving supply chains."
ISM's Services PMI® will be unveiled on Monday, and the Hospital PMI® on Wednesday. For the most up-to-date content on the reports under the ISM® Report On Business® umbrella, use #ISMPMI on Twitter.
(Photo credit: Getty Images/Funtay)