COP27 2022 Brings Climate Balance Closer
November 15, 2022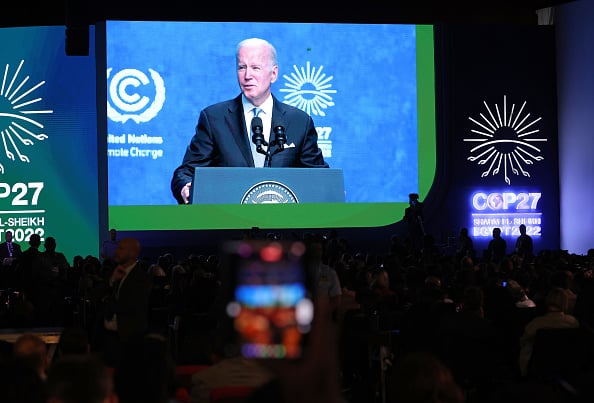 President Joe Biden is projected on a large-screen video monitor as he speaks at COP27, the United Nations climate conference, last week in Sharm el-Sheikh, Egypt. (Photo credit: Getty Images/Sean Gallup)
One hundred international leaders were immersed at COP27, the annual United Nations (U.N.) climate conference in Sharm el-Sheikh, Egypt, sharing each nation's status on decarbonization, sustainability and its subsequent impact worldwide. For nearly two weeks, discussions meant to move positive progression toward net neutrality engaged discord, though there were welcoming alliances.
"The U.S. will meet our mission's targets under the Paris Agreement," President Joe Biden stated in a press conference. "We will keep working with our partners to support the most vulnerable countries in building resilience to climate impacts and to align global ambition with the 1.5-degree Celsius goal while super-charging our clean energy transition."
That temperature threshold is foundational to proposed climate-initiative success. Worldwide scientific research noted that heavy cuts to emissions are crucial to avert heightened damaging effects of climate change — and maintaining or falling below the 1.5-degree temperature threshold supports that end.
According to a November 14 U.S. News & World Report article, China, the leading greenhouse gas emitter across the globe, favors last year's Glasgow summit agreement language regarding global warming targets. Xie Zhenhua, China's climate envoy, said current global warming limits could remain in the COP27 deal and referenced no opposition to a 1.5-degree threshold.
The Cost of Managing Climate Change
Taking control of climate change will continue to be costly, leaving government leaders, agencies and constituents concerned over who will shoulder the costs.
The U.S. is looking to share the expense but wants businesses to pay countries in carbon markets to stop burning coal. The Science Based Targets initiative, a collaborative initiative between CDP (formerly the Carbon Disclosure Project), the U.N. Global Compact, World Resources Institute and the World Wide Fund for Nature (still known as the World Wildlife Fund in the U.S. and Canada), provides that companies purchase carbon credits, with proceeds from the transaction(s) funding renewable energy projects, thereby replacing the use of fossil fuels.
Small islands have fallen victim to oceanic shifts and adverse weather conditions due to climate change, resulting in economic hardship and loss of life. A collaborative approach, in which companies would pay a carbon tax that would aid small island states in adapting to climate change, received indirect affirmation from Gaston Browne, prime minister of Antigua. Brown said, "The oil and gas industry continues to earn almost (US)$3 billion daily in profits," Reuters reported.
Browne, speaking on behalf of the Alliance of Small Island States, added, "It is about time that these companies are made to pay a global carbon tax on their profits as a source of funding for loss and damage."
The need for funding is evident in a recent report published by GHD (formerly Gutteridge, Haskins & Davey) an environmental engineering consultancy. It stated that "by 2050, weather disturbances, including drought as well as heavy winds and rains, could cost the global economy some $5.6 trillion." It cited that the U.S., Australia and the Philippines could experience an average economic decline in annual gross domestic product (GDP) between 0.5 percent to 0.7 percent up to 2050.
Advanced technologies can help lead the way towards abating the effects of climate change, according to research by McKinsey & Company. Data suggests that broadscale use of technologies could result in a 60-percent emissions output decline, assisting the 2050 climate stabilization goal.
Technology and Creative Financing Take the Lead
New coalitions were formed at COP27, including the Forest and Climate Leaders' Partnership. The group of 25 countries, chaired by the U.S. and Ghana, will collectively ensure one another's accountability in pledging the end of deforestation by 2030 and financing the billions of dollars needed to reach the goal.
Additional collaboration was recommended for developing countries in another report, released ahead of COP27 and commissioned by current climate summit host Egypt and former host Britain. It called for $1 trillion in external financing annually by 2030 by investors, wealthy countries and development banks, and for developing countries to match the funding. Other potential funding sources mentioned in the report included grants and low-interest loans from developed countries' governments, with the amount doubling to $60 billion by 2025.
Climate change and the decades-long global aversion to accepting its existence has made the quest to harness and overcome it more costly in time and resources. To effectively restore oceans, air and lands to healthy ecosystems and maintain resiliency, it takes more than a village: Perhaps a worldwide movement taking root in COP27, incapable of dissuasion.