The Monthly Metric: Company Supply Management Structure
October 25, 2022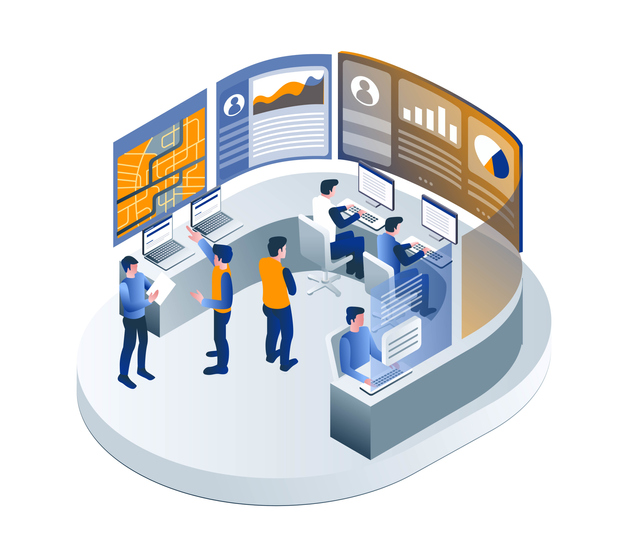 The coronavirus pandemic has changed many of the ways supply management organizations do business, as well as how their operations are structured. Regarding the latter, most discussion has centered on the future of just-in-time (JIT) purchasing and inventory, but organizations are also examining how their systems are designed.
Centralized or decentralized? Is a hybrid model viable, or has the pandemic hastened adoption of an emerging center-led structure? "The conversation around organizational models is still relevant, even though it's been overshadowed by other dynamics," says Jim Fleming, CPSM, CPSD, Manager, Product Development and Innovation at Institute for Supply Management® (ISM®). "But it's become more important as companies continue to reel from COVID-19, and there's a huge focus on talent."
Numerous trends are developing, according to the benchmark data in the annual The Metrics of Supply Management (Cross-Industry) Report by CAPS Research, the Tempe, Arizona-based program in strategic partnership with ISM and Arizona State University. In an era of pandemic-fueled supply chain employee burnout and flat or declining head counts at many organizations, the center-led model — often featuring a center of excellence — has gained adoption.
In the most recent CAPS Research report, 43 percent of surveyed supply management organizations are center-led, up from 35 percent in 2018; 44 percent are centralized, a decrease from 52 percent four years ago, and 13 percent decentralized, which is unchanged.
"The migration is toward center-led as more companies are successful in leveraging supply management," Fleming says. "More energy is on a strategic focus, data is being used more than ever before, and companies are utilizing innovations like a center of excellence."
Meaning of the Metric
The ISM Glossary of Key Supply Management Terms defines a centralized structure as one in which "authority and responsibility for most supply related functions and decisions are assigned to a central organization." End-to-end visibility is greater, business systems and processes are standardized, and changes are typically implemented more quickly.
A decentralized system emphasizes each supply chain location or node, putting operations closer to customers, enabling greater local knowledge and more tailored responses. A center-led structure combines the two — decision-making is generally centralized, execution decentralized — but that doesn't necessarily make it a hybrid. (More on that in a moment.)
While supply management organization structure is not a metric, the benchmarks are, Fleming says. "You need an understanding of what your organization is doing and how it is structured," he says. "Benchmarks allow an organization to look in the mirror and see how its baseline is set up relative to (peer companies)."
A robust dashboard of KPIs and benchmarks is vital, Fleming adds, as data indicating an organization is lagging peer companies in such metrics as procurement savings and spend under management can offer critical insights on structure. "If I'm in a centralized environment and my measurements are not close to the competition, maybe I need to think about changing my system," he says.
The Metrics of Supply Management 2022 report by CAPS Research found that a majority of surveyed companies are center-led in the discrete manufacturing sector, and most process manufacturing organizations are centralized. The services sector featured the most balance, with 38 percent centralized, 25 percent decentralized and 38 percent center-led.
More Evolution than Hybridization
During a virtual Gartner Supply Chain Symposium in 2020, Ken Chadwick, research vice president at the Stamford, Connecticut-based global business research and advisory firm, indicated that COVID-19 caused many organizations to consider, he said, "whether or not we're organized correctly. Should we be more centralized or more decentralized?"
He added, "(Many) companies would say that they're considering a redesign as a result of some of the impacts of COVID-19. Either they need to reduce costs, restructure in response to different channels or (reevaluate) their supply networks."
While some companies determined the answer was to merge the benefits of centralized and decentralized structures, Fleming says that center-led is more of an evolved model than a hybrid. He explains that many organizations found that combining the best of both structures was easier said than done; the annual CAPS Research benchmarks used to measure hybrid structures but stopped after 2020.
"Companies strived to have the best of a centralized organization and a decentralized organization, (thinking they needed to) just marry them together without using a lot of logic or a lot of science," he says. "The hybrid model sounded good on paper, until it didn't."
Fleming defines center-led through the lens of strategic items. As strained head count levels demonstrate, he says, supply chain sites are allocated resources (or automation) to procure nonstrategic items. A central location — or center of excellence — has primary responsibility for sourcing and management of categories, logistics and risk.
Restructuring for Higher Performance
Center-led structures are more prevalent at larger companies that can invest in automation technology. Fleming cited a 2018 report by Ardent Partners, a Boston-based supply management research and advisory firm, that found center-led companies reported 20 percent more spend under management than those with centralized models, and twice as much as those that are decentralized.
The best supply management structure depends on the company's resources and needs, Fleming says, but the reexamination among executives is driven by a recognition of the strategic value of the procurement function.
"It isn't primarily about the people in supply management, although that's important," he says. "It's about organizations seeing the impact on the profit and loss statement and balance sheet, on cost of goods sold, on inventory and overhead. They're boiling it down to the profit margins that supply management influences."
Fleming concludes, "And on the executive level, they're saying we need more of that."
To suggest a metric to be covered, email me at dzeiger@ismworld.org.
(Image credit: Getty Images/Hasan As Ari)