Increasing Benefits from Diversity and Environmental Initiatives
October 25, 2022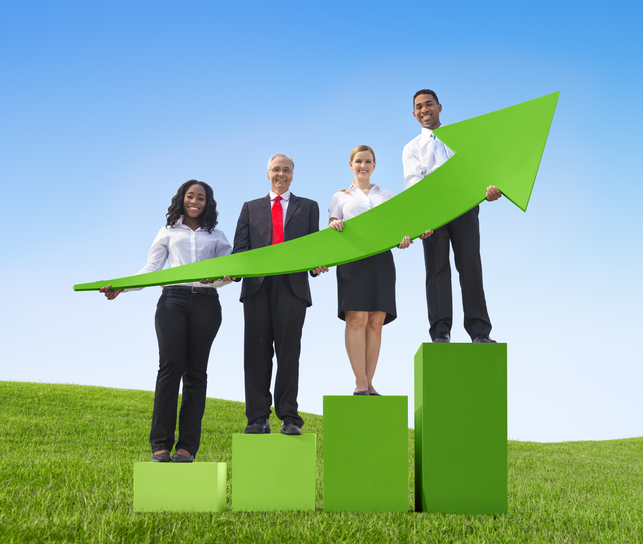 Since the Industrial Revolution, humans have used carbon and fossil fuels to catalyze growth and productivity. New industries grew rapidly, and carbon emissions ballooned.
Initially, however, we didn't understand the long-term consequences of over-reliance on fossil fuels. In the past few decades, our understanding of these consequences has increased as we have witnessed rising global temperatures and more natural disasters due to global warming.
While we can individually change our habits and have some effect, significant change requires large businesses and organizations, which emit the most carbon emissions, to change the way they operate.
ESG Standards
In 2020, Larry Fink, CEO of BlackRock, a major investment management company, announced a set of standards called environmental, social and governance (ESG). These standards outline specific criteria that a company must meet to receive investments from BlackRock, or any investment institution committed to ESG. Binding ESG goals to capital resources has made a huge impact on how corporations form and execute strategy.
ESG also contains social standards that promote diversity in corporations and affiliated supply chains. Procurement organizations across the world are seeking to increase supplier diversity — in their own organizations as well as throughout their supply chains.
Governments and international organizations have started passing laws and creating incentives to persuade companies to increase their diverse spend. The U.S. has offered tax incentives for working with minority-owned businesses since at least 1953.
Capitalizing on Benefits
Diversity and environmental initiatives can bring a variety of benefits to any organization, regardless of the regulations in place.
Environmental initiatives. Companies need to articulate a clear vision in their approach to environmental initiatives. Such a vision will aid them in adopting specific environmental strategies.
After determining the strategies, partnering with others sharing a similar mindset, especially if they are supply chain partnerships, can drive significant improvements in a company's sustainability. Because repetitive tasks can consume time and resources, considering whether they can be replaced by more sustainable, digital solutions, which can bypass the need for single-use supplies.
Companies can promote initiatives internally to support sustainability efforts like recycling and public transportation. Spearheading these initiatives can be a daunting task for large organizations, so creating a dedicated team to drive these practices can expedite change. These teams can be responsible for reviewing company policies, organizing events geared toward promoting environmentally friendly practices, and reviewing supplier relationships that share a commitment to sustainable practices.
Analytics can be a powerful tool for any environmental initiative. With the right tools and supporting data, dedicated teams can analyze the carbon dioxide (CO2) emissions of company transportation to recommend alternative means of transportation. Switching from a domestic flight to rail can reduce CO2 emissions by nearly 80 percent on average. Data and analytics provide (1) visibility into the current state of an organization and (2) the necessary measurement to push companies further in their environmental journeys. Pairing important data like environmental certifications and other green initiatives with existing supplier data can showcase the overall impact of an organization on the environment.
Diversity initiatives. Procurement groups should provide opportunities for diverse suppliers, because pursing chain diversity coincides with many other procurement goals. A 2021 report by the World Economic Forum states that "suppliers from diverse backgrounds foster innovation and increased competition and transparency, and also raise the potential for cost savings."
Additionally, both employees and customers value diversity in the businesses they choose to interact with. According to a 2020 report from Glassdoor, 76 percent of job seekers consider diversity an important factor when evaluating job offers. By increasing the diversity of both the internal workforce and its supply chain, companies can help foster diversity in all aspects of how they operate to meet corporate diversity goals. Asking for referrals can be an excellent way to find diverse suppliers that also add significant value to the procurement process. By asking existing business partners which minority-owned businesses they recommend working with can create a strong pipeline of strategy relationships.
Data Can Drive ESG Goals
There are many available data resources regarding diverse businesses, including best-in-class third-party partners. There is a wealth of public and private resources offering extensive data surrounding diverse suppliers. Companies can pair these resources with data visualization tools to track KPIs and benchmark themselves against the rest of the industry. Data analytics is a key tool that can support companies in their journey to meet both environmental and diversity goals.
Before an organization starts its sustainability journey, it's important to look at industry standards to determine what direction to push sustainability initiatives. Some ESG goals can greatly contribute to business development and how a company is perceived by the public. On the other hand, ESG initiatives can be burdensome if they are unrealistic, resulting in higher operational costs. Companies must develop a plan that pairs well with their capabilities, and work with business partners that can help drive future innovation.
(Photo credit: Getty Images/Rawpixel)