Human Intelligence Can Deliver Smarter Forecasting
October 18, 2022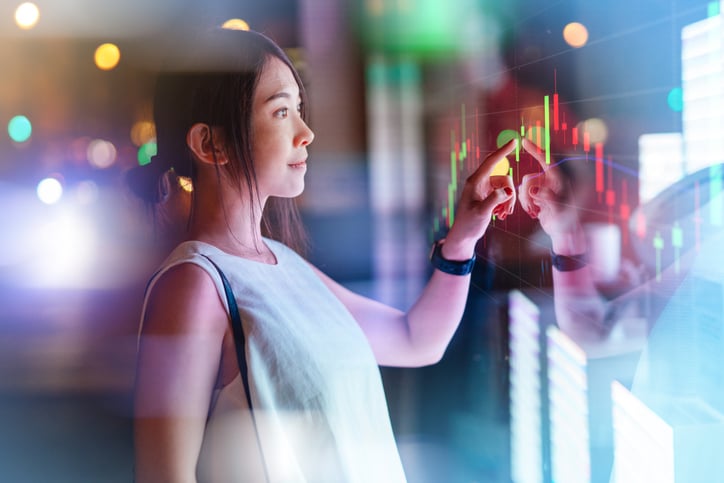 Intelligent forecasting is becoming a must-have for supply management professionals. Maximizing its benefits takes system integration throughout the supply chain journey.
"Forecasting is a number used to help people make decisions," says Polly Mitchell-Guthrie, vice president of industry outreach and thought leadership for Kinaxis, a Canadian supply chain technology company. "Intelligent forecasting requires both numbers and agility, engaging the ability to see the broad landscape of the supply chain." Agility can assist in identifying areas that require quick pivots when disruptions happen, she says.
A recent survey of supply chain professionals by Boom!, an online network for women in supply management, found that if they could change one thing to help boost their levels of satisfaction and performance at work, it would be to see their company include digitally integrated tools to support a single view of the truth.
Utilizing artificial intelligence (AI) and machine learning (ML) applied with human intelligence can enable organizations to improve their forecasting, Mitchell-Guthrie says.
Numbers Tell Truth to a Fault
Too often, however, organizations rely on traditional ways of doing things. Nearly three-quarters of enterprise supply chain planners still use spreadsheets as their primary tool, Mitchell-Guthrie says. Using history in a forecast to gauge future sales isn't enough, as the coronavirus pandemic made clear, she says.
"The first step toward intelligent forecasting is moving past yesterday's trends or deferring to your gut feeling," she says. She stresses the importance of utilizing statistical forecasting based on mathematical algorithms and analytics as well as ML to enhance statistical forecasts. Implementing "demand sensing" increases analysis capabilities pertaining to such potentially disruptive events as severe weather, unfavorable social media activity and inflation, she says.
Although some might find it difficult to trust technology, "it can be a reliable predictor," Mitchell-Guthrie says. And overriding digital forecasts and delving into over-analysis from a human perspective can prove costly to an organization, while only providing limited benefit, she says.
However, empathy plays an important role in the supply chain profession, she notes. Many job descriptions highlight soft skills — for example, abilities to communicate, nurture relationships or lead others — that involve empathy.
"Machine learning outputs higher rates of accuracy, but not details about the how or the why we arrived at the forecast," she says. "When you examine AI, sure, it can predict more effectively but lacks context, collaboration and conscience."
When you compound the above-mentioned quandaries with "companies that continue to rely on legacy systems, which may or may not integrate with new technology," Mitchell-Guthrie says, the result is that sought-after intelligence will likely remain disconnected.
Navigating the Margin of Error
Looking forward, the top three challenges for supply chain enterprises, Mitchell-Guthrie says, are: (1) impacts from continuous cascading disruptions due to effects like geopolitical events, inflation and higher costs, (2) use of legacy systems without digitization, and (3) implementation of sustainability. Managed intelligent forecasting can improve end-to-end supply chain maneuverability, she says; however, an expectation of zero risk is a fantasy.
"Forecast accuracy is essential," Mitchell-Guthrie says. "Intelligent forecasting helps reduce error." Through a balance of agility and accuracy, the best predictions and rapid adjustments enable supply chain planners to respond to whatever happens, she says.
Visibility across the supply chain is important, transparency is more so, Mitchell-Guthrie says: "While visibility provides a looking glass into what's happening, transparency tells you how the disruptions will impact the supply chain. From there, adjustments can be made to prescribe a corrective course of action." Collectively, this process defines optimal synchronicity between AI, ML and the art of human intelligence, she says.
(Photo credit: Getty Images/Oscar Wong)