UPMG2022: The Criticality of Supplier Collaboration and Investment
September 20, 2022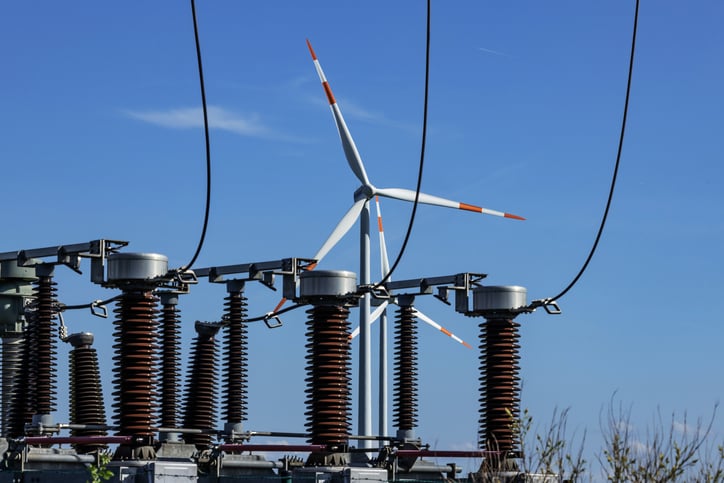 A vivid reminder of the current supply chain environment occurred during a session at the UPMG2022 Conference in Atlanta last week, when Johnny Howze briefly broke from his role as panelist to ask the audience for leads.
"If anyone has transformers, I can't get them from this guy," said Howze, senior vice president of supply chain management at Atlanta-based Southern Company, motioning to fellow panelist Jack Ward during the "CPO Panel: Challenges and Opportunities" session at the annual event for Institute for Supply Management®'s Utility Purchasing Management Group (UPMG). "I'm trying to get them from anybody who will give them to me."
The scene exemplified the hurdles supply managers and executives face in a world of disruptions that continue to be more frequent and severe than ever before, challenging principles long considered tried and true. Those include the just-in-time (JIT) purchasing and inventory model that has been scrutinized throughout the coronavirus pandemic; Howze told the audience that in a "new normal," JIT is not working well.
"Just-in-time inventory is fine when there aren't many disruptions in the system," Howze said, "but the level of global turbulence means we have to do this differently. Forecasting and working with our supplies to key moving forward. We have to work better internally on sending that demand signal to suppliers, so we can collaborate better than we have before. Traditionally, (the profession) has not been good at that."
Ward, VP of marketing and sales at Howard Industries in Culver City, California, said that his company's challenges predated the pandemic, with labor shortages in 2019. COVID-19 exacerbated the situation, and Howard Industries' production plummeted. The company is catching up, Ward said, but demand for transformers is fierce amid insufficient availability of materials to produce them.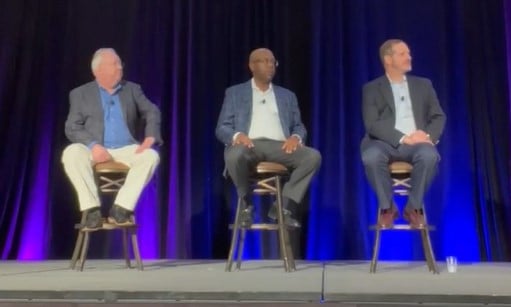 (From left) Jack Ward, Johnny Howze and Brian Schulties, C.P.M., discuss supply chain issues during the "CPO Panel: Challenges and Opportunities" session at UPMG2022 in Atlanta.
"Labor issues have hindered the industry," he said. "The other big issue that has been keeping us from increasing production has been raw materials. … I think for the industry as a whole, the production (capability) is out there if we have the people and the materials (like steel and aluminum)."
Brian Schulties, C.P.M., CPO North America at Prysmian Group, an Italian producer of electrical cable for the energy and telecom sectors, said a big component of the new normal is supplier volatility — a dynamic intensified by unpredictable events. He cited the Texas and Gulf freeze of February 2021, which impacted supply of such commodities as polyethylene and polyvinyl chloride (PVC) products for months.
"We got off of allocation of PVC just recently," Schulties said. "So, you can see the impact of a storm or catastrophic event, and that was just one of many (in recent years). … While we've had to do a lot of things to get where we are today, we're struggling to add adequate capacity. We've expanded our supply chain around the world, and it's still not enough. So, that creates concerns about the future and what's next."
Steel and aluminum supplies are a concern, the panel indicated. Transformer cores are constructed from steel, and while Howard Industries is redesigning units to use less steel, Ward said, "we're still going to continue to have that strain." Schulties added that global inventories of aluminum are at "scary" levels.
Key Takeaways
Companies should work with the federal government to use the Defense Production Act and use new tools that are proving to be "more strategic and efficient on what we need to do over the next 24 to 36 months," Howze said.
A transition to renewable energy sources will only increase transformer demand, the panel indicated. For example, each new wind turbine will require one. Demand for aluminum and copper will also rise.
The panel took place in the days before a tentative labor deal was reached between U.S. railways and unions, averting a strike — and yet another historic supply chain disruption. "To replace that kind of movement on railroads, you would need 472,000 trucks," Schulties said. "Knowing what we know about the freight market, that's impossible."
Quote
"We have to think strategically about what happens in the next five to 10 years. How do we make sure suppliers are investing in the right places. We have to convince chemicals and (metals) supplier that they need to invest in our future. It's an investment in the utilities future." — Schulties.
(Top photo credit: Getty Images/FHM)