Supply Chain Networks Are Being Modified to Manage Challenges
August 08, 2022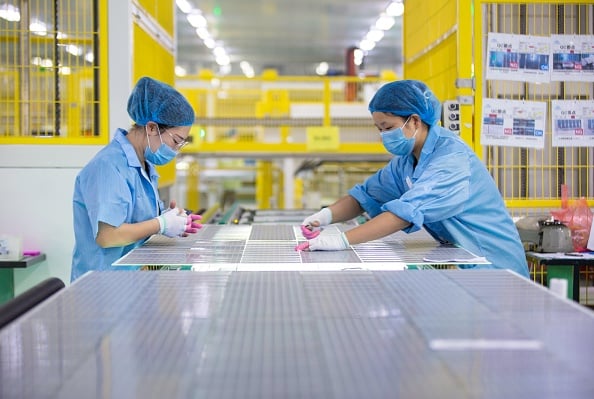 Employees work on the production line of solar panels at a workshop of Jiangsu Fox Group Co. in the Jiangsu Province of China. (Photo credit: Zhai Huiyong/VCG via Getty Images)
Companies are redesigning their supply chain networks amid continuing disruption. In the past two years, about three-quarters (74 percent) of supply chain leaders have changed the size and number of locations in their networks, a Gartner survey found.
Of the 403 supply chain leaders surveyed by the Stamford, Connecticut-based business consultancy, around half (51 percent) of respondents said they had increased the number of locations, while 23 percent had reduced them. About a quarter (24 percent) noted they had not changed the number of locations but had taken such other actions as increasing inventory and buffering capacity in their networks, while 2 percent noted no "meaningful changes" to their supply chain networks.
"There's clearly a supply chain redesign underway, but not everyone is moving in the same direction or even to the same extent," Kamala Raman, vice president with the Gartner Supply Chain practice, said in a press release. "Supply chain leaders have been modifying networks in a number of ways, be it with expansions, consolidations or simply modifications to buffers — which are more reversible than footprint decisions."
The most common global supply chain network operating model, according to respondents, is the hybrid regional model (used by 28 percent), which incorporates local and regional elements. Other more common networks: global models with regional final assembly (23 percent) and local-for-local networks (22 percent).
These were only some of the operating models used, Raman said. "While the range of scales and approaches is wide, supply chains are undoubtedly on the move," she said. For example, more than half of participating organizations "report making changes to manufacturing and supplier networks supporting at least 20 percent of revenue," she said.
Among other survey findings:
Nearly all respondents (95 percent) reported that their companies are analyzing or changing their China sourcing and manufacturing strategies. More than half of those (55 percent) say their companies have already acted on such plans.
Still, the survey didn't find large-scale nearshoring to developed markets.
"Supply chain organizations are examining a 'China plus one' approach that leaves most of the China-based network intact and places net new additions in other markets, or a diversification strategy that still holds significant sourcing or manufacturing in China," the press release stated.
Other Asian countries are benefiting from increased net new foreign direct investment and trade activity as a result of the Regional Comprehensive Economic Partnership (RCEP) and the Comprehensive and Progressive Agreement for Trans-Pacific Partnership (CPTPP).
The Asia-Pacific region is considered an end market as well as a supply base by 40 percent of respondents.
Global companies now prefer a mix of global, regional or local elements, Raman noted, adding that investments into Asian markets outside of China "coexist with expanded investments into developed markets as organizations take advantage of generous national/trade-bloc-level trade incentives," she said.