Building Trust and Transparency in ESG
July 05, 2022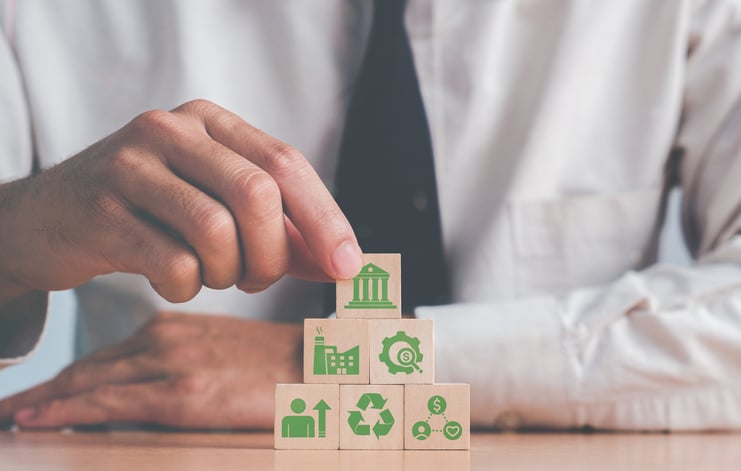 Environmental, social and governance (ESG) performance is becoming increasingly important, as mounting pressure from shareholders and consumers is putting it front and center at many organizations.
However, it's not enough to just state ESG intentions without putting those words into action. Best practices need to be evidenced throughout an organization and its supply chain, requiring a collaborative approach to implementation, monitoring and reporting.
A recent PRWeek article noted that being transparent is the No. 1 golden rule for building a sustainable future. In the article, Al Loehnis, director of strategic business development at Investis Digital, stated: "Transparency is the foundation of trust; without trust there is no credibility."
Standards help establish trust, giving organizations a set reporting framework. There are many standards surrounding ESG reporting, with some better than others. One such set of standards is the recommendations of the Task Force on Climate-Related Financial Disclosures (TCFD). Of note, Larry Fink, CEO of BlackRock, in his 2022 letter to CEOs, asked companies to set short-, medium- and long-term targets for greenhouse gas (GHG) reductions and to issue reports consistent with the TCFD's recommendations.
If companies can take this first step, trust can be established. Building strong management systems, combined with transparent reporting and independent assurance, will ensure trust continues.
However, there currently are no globally recognized standards for many requirements due to the complexities and variation between industries.
Steps Forward for Standards
Recent months have brought positive steps in advancing ESG standards, particularly surrounding carbon tracking. Organizations such as CDP (a global non-profit which manages an environmental disclosure system for companies, cities, states and regions), TCFD and United Nations climate meetings are driving forward discussions so agreements can be reached on measurement and science-based targets.
An example is the launch of the International Sustainability Standards Board (ISSB) at COP26, the United Nations Climate Change Conference in Glasgow, Scotland, in November. This saw the International Financial Reporting Standards (IFRS) Foundation aligning its standards board with the Global Reporting Initiative's Global Sustainability Board to create an independent body that develops and approves IFRS Sustainability Disclosure Standards.
The ISSB will increase transparency surrounding accounting, but it does raise the observation that to date, ESG performance has been largely evaluated by the finance industry based on factors that can be measured and quantifiable.
For a positive social and environmental impact, there are a wide range of activities that go beyond monetary value to drive forward a company's ESG commitments. These include responsible sourcing and health and safety, as well as activity surrounding wellbeing and mental health. The "S" in ESG is often overlooked as social impacts are understandably harder to measure and quantify, but pro-social policies and behaviors that have a positive impact are essential. These fundamentals not only establish brand purpose but also drive competitive advantage and business growth by engaging and resonating with employees, customers and partners.
Getting Ready for Regulation
A global consensus does not need to be achieved in order to set robust frameworks for assurance.
Using a robust auditing solution to confirm ESG initiatives can put an organization in a strong position — and ahead of its competitors — in being able to predict and respond to new legislation.
For example, new directives in the European Union have been proposed that could result in costly penalties for non-compliance. They include a civil liability regime in which victims could sue companies for harm based on the company's failure to comply with diligence obligations.
No One-Size-Fits-All Solution — Yet
Although all businesses, and in some cases, industries, are at various stages of their ESG journey, they need to — and can — act now to identify key industry variables and develop tangible targets. This will build trust and transparency, as well as support the organization's values and emphasis on sustainability.
By establishing an assurance strategy, which enables actions and progress to be audited against a set baseline, companies can track their own progress and also that of their broader industry. This visibility can also extend to partners in the supply chain, where it's possible to gain insight into the impact of suppliers and subcontractors.
This can enable a company to (1) show a wider positive impact beyond factors under its immediate control. (2) build stronger relationships throughout the supply chain and (3) support more efficient methods of quality and control.
It's Time to Get Ahead
To build trust and transparency — and have the greatest impact with an ESG strategy — accurate methods of measurement and assurance need to be introduced across organizations and supplier partnerships. To delay action now is to risk following the crowd, playing catch up to new regulations and losing business to competitors that moved first.
Putting in place key measurables that an organization and its partners can align to and that are audited by an independent party will allow efforts to be focused on areas and activities that have the greatest positive impact.
(Photo credit: Getty Images/Khaosai Wongnatthakan)