Today at #ISMWorld2022: The Write Stuff for Procurement
May 24, 2022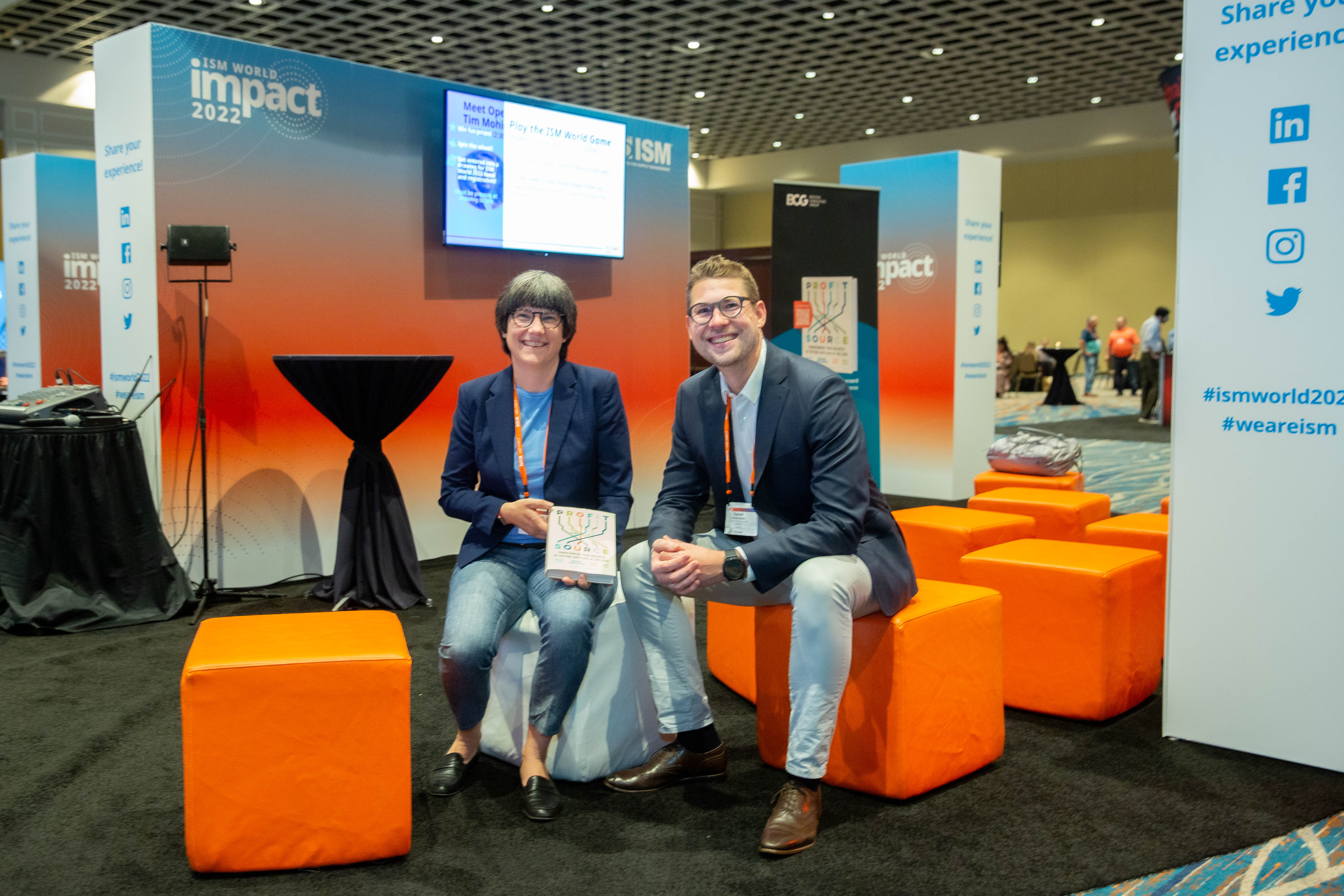 The authors of Profit from the Source: Transforming Your Company by Putting Suppliers at the Core did not set out to make bestseller lists, although that is always nice. Their primary motivation was to change the way companies address challenges, by emphasizing the supply management function and empowering CPOs.
"We hope to change a bit of how corporations tick," said Daniel Wiese, one of the book's four authors. "Too often, procurement is considered a corporate Siberia. We advise clients that if they do procurement right, they prosper. They gain a competitive advantage."
With that objective in mind, the ISM World 2022 Annual Conference in Orlando, Florida, was an ideal venue for Wiese and Alenka Triplat to provide a preview and meet-and-greet session before the book's June release. The other two authors, Christian Schuh and Wolfgang Schnellbächer, are fellow managing directors and partners in Boston Consulting Group's global procurement practice.
For years, supply managers have longed for a "seat at the table," and while that has translated into a presence in some boardrooms, the function still does not command much of a typical CEO's time. Research by Harvard Business School indicates that a CEO spends about 7 minutes a day on procurement issues. "That's not enough," Wiese said.
The coronavirus pandemic has raised the profile of supply chains, but the book's genesis goes back years, Wiese said.
"People talk about the (current) war in Ukraine, but Russia taking Crimea in 2014 created supply chain shocks, and the 2015 Paris agreement put the focus on sustainability," Wiese said. "All of those initiatives can work only if you put procurement in the decision room, to help make trade-off decisions between cost, sustainability and risk."
Wiese added, "In terms of the pandemic and the shortages, the need has been amplified. The timing is right."
Double Dutch Treat
ISM's Student Case Competition has a back-to-back champion, as Masstricht University in the Netherlands won for the second straight year on Monday. Wayne State University in Detroit was runner-up; the University of Michigan in Ann Arbor, Michigan, was third.
The Case Competition was conducted remotely, so CEO Thomas W. Derry and other members of ISM's leadership team congratulated the Masstricht team — members Muhamed Faheem Nanan Chirakkal, Samira Racdu, Annika Ophoves and Tsz Shing Ip, and coach Bart Vos, Ph.D., a professor of supply chain innovation — via video conference on Tuesday.
Via video conference, our leadership team congratulates the team at @MaastrichtU in the Netherlands, the winners of the @ISM Student Case Competition at #ISMWorld2022. Wayne State University was the runner-up, and the University of Michigan third. #WeAreISM #supplychains pic.twitter.com/sQ5zLihw2C

— Institute for Supply Management (@ism) May 24, 2022
"We would have liked to have been present; unfortunately, that was not possible," Vos said. "Still, this is fantastic. … We'll celebrate it because it's a great achievement." Jack Monnissen, Manager of Business Development and Corporate Engagement at ISM, replied — in Dutch: "Congratulations. You did a good job."
Said Vos on the native tongue, "Wow; I did not see that coming."
Cheers to the Volunteers
Our coverage of ISM World 2022 cannot conclude without an acknowledgment and appreciation of people an ISM Annual Conference cannot happen without: volunteers.
Nelle Chapman, CPSM, C.P.M., a freelance practitioner based in Deerfield Beach, Florida, and Eillen Rocha Barfield, CPSM, director of sourcing and procurement with One Call Care Medical in Jacksonville, Florida, are two of the four members of ISM's Conference Volunteer Committee. The committee recruits and coordinates the 26 volunteers at ISM World 2022.
"It's a chance to help share knowledge and back to the organization that that has helped us grow in the profession," said Rocha Barfield, a Conference volunteer since 2010. Volunteers are best known as traffic cops in the halls, helping people get to their sessions and seated once they find the right room. "Regarding questions, where the bathrooms are is as important as where the sessions are," Chapman said.
With Chapman's and Rocha Barfield's positions and certifications, they are serious practitioners as well as volunteers. Do they feel they are missing educational content at an ISM Conference?
"ISM allows us to attend sessions when there is an opportunity," Chapman said. "Some volunteers can go to a breakout session and be exposed to the same content as attendees, as long as there is room. They just need to be back out in the hall in time to direct traffic."
Social Media Standouts
Insightful session on #CyberSecurity by Charlotte Anabelle de Brabandt - Digital Futurist at #ismworld2022 in Orlando, Florida 🇺🇸. How to prevent #cyberattacks and how can #Procurement prepare to keep the #SupplyChain up and running? pic.twitter.com/PQ9a0j6upR

— Dr. Marcell Vollmer 🇺🇦 #StaySafe & Carpe Diem (@mvollmer1) May 24, 2022
Wednesday's Highlights
At an ISM Annual Conference, the closing keynote address is usually designed to provide actionable information attendees can immediately put into use at their companies. That's the case again this year, though the subject matter is more personal.
Dan Harris, a former TV news anchor and correspondent, will share his experience and insights on how meditation can boost workplace performance and personal happiness in the closing keynote session at 8 a.m. ET. The topic is especially relevant, as more companies are embracing meditation as part of a health and wellness endeavor for employees.
The Conference concludes with four "deep-dive workshops" — two each at 9 a.m. and 10:40 a.m. — discussing (1) sustainable procurement, (2) discovering one's "zone of genius," (3) supplier diversification and (4) negotiation strategies. Then, the countdown begins until ISM World 2023 convenes in Dallas.