Shaping a Digital Future
May 17, 2022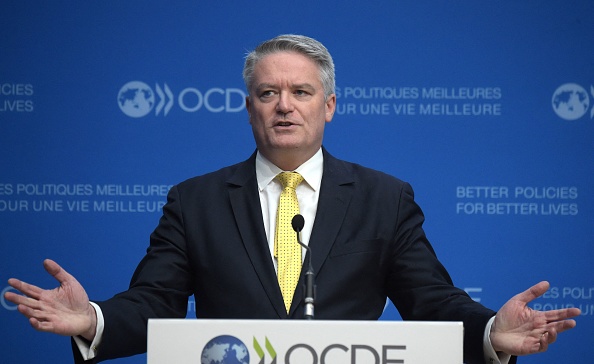 Mathias Cormann, secretary general of the Organization for Economic Co-operation and Development (OECD), speaks during a press conference at OECD headquarters in Paris in March. (Photo credit: Getty Images/Eric Piermont/AFP)
The coronavirus pandemic's impacts on supply chains have highlighted the need for digital trade as well as digital transformation within organizations. But despite digitalization's benefits for resilience, many small and midsize enterprises are lagging behind, said Mathias Cormann, secretary general of the Organization for Economic Co-operation and Development (OECD).
Speaking during the U.S. Chamber of Commerce's virtual Global Forum on Competition in the Global Marketplace last week, Cormann called for policies "that can help seize the benefits from the digital economy" as well as international standards that facilitate smoother and safer data transfer.
Not only should there be greater SME digitalization, he said, there also must be more (1) personal access to high quality digital infrastructure, (2) development of digital skills, including by rescaling and upskilling, (3) policies to boost connectivity and (4) technology diffusion.
Cormann also called for policies that enable trustworthy flow of data between countries, saying that "greater digital connectivity between two countries can lead to increased export of goods and services." Digital trade can benefit all economic sectors, all countries and all levels of development, in particular smaller firms and women entrepreneurs, he added. During the pandemic, for example, digitization allowed for new types of trade as well as enabled greater access to goods and services, he said.
But digital trade benefits aren't automatic, Cormann said. The global regulatory environment for digital trade has become more, not less, restrictive since 2014, leading to, he said, "unnecessarily higher cost for businesses and consumers." Plus, it limits access to economic opportunities, he noted.
Reversing such a trend requires a strong, coordinated response across a range of policy areas, including protection of human rights and championing open markets, Cormann stated. "International cooperation and coordination are key to both the implementation of standards to underpin the architecture of the digital economy and to develop the principles that drive trust across communities, sectors and jurisdictions," he said.
Challenging the transfer and exchange of data across borders are such issues as privacy protection, digital and national security, and regulatory reach, he said. As a result, more regulation has been aimed at the movement of data across borders or regulation that mandates data to be stored locally, he said.
"A unique opportunity (exists) to shape digital transformation, respond to the technological and global changes that are underway, and then ensure that our policies are and remain fit for purpose," he said, adding, "Digital trade will continue to play an essential role in our road to recovery," and is essential in the reconstruction of Ukraine.