ISM World 2022: The Impact of Supply Management Organizations
May 24, 2022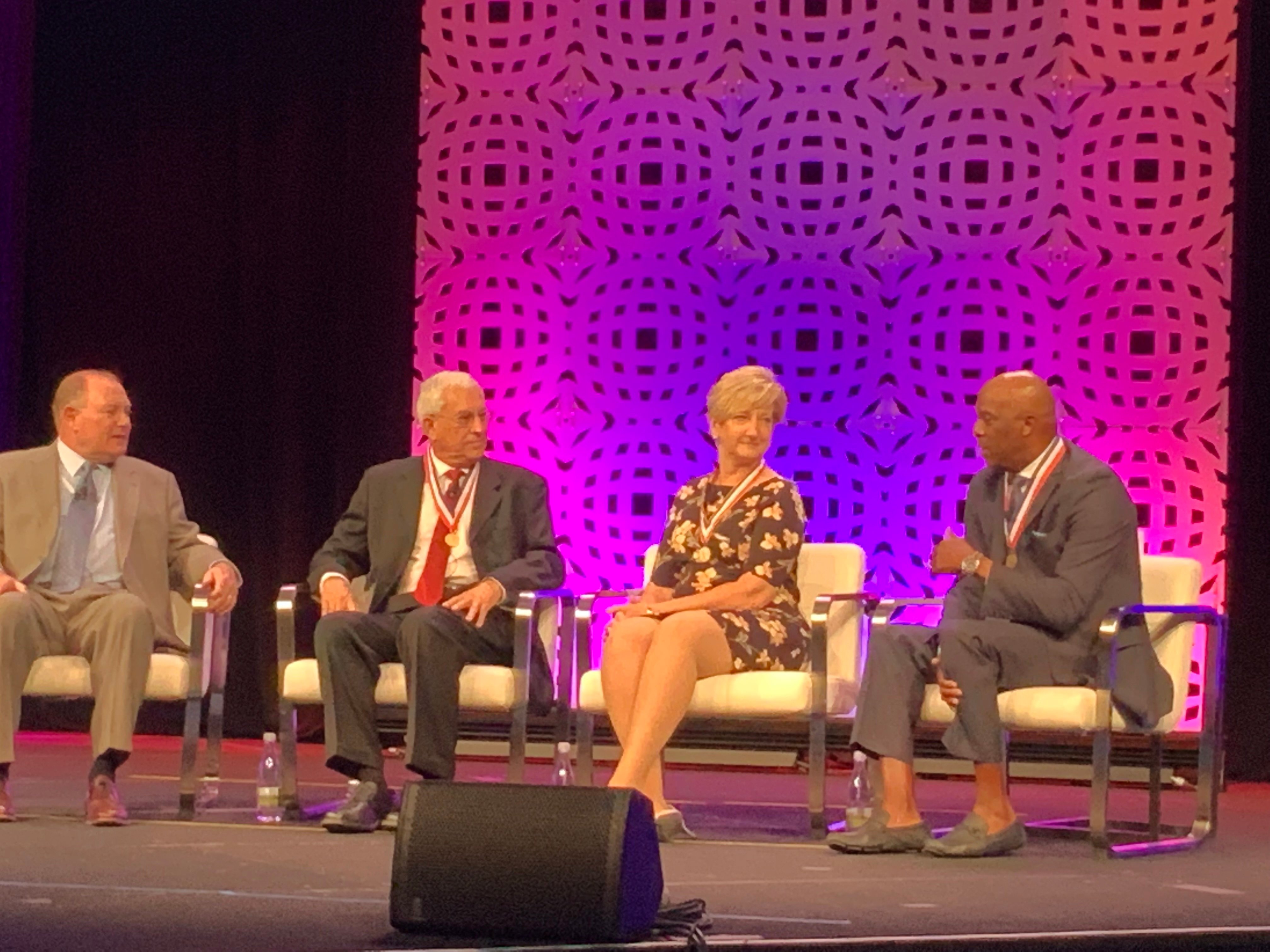 The coronavirus pandemic, continuing logistics challenges, war in Ukraine, shutdowns in China and other challenges have turned a focus on supply chains and changed how supply management organizations are perceived. It's also highlighted the value that organizations can bring to their companies.
"The impact of our global supply chain has been more evident to the public now than ever," said Thomas W. Derry, Institute for Supply Management®'s (ISM®) CEO, during Tuesday's keynote session at ISM World 2022, ISM's 106th Annual Conference in Orlando, Florida.
Derry moderated a panel discussion featuring three J. Shipman Gold Medal Award winners who talked about their strategies and experiences in increasing supply management's value and thoughts for the future. The panelists: 2022 honoree Jimmy Anklesaria, MBA, LL.B., founder of the Anklesaria Group; Sidney Johnson, former vice president, procurement and sourcing at the Harman, Inc., the 2021 medalist; and Sue Spence, MBA, vice president, sourcing, procurement and accounts payable at FedEx, the 2020 winner.
Going Beyond Cost Savings
Two things can be game changers when it comes to adding supply chain value, Johnson said.
One is technology: "I always focused on getting suppliers with the game-changing technology that (provided) the speed to get you to market faster," he said. "I've always thought if you get the right part at the right time in the right qualities, building in quality and short lead time, the cost would come along with it."
The second, Johnson said, is establishing strong relationships: "At the end of the day, it's about relationships. People want to work with people they like to do business with."
Amplifying Existing Strategies
FedEx's response to pandemic disruption was, Spence noted, "similar to what we've been through before but different at the same time."
Much has centered around helping humanity, which continues to be a company mission. There was "a lot of pride in, as our chairman said, helping heal the world," Spence said. "And that's not something we take lightly."
During the pandemic, the company not only took care of its 500,000 employees, for example, ensuring such safety measures as personal protective equipment (PPE), Spence said, "but we were flying life-saving medicines and supplies all over the world to governments, other countries and our customers."
In 2021, FedEx handled 82,000 shipments and US$90 million of humanitarian aid, she said, adding that it also has handled medical and other supplies going to Ukraine. For the team, she said, it was more or less "business as usual," but at an amplified level, adding that FedEx has a history of being prepared for disaster recovery.
She said the company also has taken a deeper look into its supply chain. "Our top 100 suppliers are also customers," she said, noting that it was important to treat suppliers like customers: "In our case, they are."
Inflation, Sustainability and Other Dynamics
In addition to global disruption, supply management organizations are also dealing with such issues as rising inflation and the increasing importance of sustainability and the need for environmental, social and governance (ESG) standards. Reconciling and managing all those factors at one time can cause tension, Derry said.
Such a situation also offers "the ultimate opportunity to distinguish between price and cost," Anklesaria said. With inflation here to stay for a while — and so many products in short supply — company leadership must take the lead on managing costs, he said. "It starts with the top level down, where you don't measure people on pure price," he said.
"Everyone's prices will go up in an inflationary period," he added. "The question is how can a procurement team beat the market."
That can be done by working with suppliers, stakeholders and customers to find ways to take cost out of the supply chain — rather than price reduction, Anklesaria said. For example, demand and specifications are among the factors organizations should concentrate on, he said.
"The focus should be on understanding your costs — because you can't manage what you don't understand," he said. It's important to conduct cost modeling and work with suppliers — not to negotiate price, but to understand what's driving cost, he said.