Sudan's Economic and Supply Chain Problems Continue to Escalate
March 28, 2022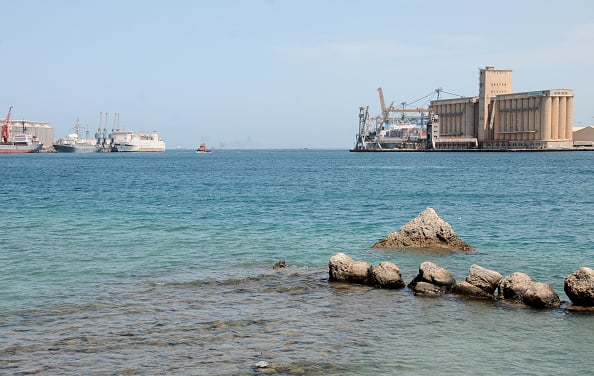 In an April 2021 photo, ships are docked at the harbor in Port Sudan. (Photo credit: Getty Images/Ibrahim Ishaq/AFP)
Sudan is undergoing a challenging political, economic and security crisis. In October, a military coup ended a civilian-military power-sharing agreement set up in 2019, and protests and demonstrations continue. The country's economy has become fragile. The rate of inflation has increased at a daily — sometimes hourly — rate, reaching 300 percent.
Fuel prices have multiplied in recent years — especially due to Russia's invasion of Ukraine. In a country like Sudan, where all modes of transportation depend on fuel, this has been especially devastating. Since the coup, fuel has become unaffordable for most Sudanese citizens; not only are the middle class and laborers impacted, but also the wealthy.
In addition, electricity and utility prices have skyrocketed 600 percent. Even with this extreme increase, electricity remains at a premium, with blackouts stretching to as long as 12 hours a day. Many households require a generator, which adds to fuel costs.
Basic necessities are at unheard-of prices. Commodities are out of stock because of the (1) coronavirus pandemic, (2) global logistics and supply chain crisis, (3) political instability and (4) closure of the country's principal seaport, Port Sudan, last fall.
Port Sudan Struggles
The port closure was the result of several dynamics, including a blockade by a tribal group, labor strife and inflation. The shutdown impacted daily life in Sudan — the country depends on imported products, including medical supplies, food, beverages, machinery, wheat, oil, some sugar, clothes, vehicles, and agricultural and manufacturing inputs. The capital city, Khartoum, suffered badly from the lack of goods, commodities and medical supplies.
On the Red Sea, Port Sudan is the country's sole container port, handling more than 90 percent of the country's international trade. In the past, Port Sudan unloaded an average of about 500,000 containers annually, equaling about 1.2 million metric tons in 2017.
After the port's closure, shipping lines have been slow to resume new bookings. Currently, only feeder vessels, not container ships, are using the port. Inflation has taken a toll, as shipping costs have increased by 200 percent. One importer in Sudan abandoned an entire shipment of containers because the demurrage cost was more than the value of goods.
Importers have switched to other, primarily Egyptian, ports. This has further impacted commodity prices and availability. Shipments that arrive experience heavy delays in berthing, discharging and unloading.
Under a normal scenario and operations, Port Sudan could serve as a hub for the country's landlocked neighbors, including South Sudan, Chad and Ethiopia. About 30 percent of the imports of those countries come through the port.
Of late, imports to Sudan have dropped substantially: After reaching a recent high of about US$1.5 million in December 2020, imports dropped to $531,221 in September.
Exports, including livestock, cotton, gum arabic, sesame and alfalfa, also have dropped: In March 2021, they stood at about $600,000, but were half that ($304,967) in September. Among challenges faced by exporters: documentation, transportation, storage, banking requirements and port issues, including an inability to process exports rapidly and smoothly.
Other Logistics Challenges
Under current circumstances, air freight may be cheaper — and preferable. For example, I got a better and cheaper deal using air freight than sea freight for a container-equivalent shipment of books from a supplier in Sydney, Australia.
Trucking goods from Egypt, Sudan's northern neighbor, is another logistics option. But the main highway has been blockaded, and barricades have been set up on other roads by resistance groups as protests and demonstrations continue.
In addition to high fuel prices and difficulty in obtaining fuel, truckers encounter long waits (as long as two months) to pick up containers. It can take days to deliver the containers, and because there are no truck stops, there is a lack of safe places for truckers to park overnight.
Deliveries also can be an issue. Streets, if named, generally don't have signs. Buildings have no posted address number, if they have one at all. GPS navigation might include roads, but many roads cannot support a truck. There are no truck routes. This adds up to transport cost and consequently, very high pricing.
Disruption Abounds
Other issues impacting Sudan include:
A lack of hard currency has created a black market for currency, which has only further added to inflation. Sudan's new government is striving to control hard-currency inflation by "trial-and-error" techniques, which have so far been unsuccessful. Even if this situation resolves, it will likely take years.
Medicine, wheat and other strategic basic commodities are scarce or unavailable, which has led to smuggling and price increases.
Capital markets are inaccesssible. For a business to grow, in essence, its owner must be wealthy, as expansion loans are almost unheard of. In fact, many people are closing businesses, selling properties and looking to emigrate to neighboring countries to make a living.
The crime rate is rising.
Improving Supply Chain Challenges
Logistics, economic and other challenges remain critical. For procurement professionals in Sudan, shipping risk mitigation must be the priority. One consideration is ensuring that a force majeure clause is included in contracts, with political instability, military coups and tribal conflict under its scope. This could be challenging, as some companies balk at force majeure inclusion.
Port challenges — like having an adequate number of workers, increased efficiency and well-maintained equipment — also must be overcome. There has been speculation that Port Sudan could be privatized, which would require training for workers — and well-trained talent can increase the port efficiency. This could also lead to increased pay and effectiveness. However, the military government has stated this will not happen, backing away from a reported deal after facing harsh opposition from local residents and officials. Other options: (1) outsourcing port management to subject matter experts or (2) establishing a public-private partnership to manage and develop the port.
Procurement professionals also can use door-to-door or delivery-at-place (DAP) options; in the latter, the seller is responsible for the delivery of goods and delay risks while the buyer is responsible for unloading and its risks and costs. DAP and door-to-door are costly — but it is a trade-off (cost versus risk of delays) situation. Even so, either one might be challenging because the global market has become a seller's, rather than buyer's, market, as it was before COVID-19 and the global supply chain crisis.
Other potential measures include simplifying and streamlining the export documentation process and improving storage facility capabilities.