As the Crisis in Ukraine Continues, Companies Should 'Focus Control'
March 15, 2022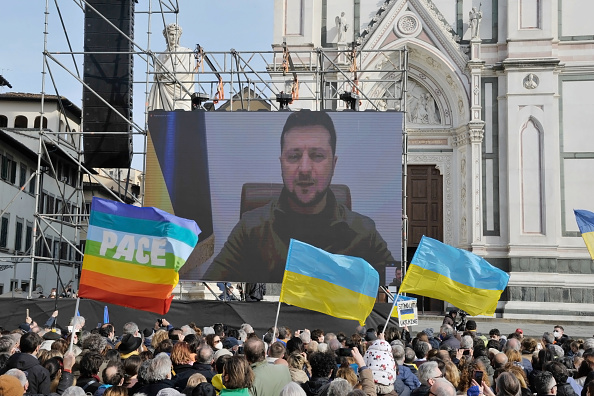 Ukraine president Volodymyr Zelenskyy addresses the crowd via live video link on a screen during an anti-war demonstration in Florence, Italy, last week. (Photo credit: Getty Images/Laura Lezza)
To help manage supply chain issues and other challenges caused by Russia's invasion of Ukraine, companies should focus on what they can control, rather than what they can't. That was a top recommendation from the presenters at Gartner's Tuesday webinar, "Russian Invasion of Ukraine: Address Your Most Critical Business Concerns."
"What do we have the ability to control? How do we focus control on the things we are responsible for?" said Chris Howard, chief of research at the Stamford, Connecticut-based global business consultancy. Doing so helps get rid of some of the anxiety, he says.
Two of the most critical dynamics under a company's control are its people and cybersecurity, said Howard and Paul Proctor, vice president and distinguished analyst at Gartner. He leads CIO research for technology risk, cybersecurity and digital business measurement.
People. Employees are already under stress after spending two years dealing with the coronavirus pandemic and its impacts on their work and personal lives. According to a June Gartner study, the 2021 Gartner Workforce Resilience Employee Survey — done before the invasion of Ukraine — 85 percent of workers reported experiencing higher levels of burnout, while 40 percent said they had a worse work/life balance.
"If you think about the relationship on your teams, there's some disruption there," Howard said, as 41 percent reported having lower trust in their teams and 37 percent having lower trust in leadership. "This is (occurring) at a time when leaders have to step in and be communicating their best selves, as people are emotionally responding to the crisis we have at hand," he said.
Additionally, the workforce study found 29 percent of respondents said they are experiencing "a lower level of change receptivity," Howard said, due to managing the continued changes and disruption of the pandemic.
With this as the environment as the invasion took place, an important action leaders can take is to inspire psychological safety among employees, he said. It's important that leaders are transparent — be clear about what you know or don't know, he said. "Don't try to answer questions prematurely, as (the situation) is evolving and we're all figuring it out," he said.
Additionally, help employees understand how you make decisions and encourage courageous conversations. "One of the silver linings, if there are any, of the (COVID-19) situation is that many businesses spun up enterprise resource groups and gave people a safe place to talk about how they were feeling," Howard said. Such groups are equally valuable now.
Cybersecurity. With reports of cyberattacks intensifying, companies are concerned with increasing cybersecurity threats to their businesses and supply chains, Proctor said. It's important not to be motivated by fear or uncertainty.
"Anytime we can focus on what we can control versus what we can't, which is our fear, you're going to end up in a better situation and with a better outcome," he said. Types of recent cyber threats include ransomware, phishing by impersonating leaders or people in authority, and exploitation of dormant assets.
Companies not only must have business continuity plans; they must also be prepared to use them, Proctor said. And organizations should not be surprised to encounter challenges, as there will likely be supply chain disruption like incapacitated suppliers, he said.
"Partners can get incapacitated in several ways," he said. "It might be directly due to cyberattacks or it could be that they are impacted by sanctions. Your supply chain — the interconnectedness — is important to watch."
Proctor offered recommendations that include:
Set up a communications plan should a cyberattack disrupt email, internet and other core services
Review crisis management plans
Set up a task force to monitor vulnerabilities
Examine where single-point-of-failure suppliers or providers exist along the supply chain
Enhance security plans to provide for safety and operational resilience.