A 7-Step Plan to Advance Additive Manufacturing
February 01, 2022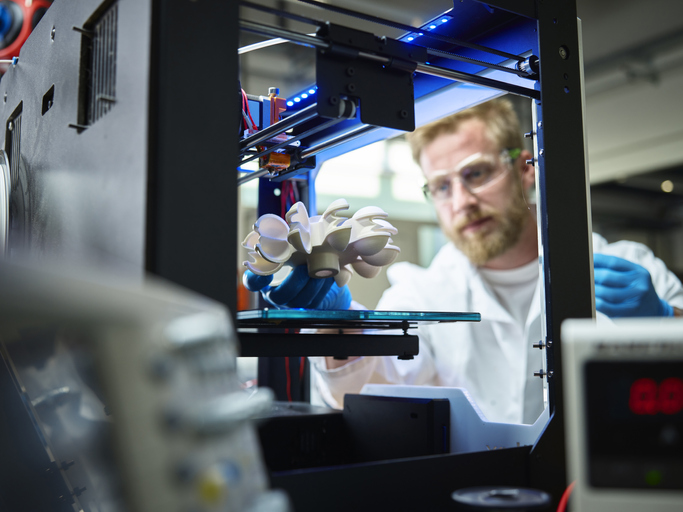 Additive manufacturing (AM) — or 3-D printing — still faces potential roadblocks to adoption, despite experiencing an average 20-percent increase in growth.
According to a new white paper from the World Economic Forum in conjunction with ETH Zurich and Fraunhofer's IGCV, IPT and IAPT institutes, the challenges are typically technology-, organizational- and ecosystem-related. An Additive Manufacturing Breakthrough: A How-to Guide for Scaling and Overcoming Key Challenges states that these dynamics include (1) limited material availability, (2) high production costs, (3) lack of company adoption strategy, (4) no defined standards for regulated areas and (5) that the digital process chain isn't integrated from designer to machine.
Manufacturing leaders from around the world and across different industries were interviewed for the white paper, which seeks to increase awareness of how to leverage additive manufacturing and create partnerships and collaboration pertaining to it.
Four areas were cited by respondents as most important challenges over the next five years:
Cost reduction. "Today and in the foreseeable future, the production costs of AM parts are a principal obstacle to adopting AM. Some experts point out that this refers not only to machine and material costs, but that perceived lack of robustness and quality also have a significant impact on costs," the white paper states.
Quality assurance and qualification, in part stemming from a lack of standards in such industries as aerospace and automotive.
Creation of a digital process chain. "The interconnection of software from one supplier to the next along the process chain is lacking, leading to the introduction of intermediate steps that reduce quality," the white paper states.
Change process and know-how. Due to expected improvement in this area, this dynamic is expected to reduce in importance over the next five to 10 years.
Despite the drawbacks, additive manufacturing offers many opportunities, according to the paper, which detailed several case studies, including the creation of an automated design platform for 3-D-printed orthoses. Researchers also found that the coronavirus pandemic has been a turning point in 3-D printing's usage. Some manufacturers turned to it to produce personal protective equipment (PPE), as they were unable to timely source it.
Among other findings: Additive manufacturing can be integral to company and governmental sustainability goals and strategies, and there is increased use of automated software for part design. "(A) joint step towards industrialization of the overall (additive manufacturing) process chain is necessary to foster sustained and sustainable growth" of the industry, the paper states.
The white paper also issued a call for action, detailing seven steps that will help advance additive manufacturing and lead to greater growth in the market:
1) Reducing costs through common investment
2) Increasing education and knowledge sharing, which can also include designating additive manufacturing experts within companies
3) Increasing standardization efforts
4) Improving funding opportunities for research
5) Using the technology to aid in sustainability efforts
6) Improving awareness of and investment in quality assurance and qualification simplification
7) Improving the digitization process, including standardizing interfaces and sharing metadata.
(Photo credit: Getty Images/Westend61)