Gaining Knowledge Through ISM® Certificates
January 24, 2022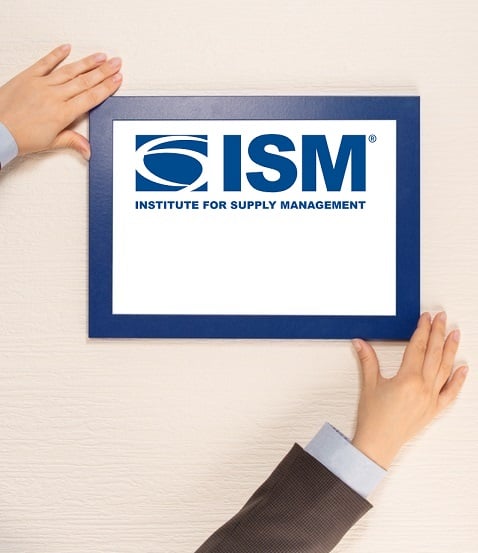 Many professionals are drawn to supply management because it's a career with high visibility — decisions practitioners make have a direct impact on their organizations. However, that makes the profession competitive, at all career levels.
Earning a supply management certificate can help. Investing in knowledge is never a bad idea. The more informed you are on your profession, the more value you can add to your team and your organization.
Institute for Supply Management® (ISM®) has unveiled a certificates program to help you gain that knowledge. Called ISM Certificates, it offers 12 programs:
Analysis for Supply Management: Essential Strategies and Skills
Business Skills for Supply Management
Category/Commodity Management: Essential Strategies and Skills
Contracting in the U.S.: Essential Strategies and Skills
Fundamentals of Cost and Price Management
Fundamentals of Logistics and Materials Management for Procurement
Fundamentals of Procurement
Fundamentals of Risk Management
Fundamentals of Sourcing
Fundamentals of Supplier Relationship Management
Negotiations: Essential Strategies and Skills
Planning: Essential Strategies and Skills.
Each ISM program contains five self-paced courses (totaling about five hours) and a quiz. Upon completion, participants earn a certificate that can be downloaded, added to their portfolios or shared with employers.
Why a Certificate?
Additional benefits of a supply management certificate include:
Career advancement. The more supply chain competencies supply management professionals can master, the more career doors that will open. Expanding skill sets through courses that complement their knowledge can be a valuable tool when negotiating a raise or promotion.
Competitive advantage. Given the competitiveness of the supply management profession, earning one or more certificates can help prospective employees stand out against other candidates, especially those with similar work experience.
Better results. ISM's goal is to keep supply management professionals ahead of the curve — and the certificates program was carefully curated to be forward-thinking and relevant. Each program offers tips, tricks and tools to achieve better results. ISM Certificates showcase real-world examples and competencies learned are immediately applicable.
Staying in the know. It's no secret that supply management has been in the spotlight lately. As conversations and headlines focus on supply chain inefficiencies and bottlenecks — as well as such emerging priorities as sustainability — it's more important than ever to be informed. The ISM Certificates programs can help practitioners make educated decisions.
Self-paced studies. Supply management professionals are likely balancing a lot. ISM Certificates programs are online, enabling participants (who have access for 60 days) to study anywhere, at their leisure.
Certificate Versus Certification?
The difference between getting a certificate and certification is like completing a college course obtaining a degree. Certificates are easier to obtain and show proficiency in a specific area, while certification is more all-encompassing and recognized as a premier status.
ISM's Certified Professional in Supply Management (CPSM®) and Certified Professional in Supplier Diversity® (CPSD™) are globally recognized as the gold standard in supply management certification. Achieving certification proves proficiency in a multitude of supply management competencies.
There are also eligibility requirements for earning certification, which include three years of full-time supply management experience and a bachelor's degree — or five years of experience without a degree. Professionals must pass exams and complete an application to obtain certification. Once certification is obtained, requirements for continuing education hours (CEHs) must be met to maintain status.
In comparison, earning a certificate from ISM is less time-intensive, and each program focuses on one competency. A certificate can be pursued by anyone — there are no eligibility requirements. Participants earn six CEHs for each certificate of completion.
As practitioners progress in their careers, certificate programs can be an effective way to keep skills fresh. Regardless of a practitioner's experience level — whether new to a role or more experienced, ISM Certificates can help them reach goals and coach and mentor others — which will make them stand out.
For more information, visit the ISM Certificates page at ISM's website.
(Image credit: Getty Images/Pavel Muravev)