Report On Business® Roundup: October Manufacturing PMI®
November 01, 2021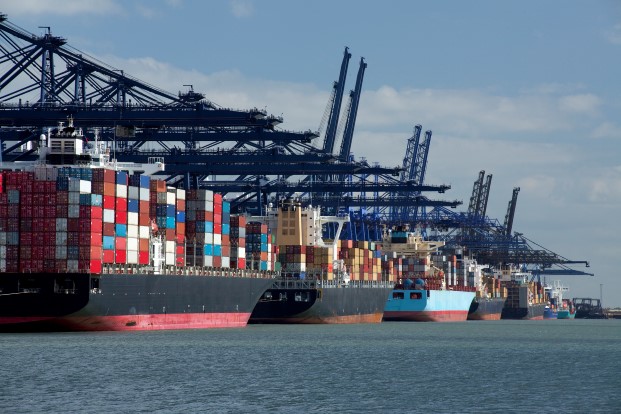 The Manufacturing ISM® Report On Business® took the latest checkup of U.S. factory activity on Monday, and the prognosis was unchanged: The manufacturing sector continues to do heavy lifting amid unprecedented turbulence in supply chains.
The Manufacturing PMI® was 60.8 percent in October, a decrease of 0.3 percentage point compared to the previous month but in line with analysts' expectations. However, the subindex data and comments from members of the Institute for Supply Management® Manufacturing Business Survey Committee reflect the same issues and challenges, some of which intensified in October.
Such familiarity with the hurdles means they are not necessarily red flags or signs of danger. But with the holiday peak shopping season even closer, companies preparing to finalize 2022 business plans and Lunar New Year on the radar, "November is going to be a critical month," Timothy R. Fiore, CPSM, C.P.M., Chair of the Business Survey Committee, told a conference call of reporters on Monday.
Demand cooled somewhat but remained solid, according to the Institute for Supply Management®. The headline index eased from 61.1 in September to 60.8 in October, with new orders (down from 66.7 to 59.8) expanding at the slowest pace since June 2020, albeit at a still-strong pace. pic.twitter.com/c0gNlwR2H1

— Chad Moutray (@chadmoutray) November 1, 2021
In many ways, the fulcrum is production, and it's impacted by several dynamics. In recent months, none has been bigger than employment. In October, the Employment Index was up 1.8 percentage points to 52 percent, but retirements and other attrition issues are keeping factory lines understaffed and limiting the Production Index, which was 59.3 percent in October, down 0.1 percentage point.
"The biggest disappointment is that the Production (Index) can't get to the 64- or 65-percent level," Fiore said, adding that it's a product of slow recovery with labor, but product shortages and transportation bottlenecks continue to have significant impacts.
Fiore said the data — most notably, the New Orders Index reading of 59.8 percent, a 6.9-percentage point decrease compared to September — suggested buyer cautiousness in October, as procurement organizations continued to contend with prices volatility and record lead times. "It's probably the primary reason why we saw the new order level fall off," he said. "On the other hand, new export orders came up, which would indicate that maybe more customers are out there in Europe and Asia. I don't know that the new order level will stay below 60 through the end of the year but I think there may have been a cautious adjustment."
In other subindex news, the Inventories Index reached 57 percent — its highest level since July 1984 (57.8 percent) — as many companies continued to contend with above-normal levels of with work-in-process and/or finished-goods stock. The Imports Index fell into contraction territory, likely due to nagging ports congestion and other supply chain snarls.
ISM Prices Paid at 85.7 vs. 82.0 est (first increase in two months), while New Orders came in at 59.8 vs 64.2 est. The Imports Index came in at 49.1, (first reading <50 since Jun 2020)...I still see unresolved supply chain issues and ongoing inflationary pressure.

— Liz Young (@LizYoungStrat) November 1, 2021
Fiore noted that two critical subindexes have followed a similar trajectory in recent months: The Supplier Deliveries Index hit a recent peak in May (78.8 percent) before appearing to stabilize in August, at 69.5 percent. Meanwhile, the Prices Index elevated to 92.1 percent in June before dropping to 79.4 percent in August, leading to hopes that inflation had peaked. However, both subindexes have been on this rise since, a "pretty unusual thing," Fiore said.
The Supplier Deliveries Index rose 2.2 percentage points to 75.6 percent, with record average lead times for production materials (96 days) and maintenance, repair and operating (MRO) supplies (49 days) recorded in October. The Prices Index hit 85.7 percent, an increase of 4.5 percentage points compared to September, with just one commodity — wood — listed as down in price.
"For both of those indexes, the numbers were coming down steadily for about three months than went into reverse around August," Fiore said. "We're a couple of months into that trend, and we'll see how long it holds. As lead times on raw materials continue to be extended, there's probably a lot of caution because buyers don't want to get stuck with high-priced orders, especially at (this time of the fiscal year)."
On a day in the Dow Jones Industrial Average briefly surpassed 36,000 for the first time and the NASDAQ index hit a record high, there was a lot of market noise competing with the Manufacturing PMI® data. However, the October report could be a month in which focus is not on the financial world but on the manufacturing sector and supply chains that can find meaning in an overused phrase: Winter is coming.
Note the consistent theme in today's ISM Manufacturing report...

Strong Demand + Constrained Supply = Higher Priceshttps://t.co/EMOlHwOeLo pic.twitter.com/xI3lJTWvF5

— Charlie Bilello (@charliebilello) November 1, 2021
The Report On Business® roundup:
Associated Press: U.S. Manufacturing Growth Slows in October to 60.8% Reading. "U.S. manufacturing growth slowed in October amid growing headaches from supply chain bottlenecks. Any reading above 50 indicates growth in the manufacturing sector. But the ISM report noted that manufacturers and suppliers were dealing with an unprecedented number of hurdles in their efforts to meet rising demand."
Bloomberg: Manufacturing Growth in U.S. Eases as Supply Chain Issues Linger. "ISM's (Supplier Deliveries Index) rose to a five-month high in October, indicating longer lead times faced by producers for raw materials. Labor shortages, intermittent shutdowns and record goods imports have overwhelmed the nation's ports and delayed deliveries. That's also contributed to a sharp rise in the (Inventories Index), which swelled to its highest level since 1984."
CNBC: Construction Spending Misses, ISM Manufacturing Index Beats Estimates. "ISM Manufacturing for October, 60.8 (percent), stronger than the 60.5 expected and sequentially follows 60.1," analyst Rick Santelli said. "Let's look at (the Prices Index): 85.7 (percent), the highest since we had the (recent) high-water mark in June, when it was 92.1. So, we are seeing hot, hot, hot when it comes to prices. (The New Orders Index) moved the wrong way: Instead of a 64 (percent) handle, we're under 60 at 59.8, which follows 66.7, and it's the first time it's been under 60 since June of last year."
MarketWatch: U.S. Manufacturing Sector Stays Strong in October Despite Hurdles. "Manufacturing is struggling with supply and shipping difficulties that aren't seen as easing anytime soon. Labor shortages are at the heart of the woes. But despite these constraints, the sector has been able to continue to grow and sentiment in the industry remains strong."
US ISM'S FIORE Q&A: BUYERS DON'T WANT TO GET STUCK WITH HIGH-PRICE ORDERS FOR 2Q SO IF THINK PRICES EASING, HOLDING BACK IN NOV; CAN'T WAIT TOO LONG #ISM #manufacturing #economy

— Mace News (@MaceNewsMacro) November 1, 2021
Reuters: U.S. Manufacturing Sector Slows Moderately in October. "Factories hired more workers, with a measure of employment increasing to a reading of 52 from 50.2 in September. This, combined with a massive improvement in consumers' perceptions of the labor market last month, suggest employment gains picked up in October after the economy created the fewest jobs in nine months in September. Worker shortages, however, remain a constraint."
The Wall Street Journal: Supply-Chain Issues Mean There's Less Than Meets the Eye to October Manufacturing. "Given how strong demand is, and how low inventory levels are, it makes sense to suppose that manufacturing is going to keep growing. The sticking point remains how quickly factories can get the materials they need and, to a somewhat lesser extent, whether they can hire enough workers to keep lines running. As a result, for now the most important part of the ISM report is its deliveries index: Until it begins to fall, signaling that supply problems are beginning to ease, manufacturing will be held back."
ISM's Services PMI® will be unveiled on Wednesday, and the Hospital PMI® on Friday. For the most up-to-date content on the reports under the ISM® Report On Business® umbrella, use #ISMPMI on Twitter.
(Photo credit: Getty Images/John Lamb)