Navigating the Last-Mile Maze
November 01, 2021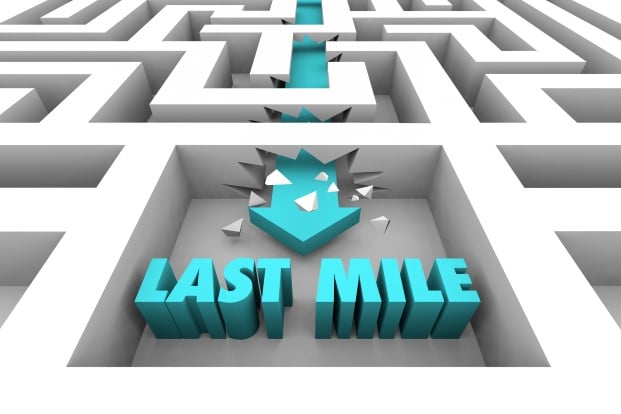 The dynamics of last-mile delivery have become increasingly complex: Due to the coronavirus pandemic, e-commerce has skyrocketed, and delivery costs and surcharges have increased. The mix of transportation partners has grown, and there is more crowdsourcing for deliveries in urban areas.
These and other challenges and complexities make "last-mile delivery the equivalent of a never-ending maze," said Bart de Muynck, a vice president analyst with global business research and advisory firm Gartner, during last week's virtual Gartner Supply Chain Symposium/Xpo.
During "The Future of Last Mile Driven by Technology Innovations," de Muynck said that last-mile delivery is growing on a global scale, with parcel volume having doubled in the last six years. It's likely to double again within five years, he said. Last mile's share of total shipping cost equals 53 percent: reaching more than US$10 per package globally, he said. Retailers typically recoup about $8 shipping per package but must fund the rest from the product cost, he said.
To address last-mile issues, retailers like Walmart have turned to such measures as consolidated shipments, including setting up delivery services to ship theirs — and even other companies' — products. "Last-mile delivery is typically a money-losing venture," de Muynck said, "and Walmart will need to pull a large number of orders together to be able to consolidate shipping to make deliveries profitable."
Trends in technology can help make sense of the maze, he said.
Technology Trends
Shippers and private-equity firms are continuing to invest in last-mile technologies and solutions, de Muynck said. In addition to dynamic rate shopping and parcel optimization, improved customer experience — which he calls the "key measure" in last mile — digital collaboration and real-time visibility are critical areas addressed.
"(We) see artificial intelligence (AI) being used to offer customers real-time delivery slots, with available delivery dates and times as well as real delivery costs, and in some cases, even a score from a sustainability perspective," he said. Visibility is key in end-to-end logistics, and particularly in last-mile delivery. "A lot of these capabilities can be found in last-mile delivery in orchestration solutions," he said. Some solutions offer more narrowed focus on the last 100 feet.
AI is also used to improve optimization and routing as well as for iterative planning, predictive insights, for chat bots and autonomous vehicles, he said. Other last-mile trends include:
Advanced analytics — including diagnostic, predictive and prescriptive forms — can aid in improving process efficiency, reducing costs and sensing and managing potential disruption, including helping to make decisions and drive actions, de Muynck said. "Supply chain executives can deploy a portfolio of analytics platforms while they sense current events, mitigate and respond to those events, and predict future disruptions while modeling and designing future supply chains," he said.
Autonomous vehicles. In addition to reducing costs, autonomous vehicles bring "additional transportation capacity in a tight market while at the same time, providing better customer service," de Muynck said. There is room to grow in this area, he said.
Drones also offer capacity and delivery cost reduction opportunities. However, while "regulation remains the most significant barrier to the widespread adoption of last-mile drone deliveries," he said, the pandemic and the need for contactless delivery heightened awareness.
Urban delivery robots. Use of these is just beginning in the U.S.
Impact on Sustainability
In addition to technology solutions, companies also focus on talent, sustainability, and diversity, equity and inclusion in their last-mile efforts, de Muynck said.
A consideration: The boost in e-commerce deliveries will continue to cause an increase in the number of vehicles on the road — and a potential negative environmental impact due to increased emissions and traffic congestion, he said. These factors may impede the sustainability plans of transport sector companies.
Among the measures shippers can take to increase sustainability in product delivery:
Using technology to optimize route planning
Consolidating shipments or collaborating with others on shipments
Investing in more sustainable last-mile fleets or working with carriers that operate sustainable vehicles, such as electric vehicles
Sustainable packaging
Carbon offset programs.
De Muynck recommends that transportation companies determine the greatest last-mile impacts they face and invest in technology options that can help them mitigate those issues, thus building agility and resilience.
(Image credit: Getty Images/iQoncept)