Emerging Professionals: Moving Supply Management Forward
July 16, 2021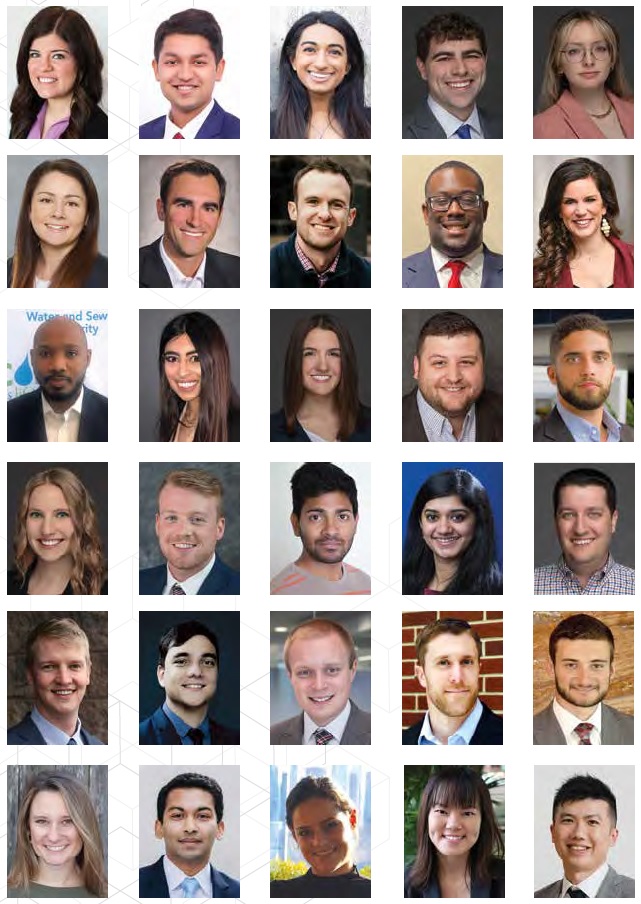 The honorees of Institute for Supply Management®'s (ISM®) 30 Under 30 Rising Supply Chain Stars Program share their insights into the supply management profession and such topics as the function's importance to businesses, the impacts of the coronavirus pandemic, and skills they find essential.
The program, in its seventh year, identifies and honors the next generation of the supply management profession.
Rachael Adams, MBA, strategic sourcing lead at Apache Corporation in Houston: "The biggest surprise about working in supply chain management is the positive impact the organization can have on categories of spend that were not managed previously."
Karan Agrawal, manager — growth and scale, operations at Peloton Interactive in New York: "During this unprecedented pandemic, it has been eye-opening and heartwarming to explicitly see the tremendous impact that all facets of the supply chain can have on end customers."
Ashna Amarshi, procurement director — policy, risk and compliance at GlaxoSmithKline (GSK) in London: "The profession has never been more important. Boards and executive teams, I feel, are starting to sit up and understand that supply chain management isn't just about getting the cheapest product out the door as quickly as possible, but the impact on customer satisfaction and brand success.
Brandon Collins, category manager — alloys at United States Steel Corporation (U.S. Steel) in Pittsburgh: "What I like the most about supply chain is that every decision you make is impacting both the final product and the bottom line."
Carly Cox, CPSM, category manager II at U.S. Steel in Pittsburgh: "Working in supply management has given me the opportunity to draw on my quantitative and analytical background in ways I couldn't have expected and constantly challenges me to stay curious and open to learning more."
Alessandra Dangov, procurement agent at The Boeing Company in Charleston, South Carolina: "Supply chain is an incredible field for people who want to learn more about how to efficiently run a business and who aspire to make an impact in any organization."
Tony Gazich, global supplier manager — polymers and chemicals at 3M Company in St. Paul, Minnesota: "The criticality of a cohesive supply chain, from end-to-end, has never been more apparent in 2020 and 2021. From the start of the pandemic in 2020, to significant economic recovery in 2021, supply chains have been under pressure to stay afloat while meeting the evolving needs of customers around the world. The supply chains which are most adaptable while willing to take calculated risks are succeeding and growing throughout this challenging time in our industry."
Brendan Gruss, CPIM, senior procurement manager — ingredients at Danone North America in Denver: "Not too many positions within companies allow you to interact with almost every single department. Supply chain management is one of the few that does."
Chase Jackson, procurement analyst at Greystar Property Management in Irving, Texas: "Data analysis is an essential skill to the success of my job. To effectively manage contract rates and pricing, one needs to know how to pull, decipher, manipulate, structure and present large data sets to be able to make sound business decisions."
Amber Jarmusz, principal sourcing specialist at Boston Scientific in Blaine, Minnesota: "I am the type of person that cannot sit still and do the same thing day after day. With sourcing, there is always something new arising, and although that brings many challenges and oftentimes headaches, it does keep it exciting!"
Jamal Jones, contract compliance officer at DC Water in Washington, D.C.: "Being a part of this team has afforded me the opportunity to forge partnerships and collaborations with various members of the community. I will continue to increase my knowledge of the procurement field in order to advance the mission and purpose of the agency."
Anam Kader, procurement manager, Shell Trading and Supply at Shell Oil Company in Houston: "My role is to develop manufacturing and logistics network strategy considering customer demand patterns, margins, geopolitical/ tax/ customs factors and evolving company vision. In today's fast changing world, the effectiveness of this role directly influences the company's ability to meet business goals by providing cost-effective solutions by product in a timely manner."
Madison King, global procurement — category manager I at U.S. Steel in Pittsburgh: "Working for a company that emphasizes the importance of being a learning organization has given me many opportunities to sharpen my sourcing and negotiation skills through both trainings and real-life experience. I love that I able to continue to learn and grow professionally in this role."
Derek Kroeger, systems product manager at Pep Promotions in Cincinnati: "The skills and relationships you develop in supply management are convertible to anything you want to do later in your career."
Breno Lobato, MBA, senior buyer at Shell Brasil Exploration and Production in Rio de Janeiro, Brazil: "This is a great opportunity to have an end-to-end view of how your company operates, and that experience will open many doors during your career."
Kylie Mazurek, CPSM, category manager II at U.S. Steel in Pittsburgh: "There are always opportunities for improvement, so there is never a dull day. You may think you've exhausted all options for sourcing of a product or commodity, but there are always other ways to view it. Some ways might not be simple, but there can usually be alternatives. That makes every day a different day and a different way to view things."
Cody Patterson, CPSM, procurement specialist at CentiMark Corporation in Canonsburg, Pennsylvania: "In the next 10 years, I hope to accomplish a full understanding of the manufacturing supply chain process. The organization I work for is a service-based company and does not manufacture its products. I hope to work closely with our vendors to gain a better understanding of their processes, which in return, will help me better service my organization's needs."
Vineet Pinnamaneni, network strategy lead at Cisco Systems in San Jose, California: "I aim to be an executive leader who builds effective and well-developed teams focused on strategic initiatives and innovation that deliver on company's goals and vision. I really enjoy working on complex problems with high quality people and will continue to prioritize developing my leadership and networking skills accordingly."
Shwetha Rangarajan, category management expert at FedEx Services in Memphis, Tennessee: "This recognition amongst so many other talented supply management professionals is definitely the highlight of my journey, which is just getting started. This has motivated me to pursue more complex challenges that generate a bigger impact."
Matt Raponi, senior category manager — data centers at Amazon Web Services in Herndon, Virginia: "Every day is a different adventure that requires a different piece of your skillset. In procurement, specifically, a new category or commodity is a brand-new opportunity to start from the ground up and learn about market dynamics, competitive landscape, and develop a strategy from the ground up. The potential to have incredible challenges and learning opportunities until the end of my career really holds my interest."
Dan Ratterman, COO at Shady Rays in Louisville, Kentucky: "I am motivated by the evolving supply chain challenges that we face. Especially last year with COVID-19, we have had the opportunity to find great solutions to help keep us ahead of the game."
Pedro Rocha, senior buyer at Shell Brasil Petróleo LTDA in Manila, Philippines: "The biggest surprise about working in supply management has been playing a decisive role in negotiating deals and managing projects, with the possibility to observe and manage the outcomes through a new contract or endeavor deployment. This generates a great sense of team collaboration and achievement."
Cory Simmons, associate commodity manager at Allegion in Carmel, Indiana: "Without effective communication, results would be harder to achieve, the outcome of day-to-day tasks may be different, and the overall relationships you build with people inside and outside of the organization simply wouldn't exist."
Dillon Tagle, senior manager, R&D procurement — laboratory and diagnostics at GSK in Souderton, Pennsylvania: "In supply management, the impact you have on the business and the people you support is incredible. As we have seen in 2020, with the impact from the coronavirus, an adaptive supply chain is more important than ever. I never realized how much of an impact I could have on my company as well as our customers."
Austin Taylor, contracts lead, research and engineering at ExxonMobil Global Services in Houston: "My mentors have helped significantly in general professional skills and learning organizational culture, connecting me to the right people and creating unique opportunities and experiences."
Emily Taylor, contract analyst, capital projects — contracts and procurement, at Shell in Houston: "It can be hard in a large corporation, especially early on in your career, to find impact in your role. I've found that just having an eagerness to learn, asking questions, and owning your performance by building credibility and delivering high quality work that opens up the door to bigger opportunities that have more significant impacts to the company."
Nikkhil Vinnakota, senior manager, global supply chain at Amgen in Thousand Oaks, California: "I lead a team that manages transformational supply chain projects driven primarily through regulations. Being able to handle pressure and communicate effectively and concisely have proved to be very important."
Annalise White, associate director, marketing services procurement at Merck in New York: "My biggest accomplishment in my career so far has been moving abroad. I was given the opportunity to be a part of the global procurement team in another country — the Netherlands — (where) I not only learned more about global procurement and direct materials, but I also learned more about myself."
Charmaine Yeo, global category manager, capital equipment and MRO at GSK in Singapore: "I am most proud that all GSK manufacturing sites, R&D locations and commercial field forces globally have continued to operate with no business disruption throughout COVID-19, as my team and I have worked with suppliers to ensure PPE supply continuity. This experience has provided me valuable insight into decision-making at the C-suite level and broadened my network: I had opportunities to interact with colleagues from functions that I would typically not have encountered."
Gary Yeo, senior manager, R&D procurement —site and patient services at GSK in London: "While (my master's in behavioral science) isn't strictly a supply chain/procurement degree, what I learned has shaped how I approach the patient-facing services I manage, with a focus on improving the patient experience."