Sustainability and Digitization are Hot Topics at Future Mini Con
June 11, 2021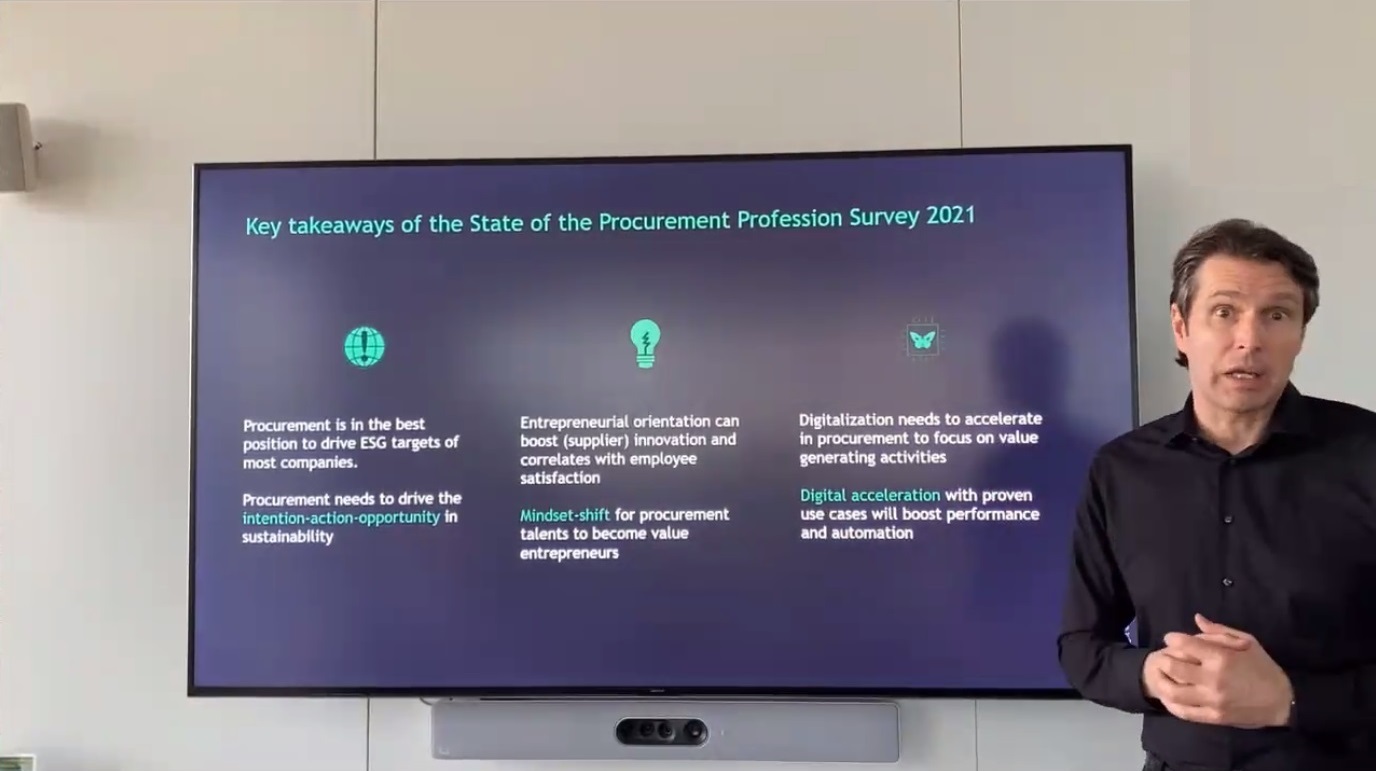 An Institute for Supply Management® (ISM®) Annual Conference unlike any of the 104 that preceded it — four all-virtual events, necessitated by the coronavirus (COVID-19) pandemic, over three months — came to an end on Wednesday with the Future Mini Con.
The third Mini Con event recapped some of the key learnings from the ISM World 2021 Main Conference in May, featured an insightful discussion with a procurement executive with a front-row seat for COVID-19 vaccine development and distribution, and revealed results from the State of the Procurement Profession survey, conducted by ISM and the University of Mannheim (Germany) Business School.
A sobering result on sustainability stood out in the survey; it was perhaps the biggest topic of discussion at the Mini Con, which was hosted and moderated by Marcell Vollmer, Ph.D. (pictured above), a Frankfurt, Germany-based partner and director at Boston Consulting Group. Asked to rank six priorities, the more than 1,100 participants — from practitioners to executives, with 64 percent of them based in North America — selected cost first and sustainability last.
The other priorities, in order of ranking, were quality, risk, speed and innovation. More respondents selected cost as their No. 1 choice (41 percent) than had sustainability among their top four priorities. What's more, respondents indicated they don't expect those priorities to change over the next five years.
Sustainability Recognized, But Not Prioritized
Christoph Bode, Ph.D., endowed chair of procurement and professor at the University of Mannheim Business School, called the result "a disappointment," especially considering that supply chains are, by far, the biggest source of global greenhouse-gas (GHG) emissions. "Many procurement professionals will say that, in their book, it just says savings is all they need to do," he said.
Procurement's job is to generate competition, Bode said. "The market mechanism is the most powerful weapon we have in our hands," he said. "And on the supply side, this competition is organized around cost, and (rarely) around sustainability. … Procurement can and should be the function that drives sustainability. It has to start with us. With the level of (GHG emissions) in the supply chain, where else can it start?"
That could be an issue for many organizations. According to the survey, just 10 percent of respondents consider their procurement organization a good example of sustainable practices. In terms of monitoring, many organizations do nothing, or assume their suppliers are policing the supply chain, respondents said.
Still, "there's attention on (sustainability) at the senior level," said Dillon Tagle, senior manager, R&D procurement — laboratory and diagnostics at GlaxoSmithKline (GSK) in Souderton, Pennsylvania, and a 2020 ISM 30 Under 30 Rising Supply Chain Stars honoree. "It comes down to top-down leadership making it a priority." For example, Tagle said, a CPO needs to prioritize a supplier that might cost more but offers sustainability benefits. Plus, the procurement organization must have the influencing skills to gain internal stakeholder buy-in.
During the Mini Con's young-professionals panel discussion, Tagle added, "If we can't convince (stakeholders) that spending more on that supplier is worth it, they're going to want to stick with who they know. Another (dynamic) that is untapped is holding suppliers accountable — sitting down with them and coming up with a sustainability plan. It's a chance to put key partners on the spot and drive initiative."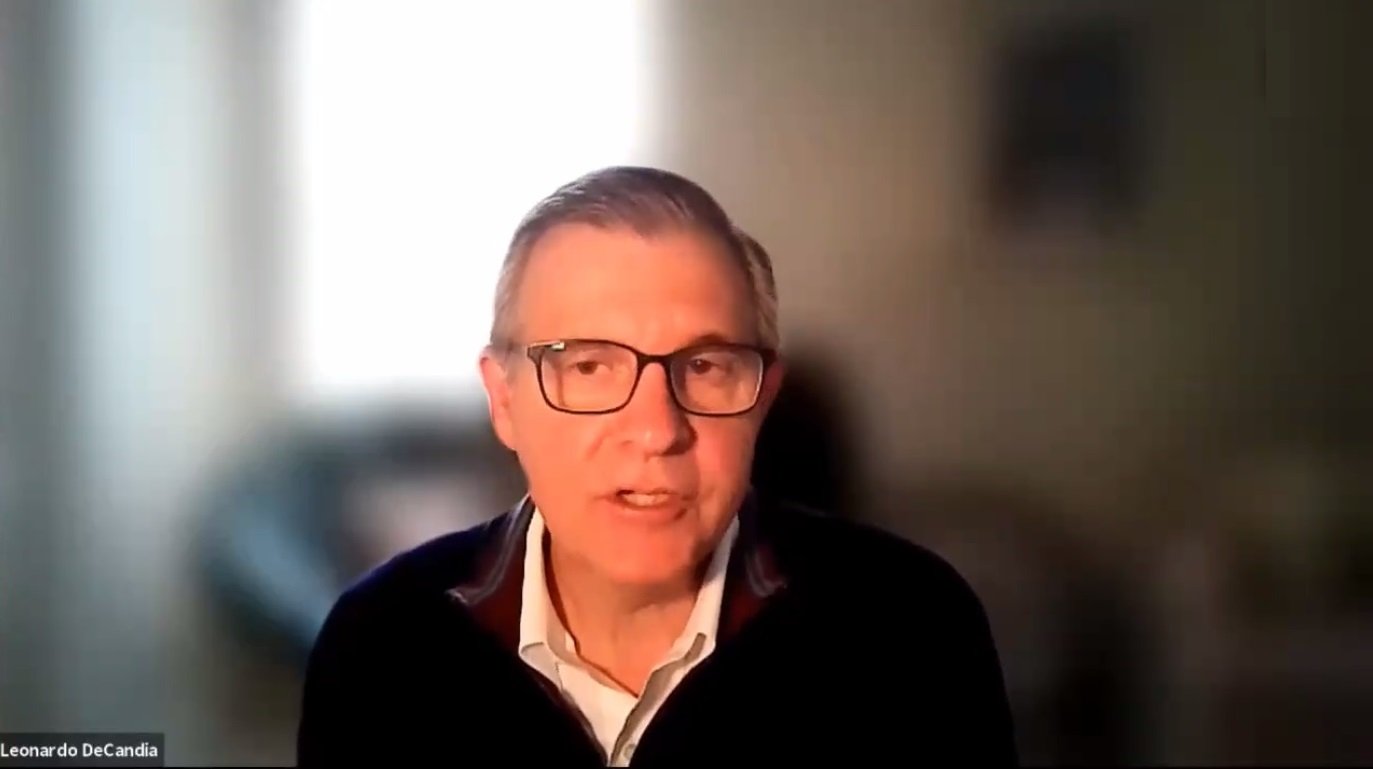 Leonardo DeCandia, Johnson & Johnson global procurement manager, discusses coronavirus (COVID-19) vaccine distribution and other topics at the ISM World 2021 Future Mini Con.
Sustainability should "not be an area of competition," said Leonardo DeCandia, global procurement manager at pharmaceutical and medical-device giant Johnson & Johnson (J&J), producer of one of the three COVID-19 vaccines approved for use in the U.S. He added, "We are completely transparent with our best practices" and that CEOs shouldn't be hesitant to share sustainability strategies and information.
Supplier diversity was the sustainability principle DeCandia primarily discussed while interviewed by Vollmer. He said diverse suppliers are among J&J's critical partners in vaccine production and distribution in India and South Africa. "Those partners show that you can have innovation and growth while doing good," he said. "Procurement should be the leader for doing that in a company."
Passing the Pandemic's Test
COVID-19 has been a "litmus test" to determine which procurement organizations were prepared, DeCandia said. The key to passing, he adds, was the sophistication of procurement's digital technology, particularly ability to connect and integrate across a company.
For example, he said, after the COVID-19 outbreak in Wuhan, China, in December 2019, J&J's global sourcing network enabled it to quickly provide personal protective equipment (PPE) to its employees in the country. Soon afterward, DeCandia added, authorities from a Chinese province requested J&J's help in sourcing PPE for its population.
At J&J, procurement was involved in the development of clinical labs, sourced more than 150 critical vaccine ingredients and partnered with R&D to develop a data-science tool that helped identify virus hot zones and variant threats to determine the most ideal areas to stage vaccine trials. "If we weren't so digitally integrated," DeCandia said, "we wouldn't have been able to partner and accelerate scale and supplier innovation."
Such digital fluency will be a critical skill for supply management professionals of the future, DeCandia said. However, one of the most critical languages practitioners must speak are those of internal stakeholders. Excellent business skills are just as critical as procurement skills, he added, because if you can't speak the same language as stakeholders, you can't solve their problems or get buy-in on innovations.
"Procurement is in a new world and in a new place," he said. "It's always been fighting for a seat at the table. Trust is earned a drop at a time, and you can lose it in gallons. But digital gives us to tools to make those critical contributions. When procurement professionals walk into a room or get on a Zoom call, they're looked a little bit differently due to the contributions they've been making during the pandemic."