ISM World 2021: The New Realities of Workforces (and Workplaces)
May 20, 2021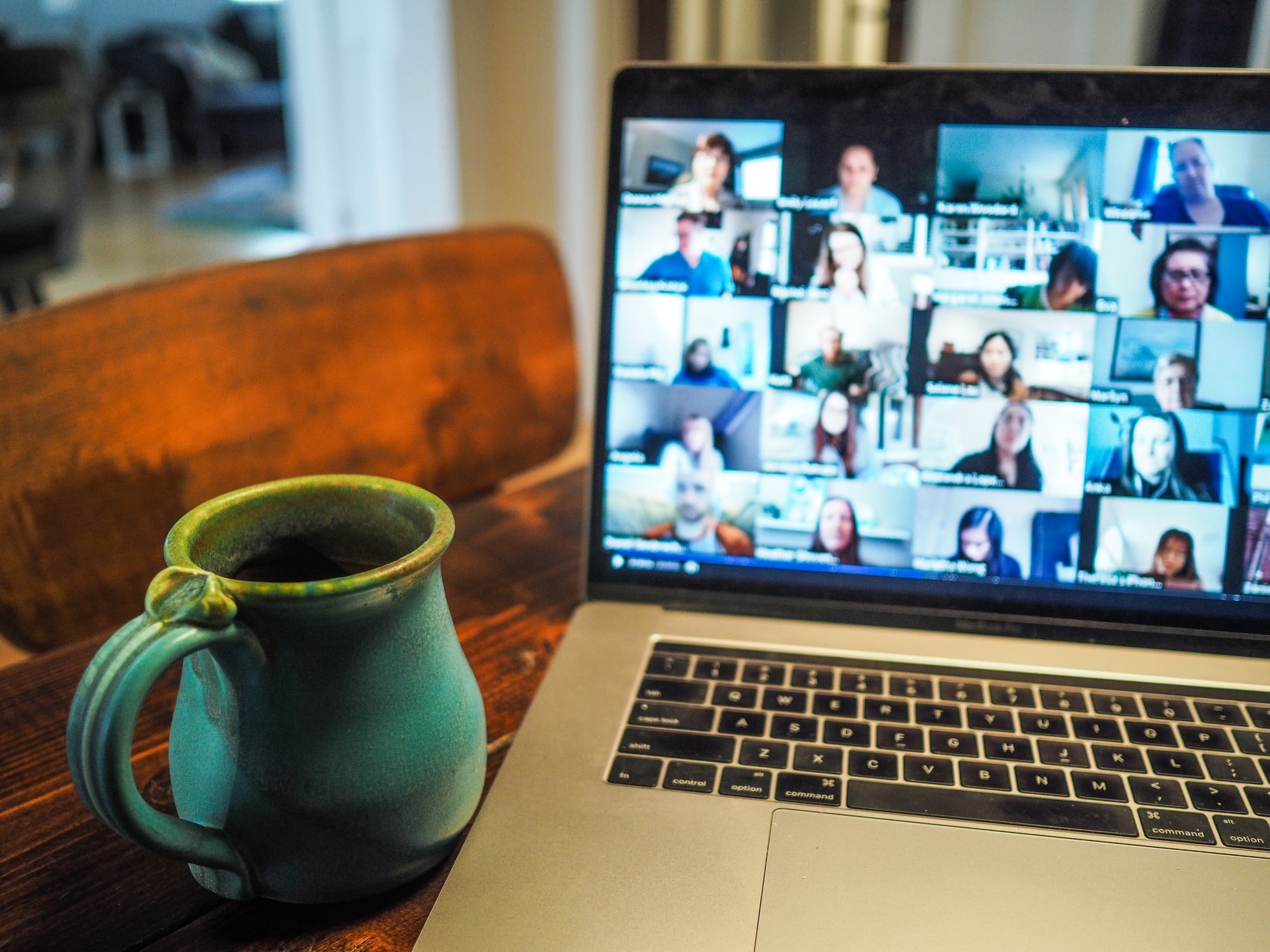 That the coronavirus (COVID-19) pandemic has permanently transformed job roles and employee expectations is one of the worst-kept secrets in the business world. What is not so obvious is how companies, executives and hiring managers can best adapt to these changing dynamics to attract and retain talent.
"Workforce of the Future (is Here Now): A Session for Team Leaders" at the ISM World 2021 Annual Conference on Thursday featured four procurement executives currently tracking and responding to employment trends: Rhondia Black, executive sourcing and supplier quality leader at General Electric (GE) Gas Power; Cheryl D'Cruz-Young and Melissa Swift, senior client partners at Los Angeles-based management consulting firm Korn Ferry; and Mark Zafra, CPO at LiveRamp, a San Francisco-based software-as-a-service (SaaS) provider.
The quartet, along with moderator Gregor Fiabane, a senior client partner at Korn Ferry, discussed how changing workplaces impact supply management, particularly regarding technology, digital literacy and business travel for such formerly in-person rituals as negotiations and supplier audits. Regardless of the post-pandemic models, "the process won't be easy, and it won't be free," D'Cruz-Young said, echoing one of the session's themes.
"The market for talent is so competitive," Zafra said. "You have to really understand what your employees want, what inspires them and how they work best. Then, overlap that with your company goals and find ways they fit together. If you aren't looking at how your employees can work best and balance their own lives, you're not going to be successful because the war for talent, especially in procurement and supply management, is so cutthroat."
Black noted that the all-virtual ISM World 2021 Conference setting is a sign of the current environment and what's to come: "We're doing this and other conferences with suppliers virtually, which is so different that what we're accustomed to," she said. "From a supplier-quality standpoint, we've gone from 75 percent travel to on-site with suppliers, looking, touching and reviewing. … Now, it's 20 percent. Teaching that technology to do virtual audits and getting comfortable with it was a big deal."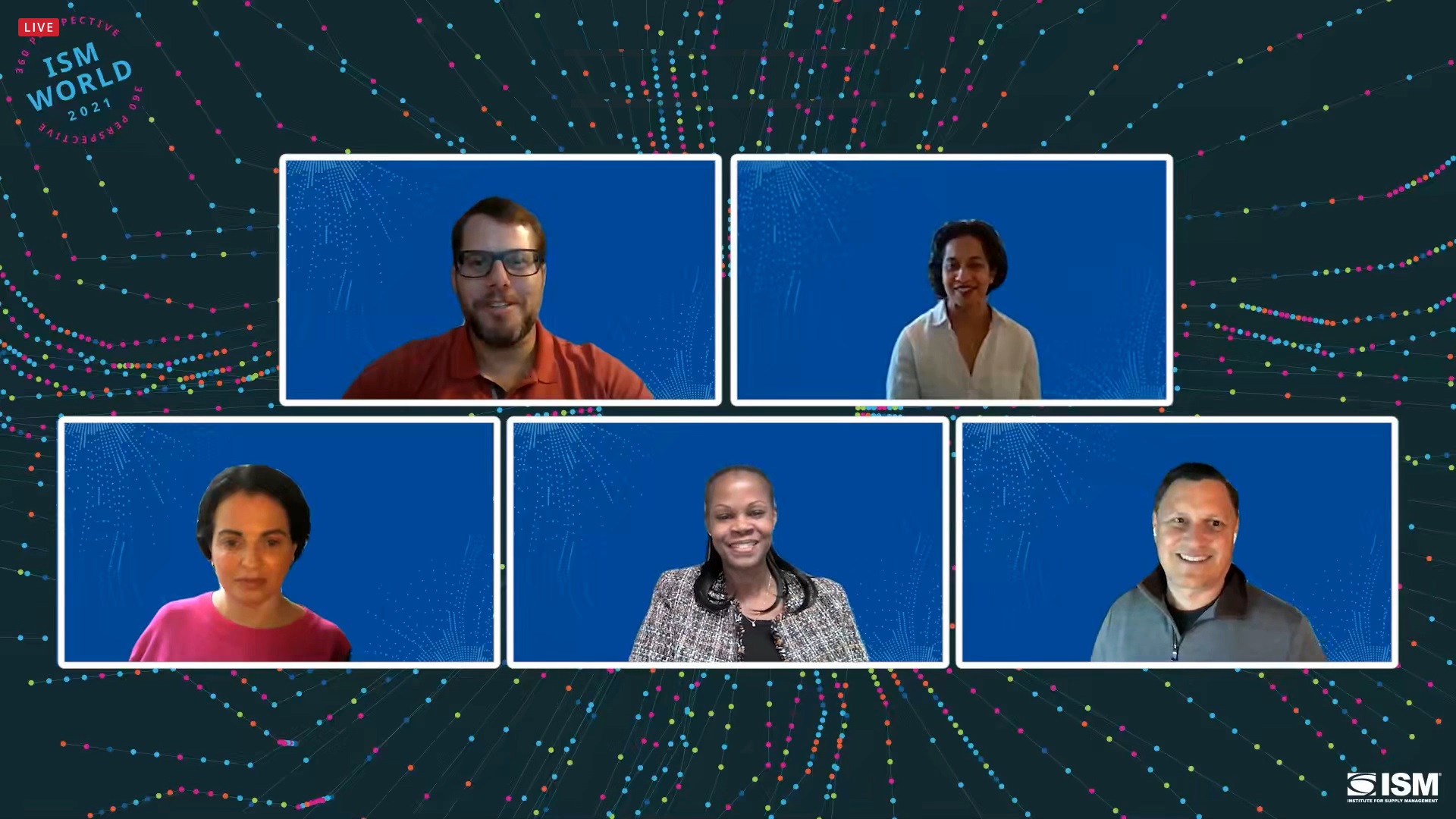 Clockwise, from top left: Moderator Gregor Fiabane and "Workforce of the Future (is Here Now): A Session for Team Leaders" panelists Cheryl D'Cruz-Young, Mark Zafra, Rhondia Black and Melissa Swift.
Zafra said that negotiating via email or Zoom will be an in-demand skill — but added that since most of negotiation is internal, a robust organizational culture of collaboration is critical. He added that a pre-pandemic growing need for practitioners who can understand, interpret and use data has only intensified.
Swift identified for steps for companies as they evaluate and change their workforce and workplace models: (1) identify the why, whether it's to save on office real-estate costs or attract and retain employees, (2) what does the model center on, such as proximity to supply bases or in-person roles, (3) if salaries and benefits change — for example, adjusting pay for remote employees from areas with a lower cost of living, and (4) how changes happen, including how executives and managers are equipped to maximize output.
"These are things we've all had a crash course on over the last year," Swift said. "But there is certainly more ground to be covered on creating a healthy, functioning culture with more flexibility and remote work. It was phenomenal what many organizations have done during the pandemic, but it's taken a lot of energy. Now, companies must sustain that."
As the session ended, Zafra submitted an action item: In the attendees' live chat, he posted a link to LiveRamp's jobs page, stating that the company is hiring.
Key Takeaways
While most procurement organizations have been successful with remote work and employee flexibility during the pandemic, they will have to raise their game to compete for workers in a talent-driven market.
Companies should enable remote-work freedoms but be realistic. "You shouldn't get to a place where many employees are starting work at 5:30 or 6 o'clock in the morning, just for the benefit of two people in another time zone," Black said.
It's critical to collect data from employees, supplier and other stakeholders in crafting post-pandemic models. Don't assume what they want or need; ask them.
Quote
"Change management has accelerated because some companies were forced into it. (Some organizations) had to cut their bureaucracy. They made fast changes, including some compliance-heavy organizations. They changed decision-making processes in part to keep supply management and procurement employees safe. … That's changing footprints and creating more forward-thinking decisions. That sweet spot: How do you get to it, and what are the reasons for your decisions? I think it's all up in the air, questioning why things are done, and it's a tremendous benefit in terms of being able to go where the talent is." — D'Cruz-Young