ISM World 2021: Jeremy Gutsche on Charting New Paths to Innovation
May 20, 2021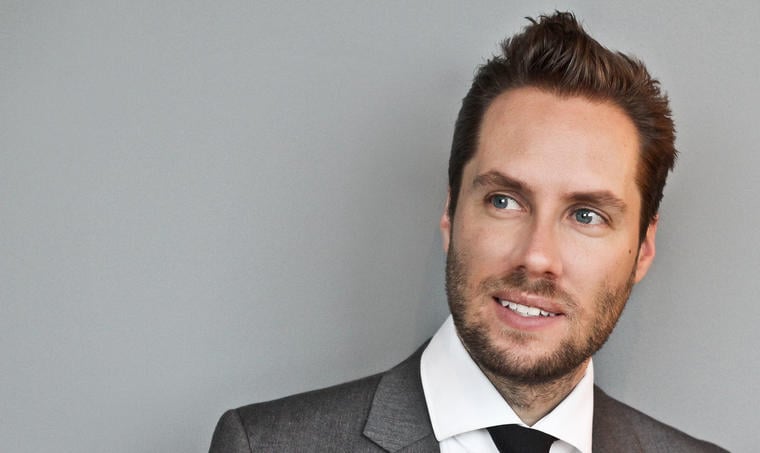 The focus of the ISM World 2021 Annual Conference is a 360-degree perspective of the supply management landscape, and Jeremy Gutsche, MBA, CFA, challenged virtual attendees to seek innovation in all directions during his closing keynote on Thursday.
Gutsche, founder and CEO of Toronto-based market-trends content, research and analytics platform Trend Hunter, ended the main portion of Institute for Supply Management®'s 105th Annual Conference by stressing that many organizations and professionals like to talk about innovation, but old habits, mindsets and processes can prevent them from achieving it.
"We're more dependent on our past decisions than we like to think," Gutsche said. "That's especially true in the supply chain world, where there are standards and safety (concerns) and quota and make sure the world keeps running and the food supply keeps moving. All of those are important challenges, but it leads to a conclusion."
He continued, with a line he repeated several times on Thursday: "Everyone wants innovation to happen, but most people don't break from the path."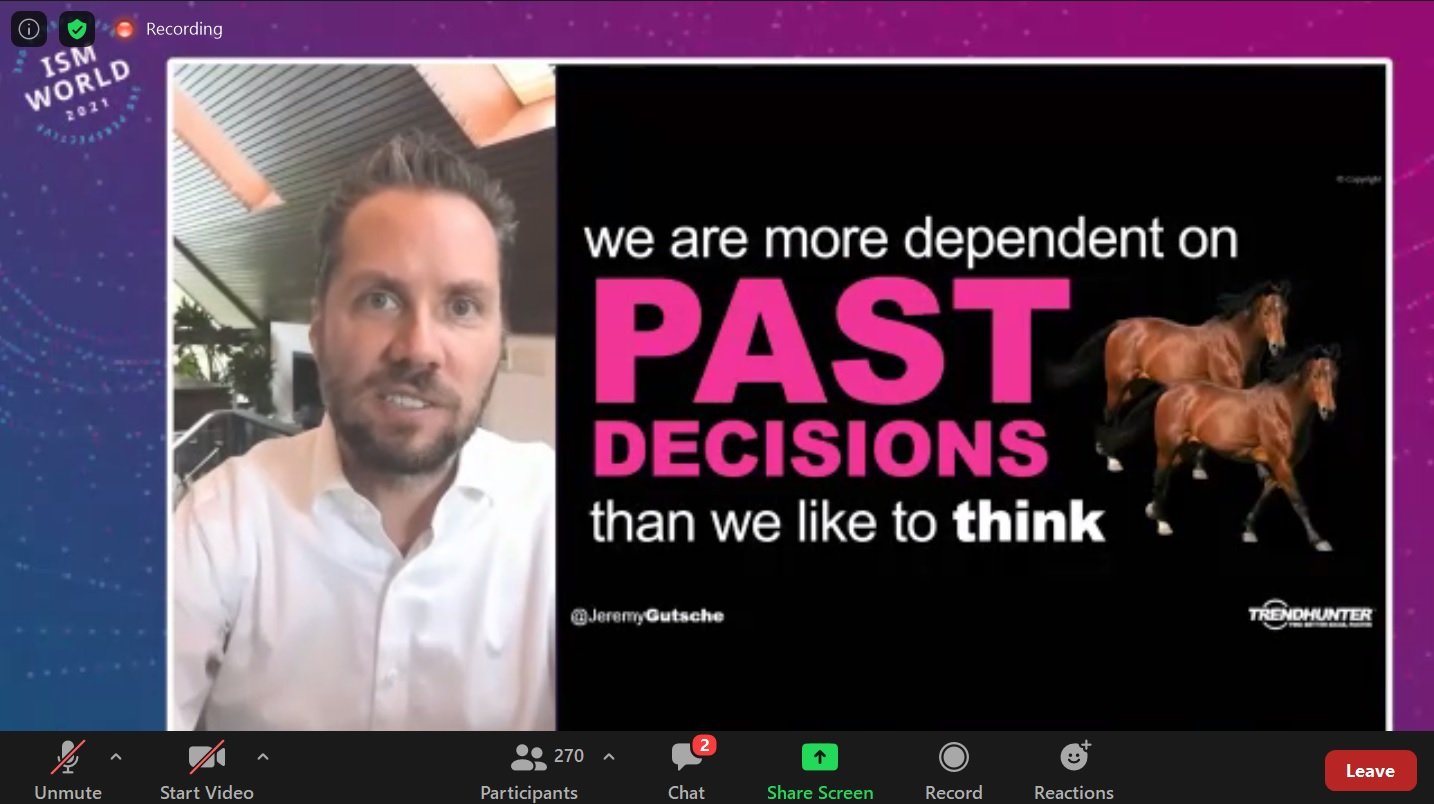 Innovation will be especially critical in the aftermath of the coronavirus (COVID-19) pandemic. Following such a crisis, Gutsche said, is a six- to 12-month period of "chaos," when new consumer habits and attitudes emerge. Throughout ISM World 2021, sessions have been devoted to the changes, many of them permanent, the pandemic has brought to markets, workplaces and supply chains.
Acknowledging that reality is one thing, capitalizing on it is another. Gutsche called this dynamic the "myelin trap," referring to the substance that insulates the "wires" in the human nervous system and enables faster transmission of impulses, including those of routine tasks and repetitive movements, increasing our speed and efficiency at them.
"Our brain narrows our thinking to things we've seen and done before, so if you need to do something quick, it's great," Gutsche said. "But it becomes predictable. It's bad for innovation and change because it means you miss out on the other ideas you have in your potential."
While supply chains have to be innovative by nature, in many respects, they fell into production, inventory and logistics routines — usually centered around lowest-cost sourcing. That monotony came at a price when COVID-19 hit. However, while there is a fine line between discipline and repetition, being curious and insatiable can increase distractions and risk. The key, Gutsche said, is finding a balance.
"By thinking about how other organizations would approach a supply chain situation … and looking at a problem from different perspectives, you're breaking out of that trap," Gutsche said. "That increases the likelihood of getting to a breakthrough idea."
He continued, "Innovation is not a fluffy thing, it's a science, and if you put in the work, not only can you get to that breakthrough idea, but you can start to retrain your brain to be better at looking at a problem from multiple perspectives."
Narrow thinking is a "neurological shortcut," one of seven "traps of path dependency" that prevent innovative solutions, Gutsche said. The others:
Subtlety of disruption. A new innovation can be prematurely abandoned if it's awkward or unfamiliar.
Traps of success. A winning formula can provide consistent success, until it plateaus. And it could be exposed when an unexpected crisis hits.
Optionality. "We make fewer big choices than we think," he said, suggesting decisions that create other options by stretching limits.
Linear thinking. Humans typically can't fully process the accelerating pace of change, Gutsche said, which inhibits forecasting abilities — a problem that was exacerbated by the pandemic. "Our predictions often come true faster than we think," he said.
Discomfort. It's easy to say "no" when busy or content …
Ease of inaction. … "and when it's not our department, it's easy to say nothing at all," Gutsche said.
In closing, Gutsche challenged Conference attendees to use learnings from this week as a roadmap to find their next paths to innovation. "Think about what thought, idea and concept from ISM World 2021 really motivated and provoked you," he said. "What will you do to make it happen? … Disruptive thinkers will create the future."
Extra Points
Gutsche's keynote closed the main ISM World 2021 Conference, but one item remains on this year's agenda: The Future Mini Con on June 9. The three-hour virtual event will recap some of the insights shared this week and provide a deeper look at ISM's State of the Profession survey research. Keynote speakers are Marcell Vollmer, Ph.D., MBA, partner and director at Boston Consulting Group (BCG), and Christoph Bode, Ph.D., endowed chair of procurement at the University of Mannheim in Mannheim, Germany.
The ISM World 2022 Annual Conference will be back live and in-person in Orlando, Florida, on May 22-25, ISM CEO Thomas W. Derry announced on Thursday.