ISM World 2021: A Powerhouse Panel on the State of the Profession
May 20, 2021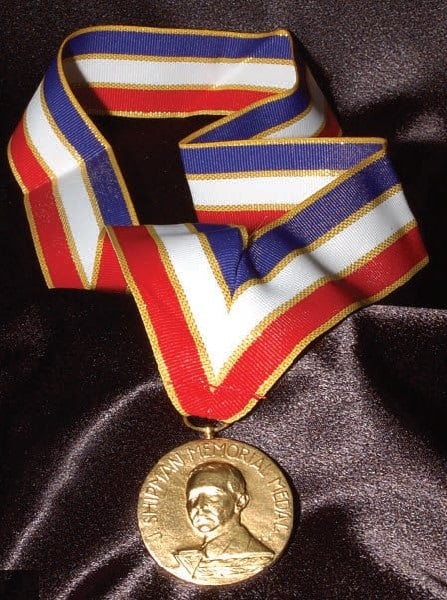 For the supply management profession, the coronavirus (COVID-19) pandemic has been an extensive lesson in managing risk. Whereas cost has long been the traditional driver behind supply management organizations, risk management is becoming just as crucial.
"Cost will always be core to the profession. It's fundamental," said Tom Linton, senior adviser at McKinsey & Company, during Wednesday's General Session, "Top-Tier Leaders," at ISM World 2021, Institute for Supply Management®'s 105th Annual Conference. However, he said, the profession is evolving: It's moved toward revenue and managing customer expectations and satisfaction, as well as end-to-end supply chain transparency. "It's become more three-dimensional versus two-dimensional. It's becoming more exciting and complex. I think, if anything, it's become more of a system than a chain."
Linton joined four other J. Shipman Gold Medal Award winners in a state-of-the-profession panel discussion moderated by ISM CEO Thomas W. Derry. The other panelists: Sid Johnson, former vice president, procurement and sourcing at Harman, Inc., announced as the 2021 winner on Wednesday; Sue Spence, MBA, vice president, sourcing, procurement and accounts payable at FedEx, the 2020 medalist; Shelley Stewart, CPSM, retired CPO at DuPont and chair of the Billion Dollar Roundtable, the 2011 awardee; and Lisa Martin, CPSM, C.P.M., senior vice president and CPO at GSK, who received the honor in 2013.
Managing Pandemic Impacts
Supply management has always been multidimensional and critical to the business, Spence said: "While there are some differences now, it's like any time we've faced shortages of any kind, except (it's now) on steroids, because you're competing with the world for that thing you want, whether it's steel, electronics, chips for autos, or personal protective equipment (PPE)."
Nevertheless, Stewart said, "The pandemic is going to change how we think about our supply chains." Relationships and collaboration have helped organizations navigate the crisis. "We're not going to go backward on that," he added.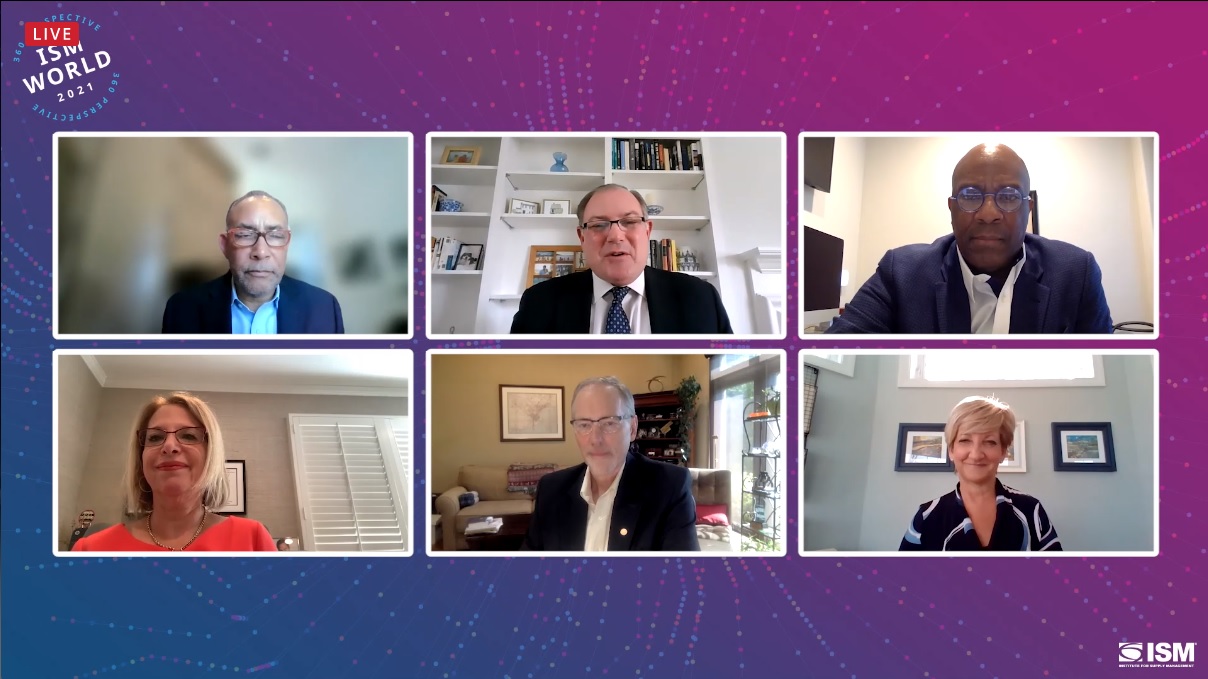 Clockwise, from top left: Shelley Stewart, CPSM, Institute for Supply Management® CEO Thomas W. Derry, Sidney Johnson, Sue Spence, MBA, Tom Linton and Lisa Martin, CPSM, C.P.M.
Strong relationships with key suppliers are instrumental in sourcing and supply, something that's been shown time and again with the supply shortages that occurred during the pandemic, Stewart said. They enable companies to be customers of choice, Spence added. "When I pick up the phone, I want to be first in line because I've treated you well and the relationship means something," she said.
Building strong internal relationships and achieving internal alignment are just as crucial in creating value and achieving success, Martin said. "It's our role to bring the outside in and make sure our company isn't complacent," she said. Internal relationships can help facilitate change management — and it's important that supply management professionals have strong communication skills.
Collaboration, another measure that has helped companies navigate the crisis, is key to the future success of organizations, Stewart said: "I think we're going to find ways for companies to collaborate more. The suppliers that surprise you the most are the ones you didn't think would surprise you."
Changing the Approach to Risk
Is risk going to play out in a way that such strategies as holding more inventory or qualifying second suppliers, prevalent during the pandemic, will become the norm? Or are they temporary tactics?
"I've spent my career in the auto industry, and that's exactly what the OEMs (original equipment manufacturers) are talking about," Johnson said. "More importantly, it's the first time in my 30-year career in the automotive (industry) that OEMs are talking about changing their supply chain strategy and how they deal with chip suppliers and silicone. They're looking at a different strategy for silicone than versus traditional components. I'd never heard that before."
Approaches to some measures like inventory and second sourcing may change, Martin said, "but it's an 'and,' not an 'or.' The pressure on cash, for example, isn't going to go away. It's (a matter of) integrating that where you need to and take a different approach while keeping the cash agenda. I don't think it's a sacrifice of that. It's an additional complexity."
The pharmaceutical industry is experiencing a shift to more regionalization of internal and external networks, Martin said. It's partly fueled from a practical — business — side: A need to simplify the supply chain. She explained: "Some of our supply chains in pharma can be quite complex" and involve numerous steps and locations.
Regionalization is likely to become more prevalent as companies move away from single sourcing and relying on low-cost countries such as China for components and parts, the panelists said. In the past, Johnson said, single sourcing was seen as a good strategy to reduce cost, but it might not be the approach to take now, given the risks.
Single-country sourcing may also be a thing of the past. "There will always be constraints that are caused by distance," Linton said. "So, the closer things are to the point of consumption, the better." The gap between the productivity cost in China and North America has closed over the years, he added, making it more attractive to change. "You can buy things in Mexico at direct labor cost that is equal to or lower than China," he said. "This kind of thing is going to reshape economies as well."
Spence noted that resilience is key, especially because no one knows what the supply chain landscape will look like in five years. "The point is you can pivot. You can pivot because you studied the market and you understand what all the levers are and all the influences," Spence said. "You're not married to the way you always did things."
She added: "So, (it's) how can we see far enough ahead of what's coming to be able to pivot now to position ourselves in the best place possible. The risk piece is interesting, too: You can do all sorts of things to try to eliminate risk, but at what cost. (It's a) trade-off. How probable is the impact of what we think is going to happen and what price are we willing to pay to try to prevent it?"
Other discussion centered around such topics as the cost of not managing risk and recent disruptions like the shortage of semiconductors, the February winter storm that impacted supply chains, and container shortages and port congestion.