How the Hospitality Industry Can Safeguard Singapore's Food Security
March 23, 2021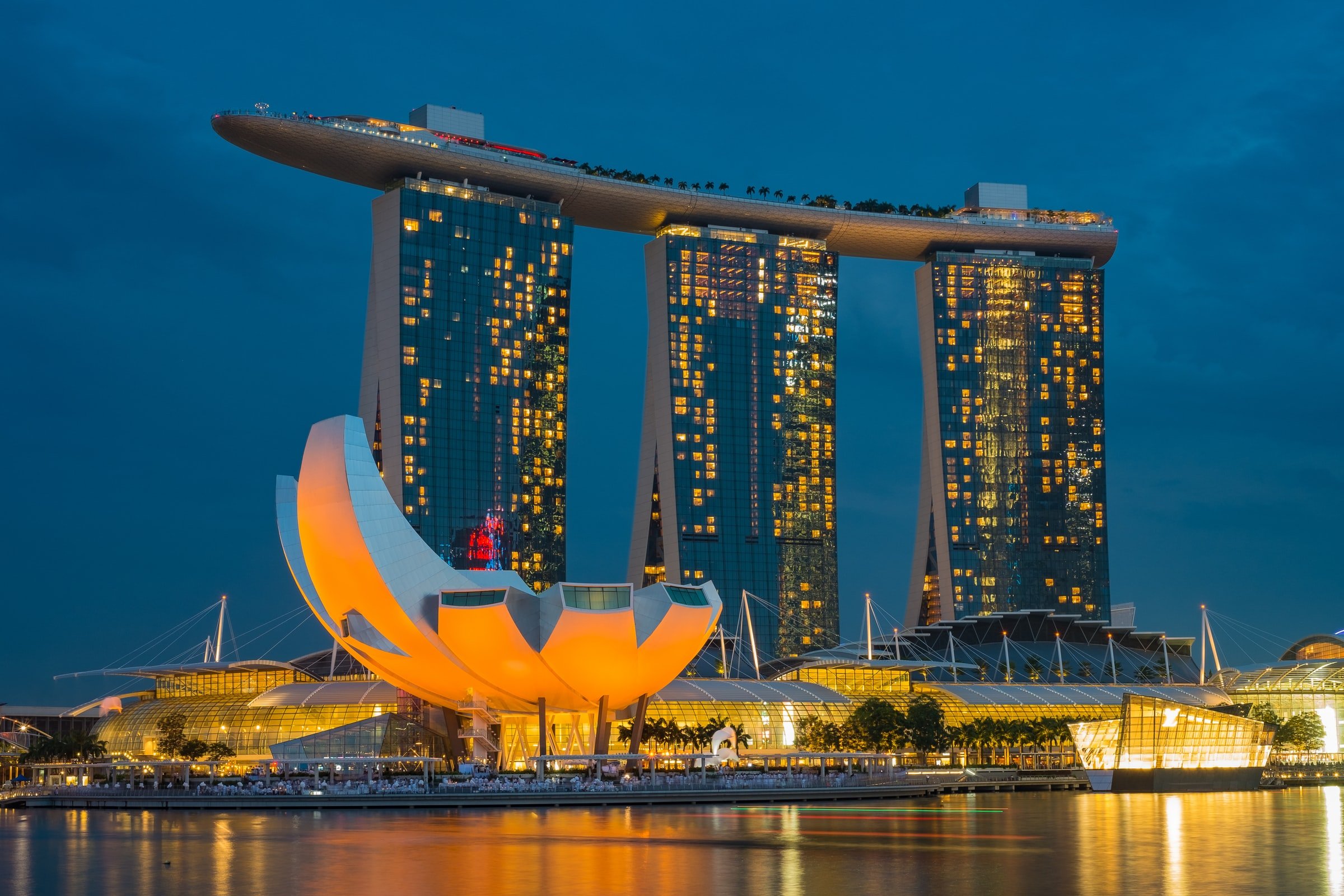 Food plays a starring role in our lives. Food can be an excellent conversation starter, a bridge between cultures and a way to build strong connections with others. When combined with exceptional service, it is key to delivering an unparalleled guest experience in the hospitality industry.
But food is a valuable resource, more so for a country like Singapore that imports 90 percent of its food supply. This increases Singapore's vulnerability to global supply shocks — exacerbated by multiple external factors such as climate change and the coronavirus (COVID-19) pandemic, which have threatened food resiliency and disrupted global food-supply chains.
Hospitality players, which are able to procure on a large scale, can do their part to champion food security through responsible sourcing and influencing suppliers to do the same. Certifications and the ability to verify product traceability are good first steps to minimize environmental impact throughout the entire supply chain.
A well-executed, responsible sourcing strategy is also about proactive stakeholder engagement and alignment of goals. At Marina Bay Sands resort in Singapore, the sustainability, food and beverage, and procurement teams collaborate closely to identify, purchase and serve responsibly sourced ingredients without compromising on quality. This close inter-departmental working relationship has helped us achieve many "firsts" in responsible sourcing — from banning shark fin in our restaurants beginning in October 2013 to embarking on our landmark partnership with World Wildlife Fund for Nature-Singapore (WWF-Singapore) in 2017.
At Marina Bay Sands, we meet objectives through a forward-thinking approach and a willingness to explore new solutions. We have committed to have 50 percent of our seafood responsibly sourced by 2020 and are working with WWF-Singapore to improve fishery and aquaculture farming practices in the region. These include the support of a small-scale fishery and seven aquaculture farms in Malaysia as they aim to become the first in the world to be certified responsible for popular species such as snapper, grouper and sea bass. In 2019, these farms produced a total of 350 metric tons of responsible seafood.
Waste Not, Want Not
In 2019, Singapore generated 744 thousand tons of food waste — about 10 percent of the solid waste produced there that year. To align with the zero-waste nation vision outlined in the Singapore government's Zero Waste Masterplan, hit is important that we do more to minimize the wastage of such a precious resource, and hospitality businesses need to urgently minimize food waste.
One way is to harness technology to track the amount of food waste generated per day. This will help to identify "high waste" areas across the business and motivate operational teams to take steps to minimize food wastage.
Chefs can use food-waste tracking systems to measure, monitor and reduce the amount of food prepared daily. Having an overall understanding of food-waste volumes can also help procurement teams make smart decisions about monthly purchasing volumes, leading to significant cost savings for the business. In 2019, Marina Bay Sands trialed food-waste tracking technology over a 13-week period at selected kitchens and achieved a 36-percent reduction in food waste by weight. Since then, we have implemented this technology at selected kitchens and delivered month-over-month cost savings of more than 10 percent at the end of 2019.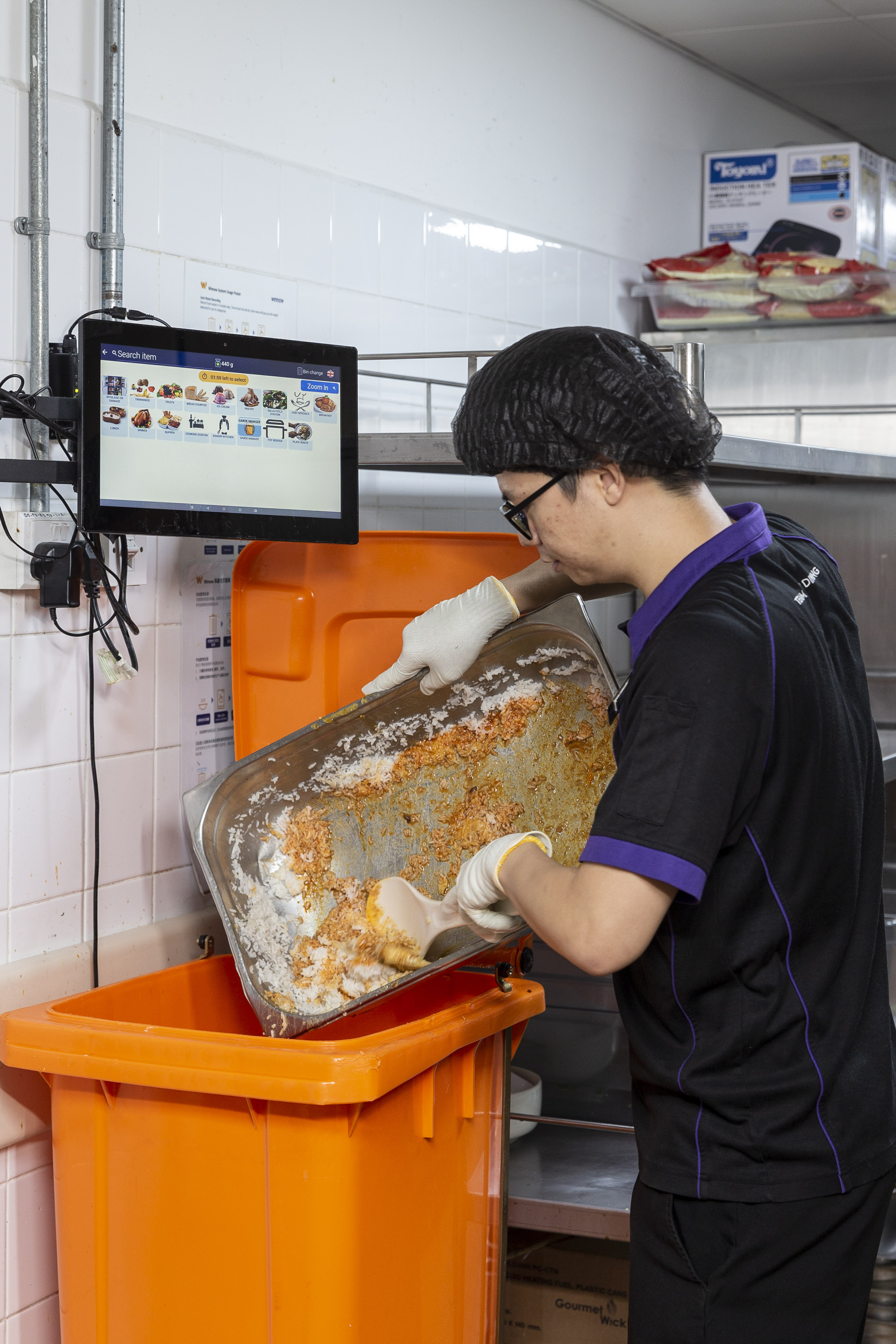 Marina Bay Sands leverages food waste-tracking technology to reduce waste at the start of the food preparation phase.
Food waste, such as coffee grounds from our restaurants, is also used as fertilizer for the plants at RISE Herb Garden, our in-house garden that provides fresh ingredients for dishes made in Marina Bay Sands-owned-and-operated restaurants. This eliminates the need for chemicals and pesticides.
The industry should also build strong partnerships with local food banks and food charities, as this will benefit vulnerable communities while also minimizing food wastage. Establishing a regular contribution of unserved food ensures that beneficiaries have a constant food supply, making such partnerships especially valuable.
During the "circuit breaker" period — a Singapore government-mandated stay-at-home order — our food and beverage outlets had to temporarily pause operations. We quickly mobilized The Food Bank Singapore to accept and distribute more than 15,000 kilograms (kg) of perishables from Marina Bay Sands' restaurants. To continue diverting more food waste from going to landfills, hospitality businesses can take a step further and invest in anaerobic food digesters that convert food waste into non-potable water.
Supporting the '30 by 30' Goal
On a wider scale, the industry can align its strategy with Singapore's '30 by 30' goal and remain laser-focused on diversifying current sources and driving local partnerships. Announced last year, the '30 by 30' goal is aimed at rallying Singapore to produce 30 percent of its nutritional needs locally by 2030.
Across the Marina Bay Sands property, our teams have creatively turned available spaces into opportunities to boost food resiliency. In 2014, we were one of the first companies to collaborate with local social enterprise Edible Garden City to create a commercial food garden: RISE Herb Garden, which was previously unused space outside RISE restaurant, is now a lush herb garden that supplies more than 100 varieties of edible plants like lime, pandan and rosemary.
In 2019, we started our second herb garden outside Spago Dining Room, where such herbs as Thai basil, white pea and lemon verbena are grown. Located on the 57th floor in the iconic Sands SkyPark, it is one of the highest kitchen gardens in Singapore. The team is also working to launch a third herb garden on the rooftop of our MICE (meetings, incentives, conventions and exhibitions/events) venue to boost food security on the property.
Diversifying food sources is an important part of building food resiliency in our business and for Singapore as a whole. It enables us to tap other supply sources quickly when a key supplier is affected. At Marina Bay Sands, we currently procure 63.5 percent of our food from the Asia-Pacific region and we are making steady progress towards our 75-percent target.
In recent years, we have increased sourcing of ingredients from Singaporean farms, allowing us to offer a range of locally grown produce such as kale, microgreens and even strawberries to guests. Our teams have also introduced locally-sourced, responsibly-farmed barramundi— procuring 18,000 kg in 2019 — into our menus. We continue to look for more ways to diversify sources and increase support for local food producers where possible.
Rallying For a 'Food Secure' Future
Although responsible-sourcing and waste-minimization strategies are crucial, our employees are our most valuable resource in sustaining a "food secure" future. Rallying our teams toward a food-resiliency vision means two things. First, including them when possible in decisions that impact the business from a food-security standpoint. Second, we encourage them to suggest ways of improving our hospitality operations.
Once employees are passionate about the goal to boost food security, they will act as advocates in the workplace by practicing it in their daily lives and spreading the message to guests. Creating a culture of sustainability in our organization is crucial in helping Singapore achieve a "food secure" future. Growing our own produce, such as herbs or vegetables, and educating employees about reducing food waste can help rally the hospitality business toward climate action.
COVID-19 has been a timely wake-up call for everyone in Singapore about the fragility of our nation's food-supply systems. It is the right time for hospitality businesses to accept the challenge of improving Singapore's food security — one ingredient at a time.