Report On Business® Roundup: November Manufacturing PMI®
December 01, 2020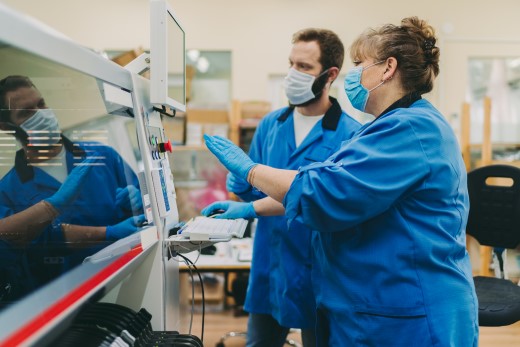 As they serve as a prelude to (and often a harbinger of) the federal jobs report that is released on the first Friday of each month, the ISM® Report On Business® Employment indexes are closely watched, but rarely more so than on Tuesday.
The Manufacturing PMI® for November decreased from the previous month but registered a healthy 57.5 percent, indicating a sixth straight month of growth for U.S. factories. However, the Employment Index reading of 48.4 percent — a 4.8-percentage point decrease and a return to contraction territory, where it spent 14 consecutive months before October — was in multiple headlines and generated much discussion.
United States manufacturing continues to recover. All lines remain in expansion, although slower. Employment may start to be a concern. The November ISM manufacturing index at 57.5 from 59.3, a bit below the consensus, shows a small slowdown within an expansion phase. pic.twitter.com/B0nYhm2gyH

— Daniel Lacalle (@dlacalle_IA) December 1, 2020
The Employment Index reflects more than workforce positions filled, which we'll discuss more in a moment. Timothy R. Fiore, CPSM, C.P.M., Chair of the Institute for Supply Management® Manufacturing Business Survey Committee, often uses the term "labor issues," and they were significant in November because they impacted other subindexes.
As companies have difficulty attracting and returning workers, even to factories with limited personnel due to the coronavirus (COVID-19) pandemic, production levels are impacted. Fewer drivers increase lead times, and the Supplier Deliveries Index reached a six-month high in November, at 61.7 percent. "It's an effort to find people," Fiore told reporters on a conference call on Tuesday. "The (Survey Committee respondents') comments indicated a 7-to-1 ratio of hiring versus reducing head counts. It's not a lack of work, it's a lack of people — at companies and their suppliers."
Workforce resource constraints are also accounted for in the Employment Index, and many manufacturing companies have employees who are hesitant to return to work due to COVID-19. Wages have increased, resulting in competition for employees who have returned, Fiore said.
"The absenteeism is going to drive demand for labor," Fiore said. "A company could have someone not show up tomorrow because he or she took another job. It's just like any other (high-demand labor market), in which the highest wage per hour is usually going to prevail. So, there are a lot of dynamics at work."
#ISMPMI survey respondent in Machinery: "Business continues to be strong, with significant back-orders. … We are seeing significant delays in getting parts and materials from China through U.S. ports, especially (at the Port of) Long Beach." https://t.co/NX2EHWIMdB #economy

— Dan Zeiger (@ZeigerDan) December 1, 2020
Multiple emerging dynamics — including concerns about future demand, West Coast ports congestion, pandemic fatigue and companies' preparations for the Lunar New Year — could converge to impact the December Manufacturing PMI®, Fiore said. However, he added, the biggest factor remains the virus itself.
Companies, suppliers and factories, Fiore said, "showed that they know how to operate in this environment" after post-lockdown manufacturing activity resumed. However, the latest surge of COVID-19 cases is threatening to slow momentum. "It's a trajectory that's not positive," he said. "With the widespread expansion of the virus in the U.S., more issues are occurring. More people have been exposed to those who have it, which leads to quarantines, and factories get shut down or closed for cleaning. It's become much more difficult to operate."
The Report On Business® roundup:
Associated Press: U.S. Factories Grew More Slowly Last Month; Index Dips to 57.5. "The U.S. economy collapsed from April through June and has since been recovering. But a sharp increase in (COVID-19) infections is raising fears that the recovery will lose momentum as state and local governments issue lockdown orders and Americans stay home on their own to avoid infection."
Additional production would be necessary if demand strengthens further. Also, prices (down from 65.5 to 65.4) increased strongly once again, highlighting strengthening raw material costs for the sixth straight month following deflationary pressures at the start of the pandemic.

— Chad Moutray (@chadmoutray) December 1, 2020
Bloomberg: U.S. Factory Gauge Eases From Two-Year High as Employment Cools. "Even with some lost momentum, the manufacturing measure is the second-strongest in the past two years and well above pre-pandemic levels. Steady demand and lean inventories continue to drive output growth despite the lingering uncertainty and supply chain disruptions posed by the pandemic."
CNBC: November's ISM Manufacturing Data. "November read on ISM comes in a smidge light, 57.5 (percent)," analyst Rick Santelli said. "We were expecting 58. This is the sixth (straight month) in expansion mode, and the highest since last month, which stands unrevised at 59.3. The Prices (Index) is basically a lateral move, from 65.5 (in October) to 65.4. Seems like inflation has left the conversation, at least for the moment. Finally, the Employment (Index), which is especially important considering where we are and when the next (federal jobs) report is. This is not good news: It went under 50, in contraction mode."
ING Think: U.S. Manufacturing: Near-Term Pain, Long-Term Gain? "With initial claims already suggesting a shifting dynamic in the labor market, (the) ISM employment number adds to a sense that the consensus of 580,000 private sector jobs being added in Friday's November payrolls report may be looking a little optimistic. Should COVID-19 containment measures be more widely introduced, the prospect of even weaker jobs data for December and January looks probable. We could even see negative consumer spending as a result over that period."
Good news, not so good news situation: Manufacturing activity grows but at a slowing pace and employment contracted, according to ISM. https://t.co/VoSlyF9be5

— Mark Hamrick (@hamrickisms) December 1, 2020
MarketWatch: Coronavirus Surge Slows U.S. Manufacturers, ISM Finds, and Scares Off Some Workers. "Manufacturers have recovered faster than most other businesses and helped spur a U.S. economic rebound, but the surge in COVID-19 cases has increased the strain on them as well. They are likely to encounter more turbulence in the next few months until the latest outbreak recedes, increasing the drag on the economy caused by new government restrictions on business."
Reuters: U.S. Manufacturing Sector Slows in November. "The United States is in the grip of a fresh wave of COVID-19 infections, with more than 4 million new cases and over 35,000 coronavirus-related deaths reported in November, according to a Reuters tally. The virus is likely to disrupt production at factories. Manufacturing output is still about 5% below its pre-pandemic level, according to the Federal Reserve."
#ISMPMI survey respondent in Food, Beverage & Tobacco Products: "(S)ending employees home for 14 days to quarantine if they were in close proximity to a (positive #COVID19 case). We have had to shut down production lines due to lack of staffing." https://t.co/E5O2ZD8BDD #economy

— Institute for Supply Management (@ism) December 1, 2020
The Wall Street Journal: Global Economy Faces Hard Winter Despite COVID-19 Vaccine Hopes. "In the U.S., manufacturing companies continued to report activity growth in November. … 'There is some concern in the report here about future demand,' said Tim Fiore, who oversees the ISM survey of factory purchasing and supply managers. He cited factors such as the coming holiday period and issues related to the coronavirus, including worker absenteeism and pandemic fatigue."
ISM's Services PMI™ will be unveiled on Thursday, and the Hospital PMI™ on Monday. For the most up-to-date content on the reports under the ISM® Report On Business® umbrella, use #ISMPMI on Twitter.