How Does Sustainability Impact Companies and Supply Chains?
December 14, 2020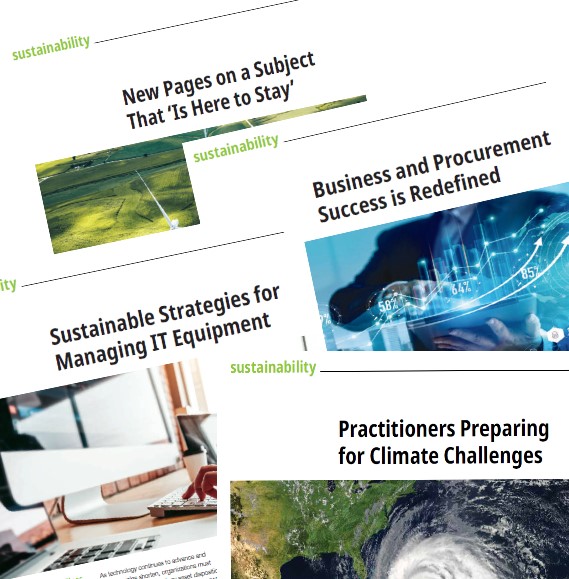 Last January, Inside Supply Management® debuted a new department, Sustainability, which covers an issue of growing importance to business — sustainability and social responsibility.
As some recent economic developments make clear, discussing business and markets without discussing sustainability is no longer an option:
Environmental, social and governance (ESG) issues are becoming greater considerations in utilities-industry transactions. For example, PNM Resources of Albuquerque, New Mexico, an US$8.3-billion merger with Avangrid of Orange, Connecticut is designed in part to acquire the capital to exit coal and pursue a carbon-free energy.
Saudi Arabia, the world's biggest oil exporter, has made green-energy development a national imperative, investing more than $20 billion in wind, solar and other environmentally friendly sources with a goal of generating 60 gigawatts of renewable energy by the end of the decade.
The United Kingdom, France and Norway are among the countries that have pledged to phase out combustion-engine vehicles by 2050, and in the U.S., California and New Jersey officials have called for banning sales of gasoline-powered cars in their states within 15 years.
As sustainability and social responsibility have become critical considerations for businesses, they have for supply chains as well. Inside Supply Management®'s Sustainability department has documented a continuing, unstoppable evolution in the profession, not only regarding climate, but other elements of ISM's Principles of Sustainability and Social Responsibility like diversity and inclusion, human rights and global citizenship. Supply chain executives and practitioners have served as guest authors, sharing their concerns and companies' success stories.
In the March/April edition of Inside Supply Management®, this content will be super-sized: a sustainability- and social responsibility-themed issue. Feature articles will examine the impact of climate change on supply chains, the evolution of companies' corporate social responsibility (CSR) and ethics strategies and framework, and how procurement organizations are implementing sustainability practices into their operations. (The issue will also preview the ISM2021 Annual Conference, which will be virtual and is sure to include sessions and other content on sustainability and CSR.)
While we have topics in mind, we'd like to hear from readers: What sustainability and social responsibility issues are having the biggest impact on your organization and/or the profession? How are these principles being implemented in daily operations and strategy? Does your company have a sustainability or CSR success story to share? Feel free to contact us at editor@ismworld.org by January 15.