COVID-19 Vaccine Distributors Can Follow a Familiar Game Plan
December 14, 2020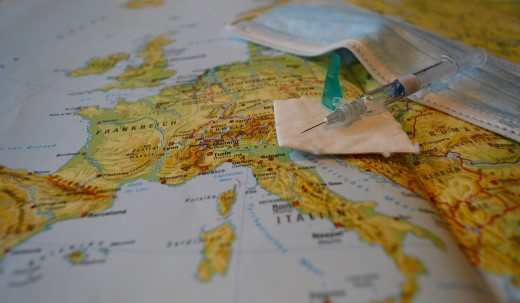 Coronavirus (COVID-19) vaccines have been a hot topic in the news, not only pertaining to their availability and supply, but also their distribution and cold-chain storage requirements.
Distribution of the Pfizer vaccine, developed with German firm BioNTech, began this week, with large delivery providers United Parcel Service (UPS) and FedEx Corporation handling the process. The vaccine, which must be kept at minus-94 degrees Fahrenheit, comes in a dry-ice cooled briefcase that can be opened only twice a day for a minute at a time, according to reports. Pfizer, according to the pharmaceutical company's website, has "developed detailed logistical plans and tools to support effective vaccine transport, storage and continuous temperature monitoring."
FedEx and UPS have announced they are prioritizing delivery of vaccines over holiday packages, according to a report by Reuters news agency last week. The vaccines also will receive special handling pertaining to tracking, labeling and loading, the report states. Also, planes carrying the vaccines are being given priority access at airports.
Texas-based health-care and pharmaceuticals distribution firm McKesson Corporation is serving as the centralized distributor. According to a blog on the company's website, McKesson will "expand its existing partnership with the Centers for Disease Control (CDC) to support the U.S. government's Operation Warp Speed (OWS) team as a centralized distributor of future COVID-19 vaccines and ancillary supplies needed to administer vaccinations. Vaccines and related supplies will be delivered to point-of-care sites across the country at the U.S. government's direction."
Large providers, however, won't be the only ones involved in vaccine logistics. Jason Burns, first vice president of the Customized Logistics and Delivery Association (CLDA), a trade association of 3,500 companies that provide last-mile deliveries throughout North America, says member providers often contract with larger providers like FedEx as well as McKesson and will play key roles. While Pfizer vaccine's temperature requirement likely presents a challenge for many CLDA providers, the other two leading vaccines require more typical refrigerated environments, he says.
The other two leading vaccines:
1) Moderna, which seems the easiest to transport due to its temperature requirements (minus-4 degrees Fahrenheit), says Burns, director of corporate development at Austin, Texas-based Dropoff, a same-day and customized delivery company. "It's more of a refrigerated environment," which delivery companies are already familiar with, he says. It also reportedly can remain at room temperature for 12 hours.
Moderna has applied to the U.S. Food and Drug Administration for authorization to use the vaccine for emergency use, which if approved, could reportedly begin as early as December 21. According to reports, McKesson will handle distribution of Moderna vaccines.
2) AstraZeneca, which also requires normal refrigerated storage. Results from a U.S. trial of the vaccine are expected to be completed in late January, a recent Reuters report
For CLDA members, vaccine delivery will likely resemble their regular health-care-related deliveries, Burns says. "We deliver to labs, pharmacies, hospitals, blood banks and surgical centers," he says, "and we can move anything from organs and surgical instruments to specialized equipment, blood and urine samples. We're accustomed to customized handling" and to refrigerated storage. They've undergone hazardous-materials training, among training around safety and other topics.
Various tools and solutions will be used during transport of the vaccines, Burns says. For example, he says, "I'm not sure this will come into play based on how they say they're going to pre-package the vaccines, but it's possible they're going to want us to maintain the temperature during the chain of custody."
To do this, Bluetooth sensors are placed inside the tote or package, Burns says: "The sensor reports to an app on the driver's phone, which then reports to a console, where we're monitoring the temperature range of the packaging environment during transport. You can set the sensor to have a temperature range; if it goes above or below that range, you're alerted — email or text message are among the options" — and the driver can remedy the issue.
In addition to temperature control, another concern with the vaccine distribution is security, Burns says. The vaccine, like other pharmaceuticals, is a high-value item — and maintaining security and custody is imperative. "You want to make sure you have added security measures to ensure the safety of the personnel first and then the product," he says. For example, the receiving facility should be equipped with cameras and security fences, and there should be a sign-in and sign-out process. "Some drivers have cameras on their vehicles for added security measures," he adds.
Capacity is also a concern. "We are in the middle of peak season — holiday time. E-commerce is already stretching the bandwidth of most carriers," Burns says. With the increase in online shopping due the pandemic, carriers are even more stretched, he adds: "This year is going to be at an all-time high for traditional e-commerce deliveries. Then, you add the vaccine that has to get to about 100 million people in about a six-month time span — that's going to be a challenge."
UPS has already placed capacity limits on some retailers this holiday season, according to a CNN report. "I suspect they're doing it to prepare for the vaccine," Burns says. "That's good for the vaccine, but bad for the kids with Christmas toys. But (the vaccine) is going to stretch even the biggest companies in the industry.
"So, finding drivers and vehicles, managing the volume inside warehouses and facilities are all going to be challenges this year," he says. "I suspect this could delay the vaccine, but certainly it will disrupt e-commerce deliveries."
Peak season has traditionally ended on Christmas Eve, but in the last few years, it has extended through mid- to late January due to continued sales and returns, Burns says: "With the vaccine slated to come online, it will be interesting to see how all that meshes together."
There is a silver lining, he says: "Because of the pandemic … we've been operating in a peak-like year, and we may not see as drastic an increase in peak season as we normally do" — and carriers are already handling it.