Robotics Technology Taking Over Materials Handling
November 02, 2020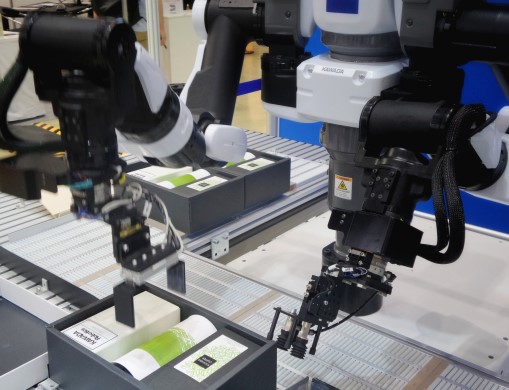 Increased competition, demand for flexibility and productivity improvement and a "seismic" growth in e-commerce-related fulfillment and distribution demand, accelerated by the coronavirus (COVID-19) pandemic, are driving a need for robotic solutions that offer more flexibility. Rian Whitton, senior analyst, strategic technologies at ABI Research, an Oyster Bay, New York-based global tech market advisory firm, said newer robots provide opportunity to achieve that flexibility.
"I think the biggest contribution in robots in the next 10 years won't be in carrying passengers but will be in carrying pallets, totes, parcels and groceries," Whitton said during the "From First to Last Mile: The Automation of Material Handling in a Post-COVID World" webinar, held two weeks ago during ABI Research's Manufacturing & Supply Chain Digital Transformation Summit. "It just so happens that advances in robotics and the development of a much more deep and effective robotics ecosystem is ready to meet this challenge."
To see how robotics will affect future supply chains, it's important to first look at current dynamics, he said. More than 300,000 automated guided vehicles (AGVs) — many of which are deployed by Amazon — join thousands of autonomous mobile robots (AMRs) that operate semi-autonomously in the first-mile delivery space, as well as and nearly 1,000 robots like small vehicles used in last-mile delivery, he said. By 2022, ABI projects 50,000 to 100,000 AMRs in the first-mile space — and robots will begin to be perceived as systems, Whitton said.
"By 2025, we'll really be reaping the dividends of this change," he said, adding that more than 40,000 automated forklifts will likely be deployed, along with millions of materials-handling robots and more last-mile delivery robots. "Due to advances in data orchestration, onboard intelligence and the scaling up of cloud robotics … you'll start to see real-time intelligence in these robotics operations," he said.
Whitton said that ABI expects a significant expansion of materials-handling robotics in the next five years. The global market for robotics, currently less than US$1 billion, is expected to jump to about $14 billion by 2025. "This is because a lot of the dividends of automating the warehouses is going to transfer to the manufacturing space," he said. "COVID-19 has (caused) increased interest in automated forklifts and other vehicles that would operate at the first mile." Despite working-capital concerns by companies during the pandemic, he said, interest has markedly increased.
Due to COVID-19 and other issues, many companies are considering (1) moving their production and operations or (2) reshoring. To offset increased labor costs, productivity must increase, Whitton said, and robotics can achieve that.
The future will bring increased technological advances to support robotics, as well as more partnerships between forklift manufacturers and robotics companies, enabling the sharing of expertise, he noted. Collaboration within the robotics space also is increasing.
The last-mile delivery robotics market, currently at less than $200 million in revenue, is projected to increase to $1 billion by 2025, Whitton said. Many players will likely move out of the self-driving market — as it is hard to commercialize in the short term — and into last-mile robotics delivery, he said.
Whitton added that he expects the Asia-Pacific region to be the largest market for materials-handling robotics.