Transportation Companies Can Be Stronger After the Pandemic With a Three-Pronged Approach
September 16, 2020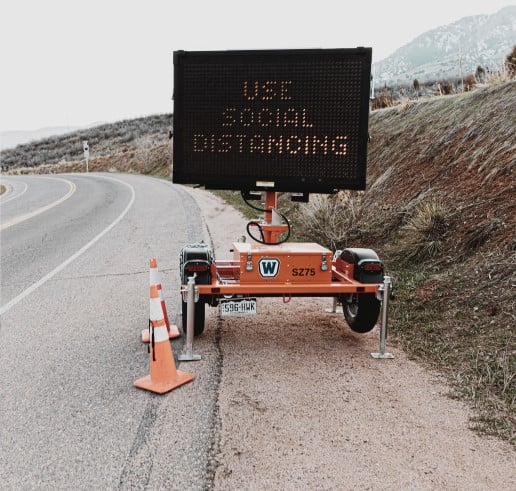 Transportation companies can emerge stronger than before the coronavirus (COVID-19) pandemic, Erich Fischer, a partner with Deloitte in the Washington D.C. office, says.
"There has been a lot of discussion about the shape of the recovery, whether it's a double dip, a swoosh or a V," he says. "But the issue is not the shape of the recovery but what should be done — and can be done — regardless of the recovery's shape." Fischer was one of the authors of Deloitte's recent report, Finding Opportunities in Today's Transportation Sector: Addressing the Industry's Underlying Certainties, which found that sector profits could be down as much as 45 percent in 2020.
To combat this and emerge stronger, a transportation company's plan, he says, must have a three-fold approach that addresses:
Tangible decisions about known uncertainties. Some of these have developed due to the pandemic; one such decision is social distancing. "There is a lot of effort focused on the touchless supply chain — touchless freight," like autonomous vehicles and delivery, Fischer says, and companies are weighing how much to invest in such measures. It's an open-ended question, with concerns about (1) how long social distancing measures must be in place and (2) changing consumer attitudes.
Another uncertainty — which isn't likely to go away — is brand trust, Fischer says. Companies are concerned about how they are viewed regarding trust, including in how they manage the pandemic.
Choices and actions concerning long-standing challenges. Such challenges have been exacerbated by the pandemic:
Increasing customer expectations.
Congestion and inflexible networks, which are becoming worse, Fischer says. In the U.S., there is US$90 billion of inefficiency in trucking, for example, increasing dwell times at the ports, he says.
Fragmentation of supply in a sector that is rarely consolidated. "A vast majority of trucking companies have (only) several trucks," he says.
Lack of investment in new technologies to connect, learn, predict and automate.
Shifting talent models that include a retiring workforce and a gig economy.
Disruptive entrants that are trying to take advantage of the sector's inefficiencies.
Actions around known certainties. "It's not a question of whether to address them; it's a question of how much and how quickly," Fischer says. Such known certainties are:
Demand for last mile delivery.
Need for more flexible and variable cost structures. The advances in service delivery models in past years has provided opportunities for companies to restructure their cost base, he says.
Addressing customer expectations for the connected community.
Need for more supply chain resiliency. Resiliency has always given organizations an advantage, Fischer says, but the pandemic has pointed out even greater needs, for example, in terms of stockouts and lack of supply chain transparency. "We're seeing a lot of interest upstream in the manufacturing sector and downstream in the retail sector in terms of illuminating the supply chain more deeply in Tiers 2, 3 and 4, for financial risk as well as supply risk," he says.
Evolving workforce and societal expectations.
The importance of risk sensing and signal monitoring.
The need for new tech and data.
A recent Deloitte survey found that 50 percent of transportation-company respondents greater than $1 billion in size indicated that they weren't investing enough in technology to address some of the known inefficiencies, Fischer says.
Data is only going to become more important moving forward, he says, particularly in the transportation sector, where the three pillars of a freight ecosystem that's running well are:
1) Holistic decision-making — the ability to harness data to continuously learn and optimize and predict
2) Intelligent automation — the ability to utilize right machine or human for the work
3) Connected community — the ability to collaborate and connect with partners across the entire network.
Data has an important role in each of the pillars, Fischer says. For example, connected community might provide the greatest challenge but also can offer companies a great opportunity to significantly reduce cost, speed processes and improve customer, partner and employee experiences, he says. "A typical global shipment can involve 200 transactions and 30 organizations," he notes. "How do you get visibility across that?"
In the past few years, there has been, Fischer says, "a dramatic advancement in technology capability as well as the cost for that technology — like cloud-based platforms — that now are presenting companies with the opportunity to address those three pillars with new technology and data."
One example: Smart ports — ports that have created cloud-based data platforms that allow each transportation network participant to have real-time visibility into transactions and goods. This has resulted in dramatic improvements in efficiencies and new revenue streams, he says.
Additionally, Fischer says, improving customer experience is a way transportation companies can differentiate themselves. "It's not just about quicker delivery — which gets a lot of press," he says. "Other things are important to the consumer as well, for example, transparency and accuracy regarding delivery times and dates."
The outlook looks bright for transportation companies that address these challenges, whether they are long standing, known certainties or uncertainties, Fischer says.
"The majority of companies in the transportation sector have the opportunity from a financial flexibility and strategic flexibility perspective to be able to consider some of these things," he says. Measures could be as simple as margin-for-margin improvement, technology-related or measures to improve the customer experience, he says.
"Ultimately, the companies that do explore and, in some cases, aggressively go after this, will be the ones that have the benefit of perhaps leaping ahead," Fischer says.