Commercial Drone Delivery Is Still Far From Taking Flight
September 28, 2020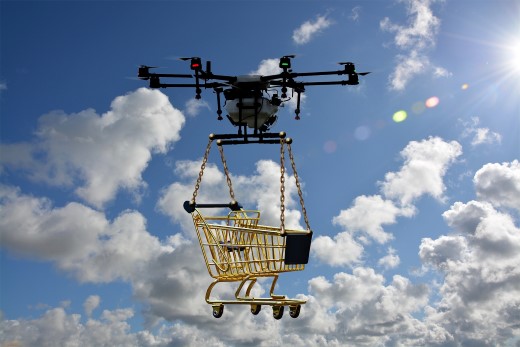 In August, Amazon became just the third company to get a certificate from the U.S. Federal Aviation Administration regarding use of drones to deliver packages. While such certificates, which come under Part 135 of FAA air carrier regulations, may be a milestone for the industry, they don't signal a seismic expansion of commercial drone delivery, says Rian Whitton, senior analyst, strategic technologies at ABI Research, an Oyster Bay, New York-based global tech market advisory firm.
"What Amazon has been allowed to do is pretty limited," he says. "The drone can fly as much as 15 miles or roughly 30 minutes and deliver packages weighing under 5 pounds." The certification is more of an incremental step in regulatory easing, he says. However, it enables Amazon, as well as UPS Inc.- and Alphabet-owned Wing, which were awarded the certificates last year, to begin testing the waters — or rather, the skies.
Amazon says it plans to use the certification to begin testing customer deliveries. "This certification is an important step forward for Prime Air and indicates the FAA's confidence in Amazon's operating and safety procedures for an autonomous drone delivery service that will one day deliver packages to our customers around the world," says David Carbon, vice president, Prime Air at Amazon. "We will continue to develop and refine our technology to fully integrate delivery drones into the airspace, and work closely with the FAA and other regulators around the world to realize our vision of 30-minute delivery."
To receive the certification, the e-commerce behemoth was required to submit detailed evidence that its operations are safe, and to demonstrate those operations to the FAA, according to Amazon. Submissions included an extensive set of manuals and comprehensive protocols for operating, training and maintaining an autonomous drone delivery service. The Amazon team developed and validated more than 500 safety and efficiency processes, which formed the basis of its submission, Amazon says.
The only solution worth launching is one that is safe and reliable, the company says, and the certificate is a step in that direction. But Amazon notes that this doesn't mean it will be regularly delivering packages to customers' yards right away. However, it does mean the company will be actively flying and testing, it says, and it will take time before drone operations are ready to scale.
Testing and Trials
The drone industry, particularly within the U.S., remains largely limited to testing and pilot programs, Whitton says. However, some companies have made headway using drones to deliver vital supplies to remote locations outside the U.S., he says. The "best use case," he says, is Zipline, a California company that was founded in 2014 and delivers critical medical supplies to multiple countries. Other companies also employ drones on a trial basis, generally in remote areas, he says.
Additionally, says Susan Beardslee, principal analyst, freight transportation and logistics at ABI Research, drones are being used or considered for delivery of supplies in campus settings, like medical or university campuses. And several companies, including Walmart, which in mid-September announced a partnership with Zipline, are investigating other drone uses and innovations.
An impediment to quick development of widespread commercial drone delivery in the U.S. is how developed the infrastructure is, Whitton notes. "In the U.S., there is generally a perception that the infrastructure will always stay the same: The cities won't change, the roads won't change, the infrastructure won't change that much, and the technology will just be built around it," he says. Quick commercial development is more likely in China than the U.S., Whitton says: "In China, there is still a big appetite to develop new roads and city plans," which makes it more amenable to deploying drone technology as well as other autonomous technologies like self-driving cars.
Moving Beyond Hype
Skepticism about drone delivery is huge — even among the drone community, Whitton says. "There was an initial burst of hype in 2015, certainly around consumer drones," he says, adding that excitement has since died down. Consumer drones also have caused disruptions. Drone sightings around Gatwick Airport, near London, in 2018 caused flights to be canceled and a runway to be closed. A January 2019 incident involving a drone in near London's Heathrow Airport halted departures.
Commercial drone delivery also has faced skepticism. "There have been questions about whether (customers) want the delivery in the front yard or backyard, what if there is a dog in the backyard, and other questions over privacy," Whitton says. "There are many unanswered questions about the underlying proposition.
"Until the wider infrastructure of remote identification and comprehensive unmanned traffic management system that can track all the drones in the air is enabled," he says, "then this will always be a sort of testing technology, a marginal technology, as opposed to something substantive." Whitton adds: "It's something we can think about more in five or 10 years. It's going to be a 10-year project just to get the underlying manufacturing and infrastructure in place to track the drones."
Heavy Traffic is Likely
Drones are tiny compared to normal aircraft: "Most are under 11 kilograms (about 24 pounds), many 5 kilograms (11 pounds), and they are carrying packages of 5 pounds or less," Whitton says. "If you were to build a comprehensive drone delivery service, it would entail hundreds of thousands of them being in air space at any one time. They'd be flying incredibly low. Current radar systems would simply not be able to track all of them."
Currently, drone technology rollout is in a nascent state, Whitton says. "At this point, it's not at the stage of where it can revolutionize the supply chain. In 10 years, it could be something different. And we portend it probably will be."
Even then, he says, it's going to be difficult to deploy drone delivery comprehensively across the U.S. and other urban locations. "It could be that it becomes a niche technology focused around remote or rural areas or those with limited infrastructure," he says. "The differences between delivering to rural towns, suburbia and densely populated metropoles are considerable from both an operational and regulatory standpoint."