Inside Supply Management Magazine
Sourcing from China: What's Behind the Mask?
May 11, 2020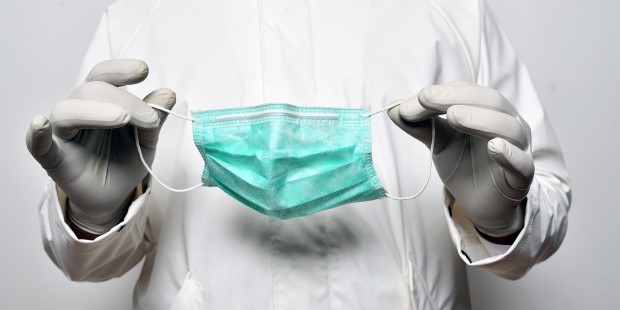 By Hannah Bai
The need for face masks has surged worldwide during the current coronavirus (COVID-19) pandemic. U.S. companies and individuals have turned to China — a top global mask supplier — when they could not get masks from domestic sources. Though China has plenty of mask suppliers, there have quality issues with some Chinese-made masks.
When importing masks from China for your business needs during the COVID-19 pandemic, it's important to understand the pitfalls that can occur along each step of the process, as well as the regulations involved. In this article, I would like to share what I have learned about these steps, including selecting the right type of mask, understanding both U.S. Food & Drug Administration (FDA) regulations and Chinese export controls, and choosing a reliable supplier. I will focus on sourcing masks for general use in offices and businesses and for social distancing, not on sourcing masks used by medical professionals.
Step 1: Choose the Right Type of Mask
Face masks can be generally divided into two major groups — medical and non-medical.
Medical. Because they are intended for medical use, these masks are regulated by the FDA. The FDA classifies medical devices into three categories (Classes I, II, and III) that are based on potential risk to the user if the masks do not meet the quality standard. Medical (non-surgical) face masks are in Class I, the lowest in terms of risk level and extent of FDA regulations, while surgical N95 masks and surgical masks are in Class II.
Non-medical. Some of these masks are used in an industrial setting by construction workers as personal protective equipment (PPE) to prevent inhalation of dust or by people working in clean rooms that meet good manufacturing practices (GMP); these include general N95 masks (not for medical use). Other non-medical masks are used by the public to prevent the spread of viruses. Because they are not intended for medical use, they are not classified or regulated by the FDA.
It's important to select the correct mask type since masks differ in industry/quality standard, market availability during COVID-19, customs requirements and cost. To make the correct selection, buyers need to understand where the masks will be used and consult with colleagues in their company's environment, health and safety (EHS) and quality departments to define mask requirements.
Questions to ask include: Are general N95 masks necessary for workplace use or for the purpose of social distancing? Should we instead consider surgical masks or medical-use masks, since they are more available and less expensive?
Another consideration: Sterilization is a key criterium for masks used in GMP clean rooms, and individually wrapped marks are a plus since they help to avoid waste.
Step 2: Understand FDA Regulations
FDA regulations impact U.S. Customs and Border Protection (Customs) clearance for imported masks, so it's important to understand how they apply to various types of masks. First, let's look at the regulations prior to COVID-19 for different types of masks:
Surgical masks and surgical N95 masks: Considered by the FDA as moderate-risk devices, they are therefore identified as Class II. Generally, to sell products in the U.S., manufacturers of Class II medical devices must submit a premarket notification — also called PMN or 510(k) — and wait for the products to be "cleared." They also must comply with such other regulatory requirements as registration and listing. Buyers can search the FDA's website for manufacturers (domestic and overseas) that have obtained FDA clearance. If the Chinese supplier you are sourcing from is on the list, you know that their products can be sold in the U.S.
Medical (non-surgical) face masks: These offer protection against various health hazards, but they may not meet the standards for surgical masks (for example, regarding fluid barriers and filtration-efficiency levels), and so are called non-surgical masks. The line between a medical face mask and a non-medical (general-use) face mask can be blurry, with the key differentiator being the intended use. Face masks intended for medical purposes are regulated by FDA as Class-I medical devices, and they are exempt from the 510(k) requirement. This means that FDA clearance is not required to market such masks in the U.S.
Non-medical (general-use) face masks: Because face masks not intended for medical purposes are not medical devices, they are not regulated by the FDA and so don't require FDA clearance to be marketed in or imported to the U.S.
COVID-19 has caused a worldwide shortage of masks, and the FDA has temporarily modified its regulations for masks to increase availability in the U.S. The Enforcement Policy for Face Masks and Respirators During the Coronavirus Disease (COVID-19) Public Health Emergency (Revised) report on April 2 relaxed regulations for (1) surgical masks that are intended to provide liquid-barrier protection and (2) medical-purpose face masks that don't provide liquid-barrier protection (medical non-surgical face masks), among other measures.
For both, certain regulations requirements are waived, most noticeably the PMN, or 510(k). (Note: The regulation for medical non-surgical face masks in this policy document seems to conflict with the emergency-use authorization (EUA) dated April 24. Footnote 1 of the EUA says that such masks are Class-I medical devices and exempt from 510(k). If it is already exempt from 510(k), the same exemption under this policy document seems unnecessary.)
On April 18 and April 24, the FDA took an additional step by issuing and re-issuing an EUA that allows the general public and health-care professionals to use general-purpose face masks (which are not regulated by FDA) as medical (non-surgical) devices. The EUA encourages manufacturers to make general-purpose masks by waiving certain GMP requirements.
On April 21, the FDA announced that the three types of masks covered under the April 2 policy document and the April 18 EUA need not comply with certain document requirements for medical devices (such as the registration, listing and premarket numbers) during U.S. Customs clearance.
With the temporary relaxation of regulations, the FDA is mindful of the potential confusion and risk to the public (for example, a misconception that non-surgical masks are being used for liquid-barrier protection or that all masks on the market have FDA clearance.) Therefore, in the April 2 policy document and the April 18 EUA, the FDA set labeling and marketing requirements to help minimize such risks.
These temporary changes in policy and regulation will help bring more masks to the U.S. from overseas. When sourcing masks from China, buyers need to be diligent to ensure that the suppliers meet the quality standards and labeling/marketing requirements, so those products can be imported into the U.S.
Step 3: Understand China's Control on Mask Exports
Shortly after the initial coronavirus outbreak in Wuhan, China, there was a surge in applications for new business registrations for mask production in China. As COVID-19 cases decreased in China, mask manufacturers wanted to sell their products to Europe and North America.
The Chinese government has placed strict regulations over mask exports, which means that only a small percentage of mask manufacturers are authorized to export. This is driven by (1) the desire to ensure domestic supply in case there is a further expansion of COVID-19 and (2) recent negative news about the inferior quality of some Chinese masks. The latest policy announcement by China, made April 25, impacts all types of masks.
For medical-use masks, which are equivalent to the FDA Classes I and II masks, Chinese manufacturers are not authorized to export unless they have obtained governmental authorization like FDA clearance or CE certification from the European Economic Area. They also must declare in writing that their product complies with the quality standards and safety requirements of the importing country. The Chinese government has published a list of medical-use mask manufacturers authorized to export under this new policy.
What does this new policy mean for buyers in the U.S.? As discussed in Step 2, the FDA has made it easier to import Class I and some Class II masks by waiving certain regulatory requirements. Buyers now need to confirm that their suppliers (1) are on the list of authorized Chinese exporters and (2) meet FDA requirements for labeling and marketing, per the April 2 policy document.
For non-medical masks, which are equivalent to "non-medical (general-use) face masks" in the U.S., China, in its new policy, has outlined more requirements. Sellers still need to obtain such governmental authorization as CE certification or FDA clearance. Sellers and buyers also need to sign a joint declaration to confirm that the products comply with the Chinese or international quality standards. Under the joint declaration, buyers also (1) guarantee that the quality of masks meets the requirements of the importing country and (2) commit to using the masks only for non-medical purposes.
This joint declaration may present issues as well as raise questions for buyers. First, it sounds unusual and unfair to request a buyer to confirm product compliance with quality standards. If the masks turn out to be of poor quality, will buyers lose contractual protections and remedies because they have confirmed in writing that the products are acceptable? Secondly, the purpose of the FDA EUA is to bring in non-medical masks for medical use. What are the legal implications if buyers guarantee that masks will not be used for medical purposes when they know that they will be used for medical purposes?
The Chinese government published a list of non-medical mask manufacturers authorized to export under this new policy and has indicated it will also publish a list of non-medical masks (and their manufacturers) of substandard quality; manufacturers on the second list will not be allowed to export, the government says.
Though there are issues and uncertainties with the new policy, it does offer some guidance to buyers of masks made in China. It directs them to manufacturers authorized to export and alerts them to stay away from suppliers of substandard masks. Buyers need to ensure that the suppliers satisfy the labeling and marketing conditions of the FDA EUA.
Step 4: Do Your Supplier Homework
Even if a Chinese mask manufacturer is authorized to export, it is still important to conduct further research to ensure that the company sells quality products. Many Chinese companies have rushed into the business of producing masks without the necessary experience, knowledge and capability. Additionally, they may not have a basic understanding of regulations in other countries, so buyers should enlist testing and certification services companies to help with export.
However, the service provider might not be certified or authorized to produce the necessary documentation and could take advantage of the buyer's or manufacturer's lack of knowledge — and could issue documents that are counterfeit or have no value. Any of these factors can lead to masks (1) being rejected by U.S. Customs or (2) posing risks to the end users.
Extra research can lead to warning signs that include:
•A very short history of operation. Be sure to obtain a copy of the mask manufacturer's business license. If it shows that the manufacturer was recently established (say, in February or March) or has just expanded its scope to include mask manufacturing, investigate further to understand whether the company can make quality products.
•No website. It is rare for a business to not have a website. It could suggest that the business was established in a rush (which raises red flags) or that the supplier may have something to hide.
•Questionable test reports and certificates. Almost all mask suppliers in China can provide quality-standard test reports and certificates. Cautious buyers need to review them with questions in mind: Which firm issued the test report and certificate of compliance? Is this firm authorized to issue such documents for medical devices? Is the certificate document authentic? There are numerous reports about fake certificates and non-existing certifying firms. The China National Accreditation Service for Conformity Assessment (CNAS) maintains a list of labs accredited for the testing of masks. Though certificates from these labs are more credible, it is worth noting that many of these labs can only test based on Chinese standards, not FDA standards. (The European Safety Federation is also facing such problems. It recently listed suspicious certificates for masks that are not a valid legal base for CE marking, with issues often relating to fake certificates and unauthorized certificating service providers in China.)
•Suspicious timing of documents. You may find that the business license was issued, the testing organization received the sample masks and a certificate was issued within a three-day period. This should raise a concern, since it normally takes more than a week to complete such testing.
•The FDA logo in documents. Many suppliers in China can show you documents with the FDA logo and claim that their products are FDA-cleared. Buyers need to investigate these documents further. Do the documents really come from the FDA? Or were they produced by a third party that inserted the FDA logo? Or, is the document intended to only acknowledge product registration with the FDA, and is therefore not proof of FDA clearance? Keep in mind that FDA clearance is not required during COVID-19 for many types of masks, and that FDA clearance for masks before COVID-19 can be verified on the FDA website.
The table below summarizes U.S. and Chinese regulations for the types of masks discussed in this article and highlights tools for selecting quality masks from China.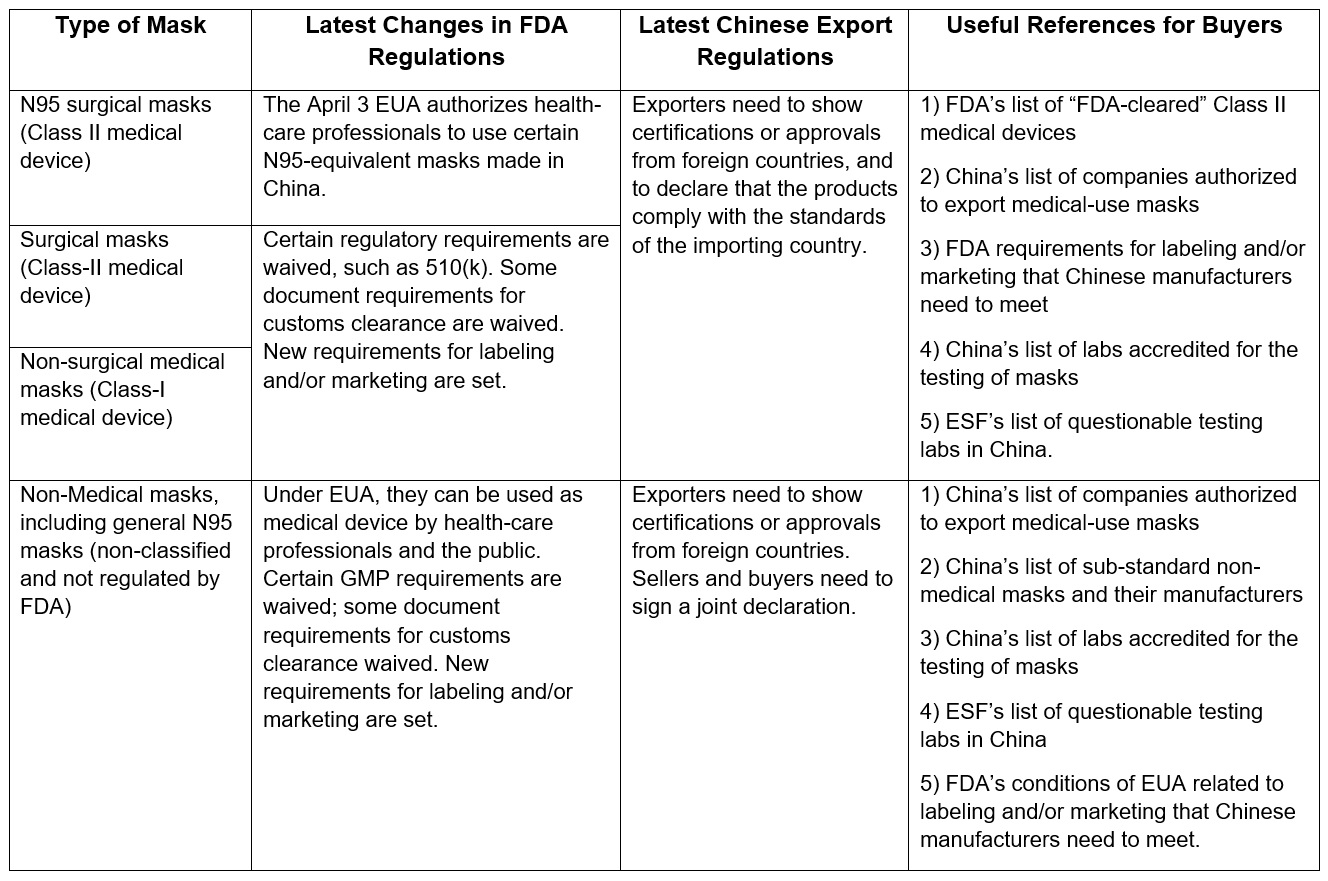 Buying medical devices from China is not an easy task, and sourcing high-quality masks from China during the COVID-19 pandemic is even more challenging. Purchasing professionals who understand business requirements for masks, remain abreast of FDA and Chinese customs regulations, and perform checks on Chinese suppliers will have more success in importing masks for their organizations.
Hannah Bai is a high school student in Barrington, Rhode Island. She was intrigued by her father's stories about sourcing masks from China for his employer amid COVID-19 and wanted to help, so she researched the subject.