Inside Supply Management Magazine
ROB Roundup: April NMI®
May 05, 2020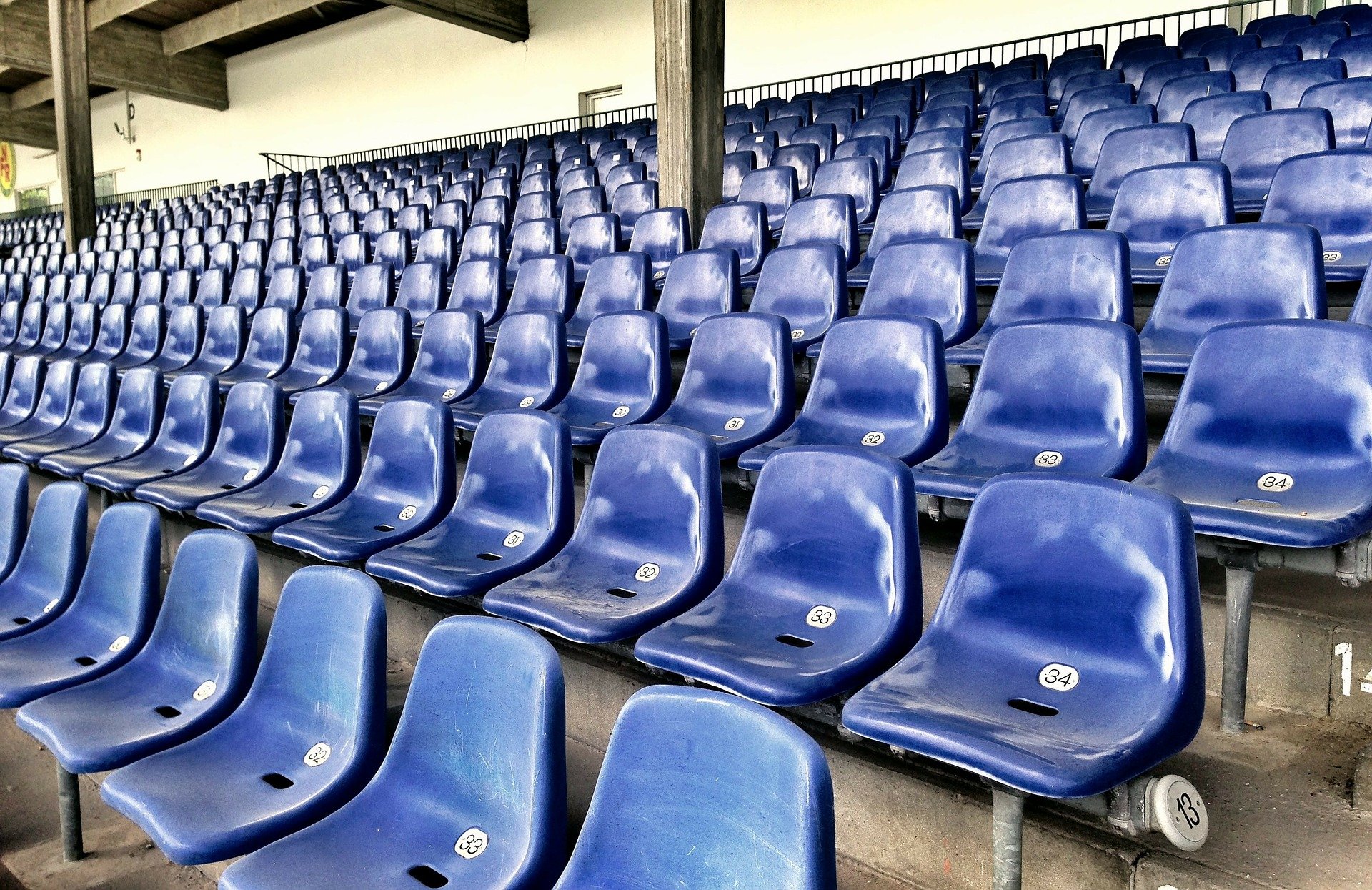 With the coronavirus (COVID-19) pandemic forcing states and municipalities to implement stay-at-home orders that have temporarily closed scores of businesses, it was only a matter of time before that decrease in consumer discretionary spending was reflected in the Non-Manufacturing ISM® Report On Business®.
That alarm went off on Tuesday morning, when the composite NMI® of 41.8 percent indicated that the U.S. services sector fell into contraction, ending a 122-month period of growth. That reading was no surprise; however, like with the manufacturing report on Friday, the swiftness and severity of the index declines were sobering.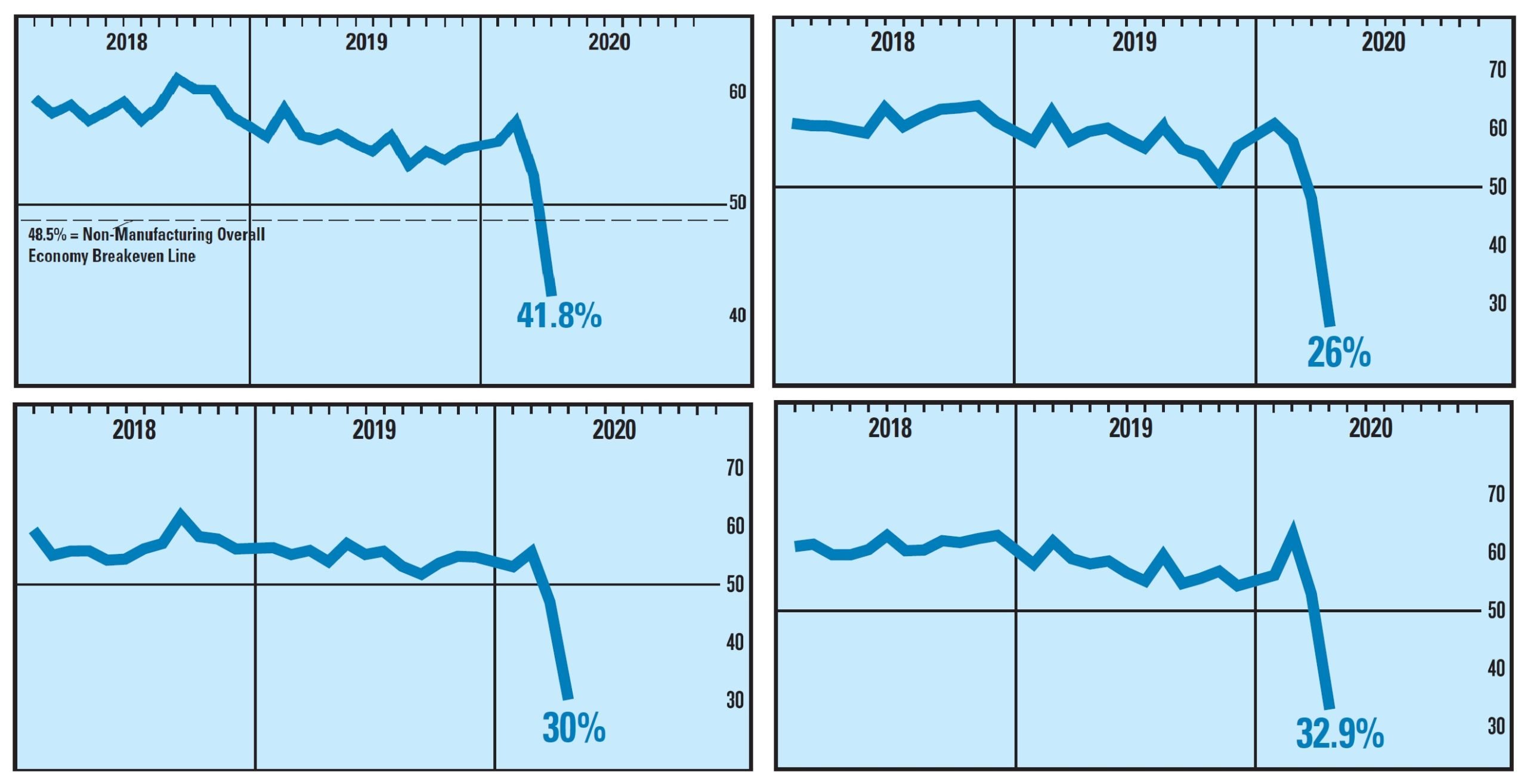 Clockwise, from top left: The NMI®, Business Activity Index, New Orders Index and Employment Index in monthly chart form.
"We've hit some milestones that, unfortunately, we wouldn't like to see out of this sector," Anthony Nieves, CPSM, C.P.M., A.P.P., CFPM, Chair of the Institute for Supply Management® Non-Manufacturing Business Survey Committee, told reporters in a conference call. "But it's reflective of what's happening in (the Survey Committee) respondent's companies."
The Business Activity Index plummeted 22 percentage points to 26 percent, its lowest reading since the 1997 inception of the Non-Manufacturing ISM® Report On Business®. The New Orders Index (32.9 percent) slid 20 points to fall into contraction territory after 128 straight months of growth, and the Employment Index (30 percent) fell 17 points, a prelude to a federal jobs report on Friday that is expected to be historically grim. Even as states begin to reopen their economies, the consumer confidence and spending necessary to reverse these slides is not guaranteed.
Wells Fargo: Services #ISM: Many Record Lows, Hope on the Other Side?
ISM Non-Manufacturing index fell in April, but a "limit down" from supplier deliveries saved the headline from an even steeper drop. Employment, orders & activity all plunged to record lows. Any signs of hope?

— Francesc Riverola - FXStreet.com 🎗 (@Francesc_Forex) May 5, 2020
With the non-manufacturing prognosis not unexpected, conversation on Tuesday quickly turned to potential treatments. Can price cuts stoke demand? It depends on the recovery, Nieves said, but he wasn't overly optimistic, based on two dynamics. Fuel is a main driver of prices in the services sector, and oil prices were in negative territory before a recent rally. Secondly, although the Prices Index increased in April, that was primarily due to demand for such products as cleaning products, disinfectants and personal protective equipment (PPE).
"When we come out of this lockdown, I don't project or anticipate a V-type recovery, so I don't know how prices will correlate to demand levels," Nieves said. "The (dynamic) we're seeing with prices relates to certain commodities and the supply and demand for those commodities. … There wasn't much pricing power to begin with (before the pandemic), so how low can they go? We'll have to see."
Speaking of an index elevated by COVID-19, the Supplier Deliveries Index rose to an all-time high of 78.3 percent. As one of four subindexes — Business Activity, New Orders and Employment are the others — that directly factor into the NMI®, Supplier Deliveries limited the composite index's decrease. And once again, that lofty reading is a result of coronavirus-related supply problems.
This is possibly the strangest U.S. econ chart I've ever drawn. The ISM supplier deliveries index is meant to rise when capacity constraints bite, late in the cycle when demand is strong. Now it's rocketing because the supply chain is just... closed. Demand is on the floor. pic.twitter.com/dd5i3Io2Ot

— Ian Shepherdson (@IanShepherdson) May 5, 2020
Lastly, a Report On Business® tutorial: While the PMI®, NMI® and their subindexes are not broken down by industry, a wealth of information on individual performance can be gleaned from the (1) Survey Committee respondents' comments and (2) increased/decreased activity reports at the end of each index summary. For April, take two industry sectors — arts, entertainment and recreation; and agriculture, forestry, fishing and hunting — as an example.
Industries reporting an increase or decrease in activity are listed in order. Among the 16 non-manufacturing industries that reported an overall activity decrease in April, arts, entertainment and recreation; and agriculture, forestry, fishing and hunting are the first two listed. Also, both industries had a negative-sentiment comment from a Survey Committee member. So, that's a representative summation of how April went for those industries.
#ISMROB survey respondent in arts, entertainment and recreation: "The #coronavirus/#COVID19 pandemic has forced our business to close as of March 17. We do not have a reopening date yet; our purchasing activity has been greatly reduced." https://t.co/wcx88A8Wf9 #economy

— Institute for Supply Management (@ism) May 5, 2020
"Even though we don't identify respondents by name and company, their industries are in the comments," Nieves said. "We know what the impact has been on restaurants. If they are still able to do curbside pickup, they're lucky. Then, there are industries that are more business-to-business, like wholesale trade — a little better, but not much. They've been impacted (by temporary closures), but some can at least distribute things like cleaning products and PPE. The comments and industry reports are the best way to extrapolate that information."
The Report On Business® roundup:
Agence France-Presse: U.S. Services Sector Ends Decade of Growth, Contracts in April: Survey. "After weeks of lockdowns, some states across the U.S. are moving to allow selected businesses to reopen with restrictions, even though the virus has not subsided. But Rubeela Farooqi of High Frequency Economics predicted there was no quick bounce back in store for the services sector due to disrupted supply chains and slowed demand. 'An end of shutdowns is a positive, but ongoing virus containment practices will keep activity subdued in the near term,' she said in an analysis."
U.S. Service sector reflects recession that started in March. Like the ISM Man, it implies the U.S. economy has yet to bottom out despite a very modest reopening around the economy. Notice the employment sub index at 30, biz activity at 26 & new orders at 32.9. pic.twitter.com/ySMbIdo94w

— Joseph Brusuelas (@joebrusuelas) May 5, 2020
Associated Press: U.S. Services Sector Falls Into Contraction, First in a Decade. "The U.S. service sector plunged into contraction territory for the first time in a decade last month as the pandemic forced shutdowns and layoffs nationwide. In April, all major categories fell sharply with the business activity index dropping to 26, the lowest reading on record, while the new orders index fell to 32.9 and the employment index dropped to 30."
Bloomberg: Demand, Jobs in U.S. Service Industries Collapsed in April. "The industries in ISM's report represent about 90 percent of the economy. With similar plunges recorded in ISM's manufacturing gauges released last week, the figures underscore an economy shrinking at a pace without modern precedent. The group's gauge of services employment dropped by 17 points to 30 ahead of government figures due Friday that are forecast to show more than 20 million job losses last month."
April ISM services index came in at 41.8 just now. That's the lowest since April 2009, but slightly better than estimate of 40. Not much market reaction, other than for earlier gains to hold/extend slightly $SPX $INDU

— Mike Larson (@RealMikeLarson) May 5, 2020
CNBC: U.S. Services Sector Posts Biggest Contraction Since 2009 as Coronavirus Halts Economic Activity. "April's sharp decline was driven by the lowest amount of business activity in services since ISM debuted the index in 1997. A steep drop in new orders also pushed the index lower. … The coronavirus pandemic led states across the U.S. to implement stay-at-home orders and close down non-essential businesses. This led to a massive wave of layoffs and loss of economic activity."
MarketWatch: Service Side of the U.S. Economy Crashes in April to Recession Levels, ISM Shows. "Service-oriented companies that derive most of their sales in the U.S. had been better shielded from the trade fight with China than American manufacturers, but the coronavirus is a different story. The viral outbreak has already hurt tourism, transportation and travel-related businesses and other sectors might soon feel the ill effects."
Reuters: U.S. Service Sector Activity Contracts in April — ISM. "The economy is reeling from nationwide lockdowns to slow the spread of COVID-19, the respiratory illness caused by the coronavirus. The government reported last week that gross domestic product declined at a 4.8-percent annualized rate in the first quarter, the steepest pace of contraction in output since the fourth quarter of 2008."
#ISMROB survey respondent in health care and social assistance: #Coronavirus provided "insight into whether distributor partners were skilled at inventory planning and movement. I believe that health-care #supplychain … will change dramatically." https://t.co/IOyx4ss6CR #economy

— Dan Zeiger (@ZeigerDan) May 5, 2020
The Wall Street Journal: U.S. Services Businesses See Biggest Drop in Activity Since Last Recession. "The oil exploration sector continued to suffer from a record low in prices. Dairy farmers reported dumping milk as supply chain disruptions sent prices down 29 percent, while slaughterhouse shutdowns left farmers unable to sell cattle. Respondents from the health-care industry reported 'chaos across the supply chain,' as distributors bungled inventory management and transport."
In case you missed the ROB Roundup on the release of the April Manufacturing ISM® Report On Business®, you can read it here. Also, ISM's Spring 2020 Semiannual Economic Forecast for the manufacturing and non-manufacturing sectors will be released on May 15. For the most up-to-date content on the PMI® and NMI® reports, use #ISMROB on Twitter.