ROB Roundup: September NMI®
October 03, 2019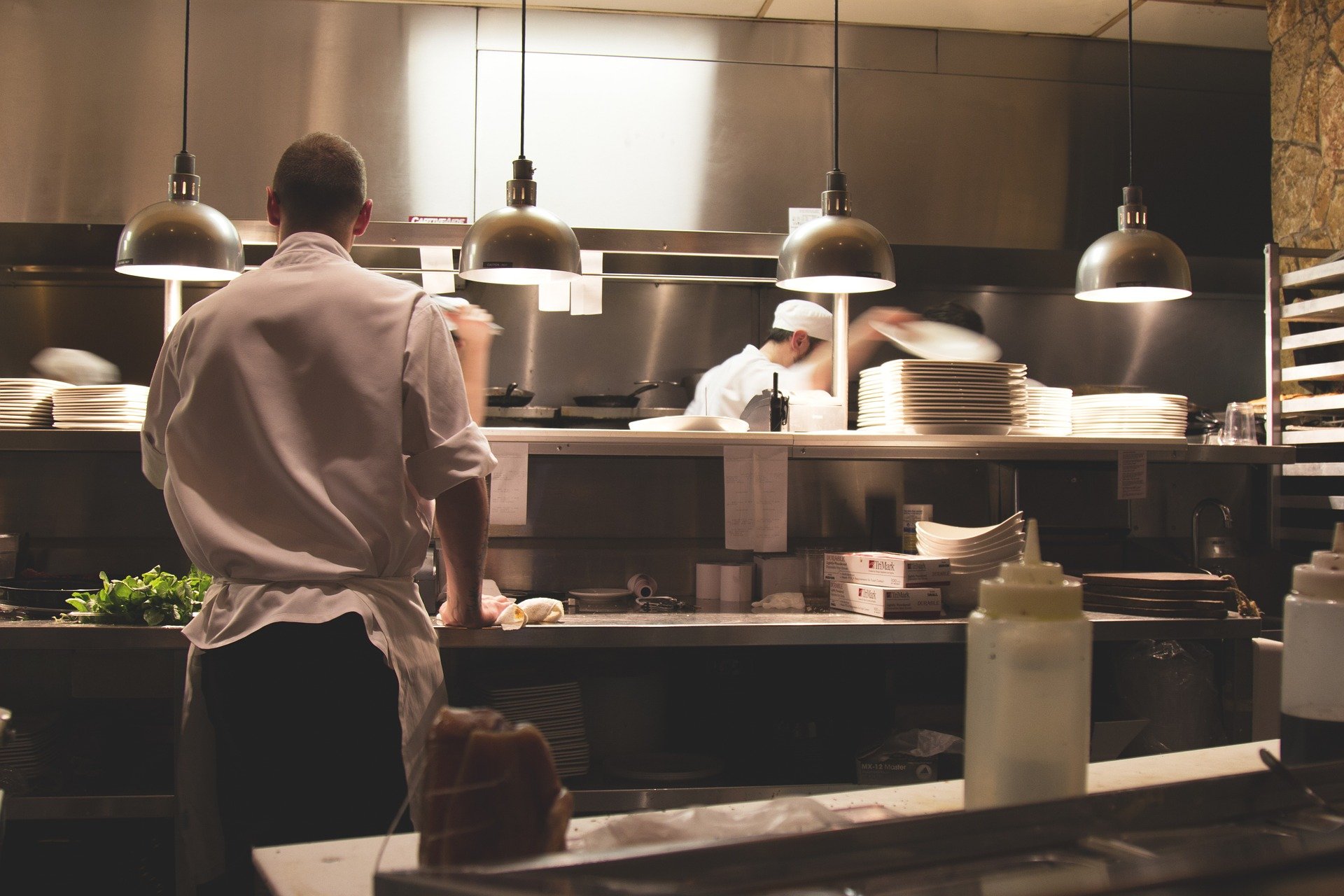 From his regular spot on the floor of the Chicago Board of Trade, CNBC analyst Rick Santelli told viewers just before the Non-Manufacturing ISM® Report On Business® was released on Thursday, "All right, everybody hold your breath."
It was an appropriate setup line. In recent months, the NMI® data provided a ray of reassurance following a worse-than-expected manufacturing report or other sobering economic news. On Thursday, the financial world hoped to be able to exhale after the non-manufacturing numbers were unveiled, but the prevailing sentiment was clear the moment they hit the wire.
"Well, it's a disappointment," Santelli said in immediate reaction to the September composite NMI® of 52.6 percent, a 3.8-percentage point decrease from the previous month and the lowest reading in more than three years. The report provided no respite from fears of a U.S. economic slowdown that were exacerbated by Tuesday's PMI® data, which revealed contraction in the manufacturing sector for the second consecutive month.
Although the Dow Jones Industrial Average rallied on Thursday afternoon, the impact of the ISM manufacturing and non-manufacturing reports on the market was evident.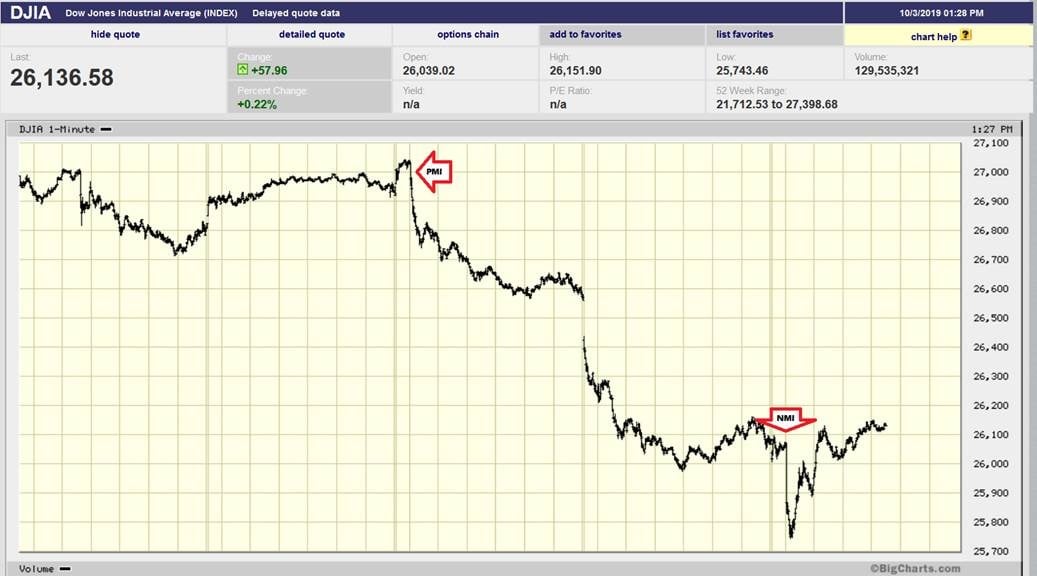 The NMI® continues to indicate services-sector growth, and only one of the 10 subindexes (Imports) is in contraction territory. Anthony Nieves, CPSM, C.P.M., A.P.P., CFPM, Chair of the Institute for Supply Management® Non-Manufacturing Business Survey Committee, says a services sector that is larger (almost 90 percent of the U.S. economy) and more diverse than its manufacturing counterpart is more equipped to weather a slowdown — think of it as a broad stock portfolio, he told reporters during a conference call on Thursday.
#ISM non-manufacturing = very disappointing print. Out at 52.6 vs 55.0 expected. Manufacturing weakness contagion to the service sector. Key employment index is disastrous, falling at 50.4. Expect a big #NFP miss tomorrow. Negative for market sentiment and Q3 GDP growth. pic.twitter.com/61prjUVZJV

— Christopher Nicolas Dembik (@Dembik_Chris) October 3, 2019
However, since many manufacturing materials go through the supply chain and end up as finished goods in the services sector, a factory-activity downturn will eventually be felt by non-manufacturing businesses. "Non-manufacturing (growth direction) tends to lag behind that of the manufacturing sector," Nieves said. "In manufacturing, the fall is when you start to see a rate of growth going into the end of the year, so if there is continued contraction for that sector, it's an indicator of what could happen down the road. The last quarter could be a telltale sign about the direction of the economy."
Though both remined above 50 percent, the Business Activity (down 6.3 percentage points) and New Orders (down 6.6) indexes reversed course after big increases in August. Last month, Nieves indicated those gains were due in part to many public agencies building inventories before the end of their fiscal years on August 31. Such purchases slowed in September. Also, tariffs continue to be an issue: "It seems everything is coupled with the trade uncertainty," Nieves said. "As things get dicey, companies tend to pull back and tighten the purse strings."
Thursday morning's ISM report on service sector activity—what had been the engine for the U.S. economy—shows a slowdown in orders, activity, employment, a decline in imports, and rising prices. Well below consensus expectations pic.twitter.com/Uql3Znrj4J

— Nick Timiraos (@NickTimiraos) October 3, 2019
After a 3.1-percentage point decrease in August, the Employment Index fell 2.7 points in September, to 50.4. That, combined with Wednesday's ADP private-payrolls report indicating that hiring is slowing, has created anxiety heading into Friday's federal jobs report. However, the Employment Index is also a reflection of employment-resource constraints, which Nieves said some Business Survey Committee respondents are facing.
"It's a combination of many things, one of them the labor pool to pull employment from," he said. "We have a low unemployment rate. (Based on) comments from respondents and people I speak to in the recruitment arena, it's tough getting workers to fill some open positions. There has been some pullback by companies … but it's more about the resources, because we have numerous comments expressing trouble about backfilling positions."
.@ism non-manufacturing index fell 3.8 points to 52.6 in September, signaling slowing growth in the service sector. Business activity, new orders, and employment down substantially. Employment index of 50.4 suggests employment hardly growing at all. https://t.co/xBTpTKOeQj pic.twitter.com/6azreAI4xR

— Julia Pollak (@juliaonjobs) October 3, 2019
The Report On Business® roundup:
Associated Press: Drop in U.S. Service Sector Activity Raises Economic Concerns. "Economic growth in recent months has been driven, even more than usual, by consumer spending as businesses have slowed their expansion and investment because of (President Donald) Trump's trade conflicts. But with the administration's tariffs beginning to hit consumer goods from China and Europe, the forces that are hammering manufacturing are threatening to weaken household spending, the U.S. economy's primary fuel."
Bloomberg: U.S. Services Gauge Drops to Three-Year Low as Hiring Slows. "The same forces that continue to hammer away at U.S. manufacturing appear to be gathering a bigger foothold in the service industry, which makes up the majority of the economy and accounts for the biggest share of the labor force. Investors increased bets Thursday that Federal Reserve officials will cut borrowing costs this month for a third straight meeting."
September #ISM non-manufacturing index fell 3.8 points to 52.6 (lowest since August 2016 & well below even most pessimistic forecast in Bloomberg survey); growth in orders/business activity plunged & employment registered weakest print in more than 5y

— Liz Ann Sonders (@LizAnnSonders) October 3, 2019
CNBC: Services Survey Shows Economy is Weaker Than Expected Amid Slowdown Fears. "The report comes amid worries that the U.S. economy faces a potential recession ahead as global growth slows and tariffs have put a dent in business plans to expand. Market anticipation for Fed interest rate cuts also reacted sharply to the report and were fully pricing in another quarter-point move lower at the Federal Open Market Committee meeting October 29-30."
Financial Times: U.S. Services Sector Growth Slips to Three-Year Low in September. "U.S. treasuries soared following the weaker-than-expected ISM reading. The benchmark 10-year note saw its yield tumble 9 basis points to 1.51 percent, indicating a rise in price. The yield on the shorter-dated two-year bill sank as much as 11 basis points to 1.36 percent. Investors are now pricing in at least one more interest rate cut before year-end."
CIBC: The #worrisome trend in #ISM releases continued with the non-manufacturing index falling to 52.6 in September. That's still in expansionary territory, but well off the highs seen in mid-2018, and only slightly above the cycle low hit in 2016. #servicesector #USeconomy

— Cambridge (@Cambridge_FX) October 3, 2019
MarketWatch: Service Side of Economy Grows at Slowest Pace in Three Years, ISM Finds, Adding to Recession Worries. The pair of ISM surveys clearly point to a sharp loss of momentum in the U.S. economy. The trade war with China has hurt manufacturers, farmers and other large exporters while a slowing global economy has added to the malaise. The service side of the economy is much larger than manufacturing, but the weakness in heavy industry appears to be spreading. Wall Street increasingly believes the Federal Reserve will cut interest rates again soon to try to help prop up the economy.
The Street: ISM Services Index Slumps to Three-Year Low, Adding to Manufacturing and Trade Gloom. "The U.S. dollar index, which tracks the greenback against a basket of six global currency peers, slipped 0.3 percent to 98.68 following the ISM release, while benchmark 10-year U.S. Treasury bond yields fell 8 basis points to 1.517 percent."
Several companies responding to the September ISM Non-Manufacturing survey cited the disruptive effect of China tariffs, and uneven demand. But others sounded optimistic about Q4. pic.twitter.com/uekpTfv2rQ
— Patrick Chovanec (@prchovanec) October 3, 2019
The Wall Street Journal: U.S. Service-Sector Activity Slowed in September. "Economists surveyed by The Wall Street Journal expected a 55.3 result for September."
In case you missed Tuesday's ROB Roundup on the release of the Manufacturing ISM® Report On Business®, you can read it here. For the most up-to-date content on the PMI® and NMI® reports, use #ISMROB on Twitter.