Inside Supply Management Magazine
The Monthly Metric: ROB Buying Policy
September 23, 2019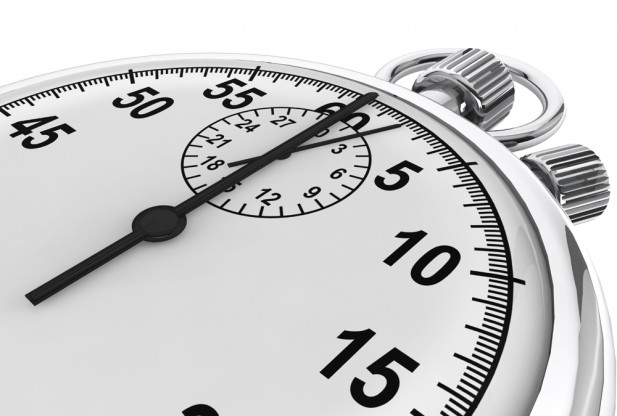 A report that one of the world's leading semiconductor manufacturer's lead time for chips has tripled from two months to six months likely elicited groans, but no surprise, from procurement professionals. After all, computer and electronic components have consistently been in short supply for the last two years, according to the ISM® Report On Business®.
Due to an explosion of products requiring chips, trade uncertainties and other factors, there's "no end in sight" to the shortage of electronic components. That means high demand, price increases and longer lead times, Institute for Supply Management® CEO Thomas W. Derry says. "There has been a very severe shortage for chips," Derry says. "Report On Business® (survey respondents) are saying they can't get transistors, capacitors, resistors (and the like). It's on allocation, and prices are high. Lead times are long since orders go at the back of the queue, and there's six months of backlog to work off. …
"When you see lead times or supplier delivery times lengthening, that means the economy is operating close to capacity and can't keep up with the demand. As lead times start to spike, prices inevitably go up. Sellers have more demand than they can accommodate, so they can charge more for their products."
Such information can be found in the Report On Business®, which has been the focus of The Monthly Metric before. This month, we revisit the highly-respected economic indicator to focus on an often-overlooked section of the manufacturing report: Buying Policy, which details a measurement of vital importance to supply managers — lead time.
Meaning of the Metric
Each month, ISM gauges the strength of the nation's manufacturing and non-manufacturing sectors through surveys of those considered to be on the front lines of the U.S. economy: purchasing managers and supply executives. The Report On Business® data is of great importance to financial markets, but it also provides plenty of useful information for supply management professionals. The reports are released on the first and third business days of the month, followed by the ROB Roundup on Inside Supply Management®'s blog, which details the procurement and financial worlds' reactions to the PMI® and NMI® data, along with insights from the Chairs of ISM's Business Survey Committees.
The PMI® and NMI® subindexes data, commodity reports — the products and services up in price, down in price and in short supply — and Buying Policy lead-times tables can help supply managers spot pricing and supply trends. The information can be used as benchmark data to help a company determine how its performance compares to the rest of its industry.
In the August Manufacturing ISM® Report On Business®, the Buying Policy lead-time table — measuring capital expenditures (machinery, plant equipment, software and the like), production materials and maintenance, repair and operating (MRO) supplies ­— looked like this: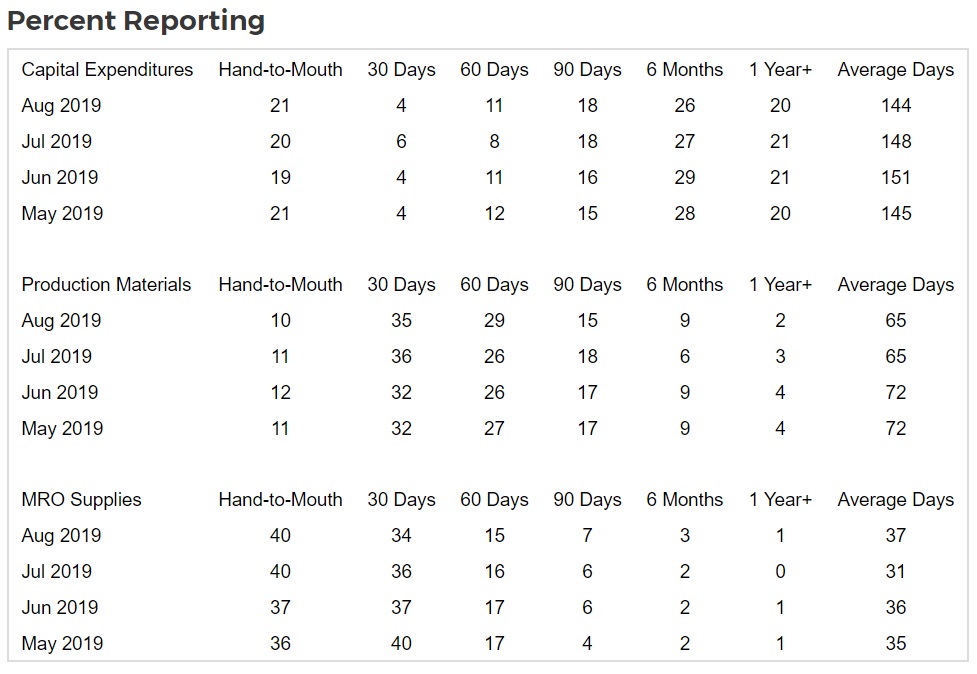 The ISM® Glossary of Key Supply Management Terms defines lead time as "the time that elapses from placement or an order until receipt of an order, including time for order transmittal, processing, preparation and shipping." The July decrease in lead time for production materials, from 72 to 65 days, was the largest such decline since July 2015 — an indication that "demand has ceased expanding," said Timothy R. Fiore, CPSM, C.P.M., Chair of the ISM Manufacturing Business Survey Committee.
Using the Lead-Time Tables
The time it takes for a product to make its way through the value stream is of critical importance to procurement professionals, and The Monthly Metric has covered some of the analytics that serve as a stopwatch, including cycle time (October 2017), on-time delivery (November 2017) and supplier delivery time (July 2019). At the heart of each measure is what supply managers consistently identify as one of their biggest challenges: forecasting demand.
Overestimated demand can result in long supply and excess inventory; underestimated demand increases the risk of a stock out. As Tracey Smith, MBA, MAS, CPSM, president of Numerical Insights LLC, a boutique analytics firm in Charlotte, North Carolina, told The Monthly Metric in December 2018, "You can't forecast the unknown. … There may be a surprise election result. There are normal variations in the economic cycle. There are always various business disruptions that happen. That's why it's always going to be a challenge."
#manufacturing lead time is a good measurement of demand... check out what #PMI report is saying https://t.co/plBIAlxAD8

— Kristina Cahill (@KristinaMCahill) August 1, 2018
The Buying Policy section lead-time tables are valuable benchmarking information, Derry says. If a company is experiencing a lead-time increase, it can determine if the cause is an issue with its supply chain or a sector-wide trend that necessitates ordering earlier.
"If demand is so strong for a product that (a manufacturer) can't produce it fast enough, instead of delivering in four weeks, it takes six weeks," Derry says. "Or maybe full demand can't be met for all customers, so there's allocation across a supply base. A company may want a hundred widgets, but it can get only 60 this week and more a month from now."
Derry continues, "When people are looking at lead-time changes across industries and specifically within their own industry, that's very valuable intelligence that price increases are probably coming, and they need to do something to protect the business."
The next Manufacturing ISM® Report On Business® will be released on October 1; the Non-Manufacturing report is unveiled on October 3. To suggest a metric to be covered in the future, leave a comment on this page or email me at dzeiger@instituteforsupplymanagement.org.