Inside Supply Management Magazine
Strategic Contracts: Addressing Special Requirements
July 22, 2019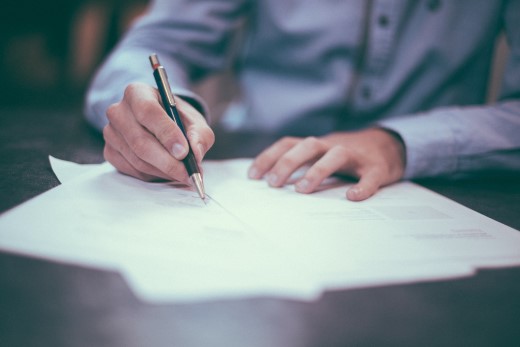 (Editor's Note: Inside Supply Management® Weekly recently published "Implementing a Successful Supplier Sourcing Contract," which highlighted why strategic supplier relationships should use all of the tools in the contracting toolkit. This article is the 10th and last in a series that explores each of the 10 elements that craft successful buyer-supplier contracts, as described in the book The Vested Outsourcing Manual. This article discusses Rule 5, Element 10 — Special Concerns and External Requirements.)
By Kate Vitasek
Following the first four Vested rules helps the parties reach a collaborative, win-win agreement. But keeping the agreement aligned and smoothly operating hinges on Rule 5, which creates a sound governance structure based on insight, not oversight. The main thing to keep in mind is to manage the business and the relationship, not the service provider or supplier.
Four components are essential to a sound governance structure (see below). This article highlights the fourth.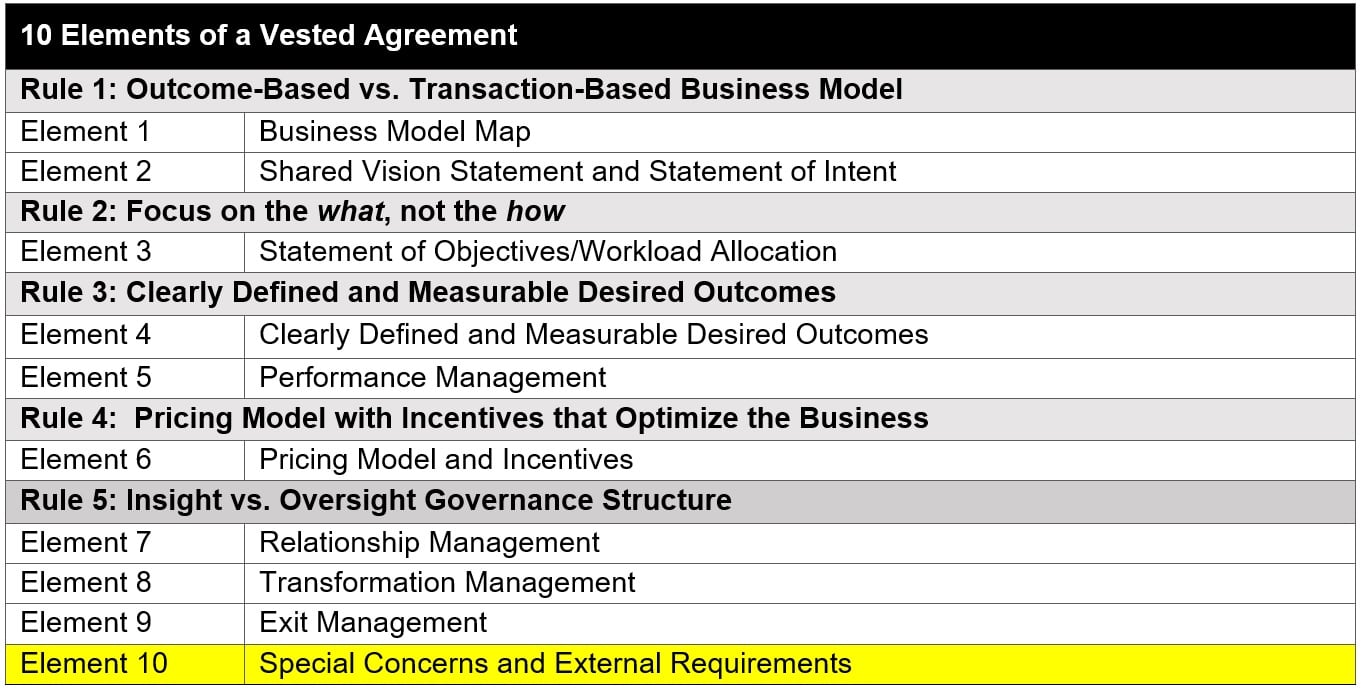 One Size Doesn't Fit All
Every contract is unique, as is each business relationship. No agreement is perfect, and there is no standard, one-size-fits-all governance framework, especially concerning more technical or complex relationships. That's where Element 10 fits as the final major piece of the four implementing steps of Vested's Rule 5.
Element 10 enables parties to address the special requirements unique to their situations and business models, and to include them in their Vested agreement. Think of this as the customized "special-handling" element.
For instance, in information-technology (IT) deals, data-security concerns might necessitate special governance provisions that are vastly different than what would occur in a manufacturing agreement. And a manufacturing agreement would likely address special safety regulations for workers, for example, like the need for Occupational Safety and Health Act (OSHA)-compliance in the U.S. An IT-outsourcing deal in India, however, would skip this requirement.
The basic message of Element 10 is that parties need to pay attention to legislative and regulatory issues unique to their Vested agreement to help it work smoothly over its term. Spend the time at this point to document and bundle these factors into one group, and address the special concerns, considerations and external requirements unique to the agreement. Separate special aspects that require more detailed governance — such as technical specifications, operating manuals and procedures — into individual elements.
A Vested agreement can have more than 10 elements, depending on the special, strategic considerations that arise. The concept is like fine-tuning an engine and putting in just the right amount of gas for the journey.
Common Considerations
A variety of items might be included in Element 10 considerations. Common considerations are:
●Security. How will parties will manage security concerns, including those relating to services delivered at international border-control points?
●Hazardous materials. How will parties manage chemical and hazardous materials regarding special handling, packaging, security and transportation challenges, as well as when local government regulations could become an integral part of the governance framework?
●Intellectual property. Particularly important in a transformational relationship, this consideration covers how the parties handle background, emerging and current intellectual property, ownership and rights of use.
●Special tax issues. International deals may have special tax provisions and laws that require expert guidance.
●Import and export transportation. How do the parties deal with tariffs, as well as insurance and transport modes, with the transfer of goods and services across boundaries?
●Information management. Be aware of special data management considerations, security of data, location of servers and other matters pertinent to information security.
●Law and jurisdiction. Agreements with parties in different countries require careful consideration, as laws and jurisdictions may vary.
●Care of documents. Keep relevant safety records and validated insurance certificates, training records and other documents that detail the parties' capability to deliver the work safely. Propose an annual review, so those picking up the agreement file in the future have everything they need.
●Local labor law. Accommodate special ratios, local hiring and diversity laws that pertain to the hiring of local people at the asset or work level.
●Ethics and compliance issues. Do the parties support causes related to sustainable operations, clean working conditions, environmental safety and compliance? Do they ensure joint social and corporate responsibility?
●Publicity and marketing. Coordinate public-relations activities and promotional marketing messages around the Vested agreement.
●Special safety issues. Most importantly, how will the parties ensure continuous safe and reliable service while complying with regulations and local practices?
Element 10 can entail a wide variety of issues, from simple to complex. These should be clearly vetted and dealt with by the parties from the beginning — and should be included at the master services-agreement and Vested-agreement levels.
Kate Vitasek is an international authority on the Vested business model for highly collaborative relationships. She is the author of six books on the Vested model and a faculty member at the University of Tennessee in Knoxville, Tennessee.