Inside Supply Management Magazine
ROB Roundup: February PMI®
March 01, 2019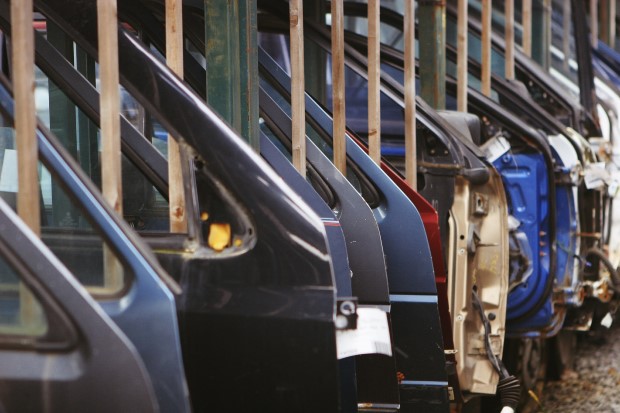 The Manufacturing ISM® Report On Business® was released on Friday, and the composite PMI® of 54.1 percent was below analysts' expectations and represented the slowest growth for U.S. factories since November 2016. In some circles, the PMI® was added to a parade of recent data suggesting that America's economy is losing its luster.
Social-media reaction ranged from one extreme …
Solid ISM manufacturing report today. Commentary was positive and highlights the idea that once trade gets resolved, business will really take off. Electrical components continue to be in short supply and up in prices. Report equates to 3.3% GDP as per ISM. @realDonaldTrump

— Marco Mazzocco, CFA (@MarcoMNYC) March 1, 2019
… to the other.
"Terrible, and probably worse to come." @IanShepherdson on ISM Manufacturing Survey, February #PantheonMacro

— Pantheon Macro (@PantheonMacro) March 1, 2019
As is often said, the truth is probably somewhere in the middle. And that word was used by Timothy R. Fiore, CPSM, C.P.M., Chair of the Institute for Supply Management® Manufacturing Business Survey Committee, to describe the current state of a PMI® that he said "bounced off the ceiling" for much of 2018.
"We expected last month that it would be at this level," Fiore said in a conference call with reporters on Friday. "Getting to 58- or 60-percent level isn't as (likely) today as it was a few months ago. It's kind of a normal range." He added, "I would expect a rebound in March. (The manufacturing sector) should be bouncing around the middle, at least through the third quarter. That's what I'm hopeful for."
February isn't typically a weak month for U.S. factories — but it is, of course, a short one. A Report On Business® seasonality factor accounts for that, but frigid weather that wreaked havoc on factory hours and materials shipments impacted the Production Index, which fell 5.7 percentage points from January. Production is one of the five subindexes that make up the PMI®, and three others (New Orders, Employment and Supplier Deliveries) also declined.
#pmi still healthy at 54.2 percent. Lunar new year, #Brexit, weather and #tariffs all impacting the lower reading @ISM

— Kristina Cahill (@KristinaMCahill) March 1, 2019
Fiore says one of the biggest values of the PMI® is that there's little mystery or confusion. If the composite number is higher or lower than expected, the subindexes quickly reveal why it happened. And a PMI® around 54 percent corresponds to an annualized 3.3-percent increase in U.S. gross domestic product, which is not out of line with the Commerce Department's recent report on 2018 economic growth, nor projections for this year.
Survey Committee members remain concerned about tariffs, though the 22 percent of comments on trade is a far cry from the summer of 2018, when that issue was the subject of as many as half of responses. Manufacturers got a reprieve with the Trump administration's delay of duties on Chinese goods scheduled to take effect on Friday. "I feel better about (the trade situation) than I did a week ago," Fiore said. "Putting the guns away, so to speak, is good. Exports have been historically low for about five months, so maybe they will pick up. A drawing down of trade disputes would help."
US manufacturing has stabilized at a moderate expansion rate, 54.1 in Feb for the ISM index after December's sharp drop and January's recovery. A China trade deal would help brighten the outlook..

— Joseph Trevisani (@JosephTrevisani) March 1, 2019
While the data might have caused indigestion among the economic sector — and stocks retreated slightly in the hours after the PMI® release before bouncing back — comments indicating a positive outlook among Survey Committee members outnumbered negative sentiment by a 3-to-1 margin, Fiore said. The parade of recent shaky economic indicators shouldn't be dismissed, but the U.S. manufacturing sector remains on solid ground.
"The new-order rate is decent; the backlog grew, which is good; and customer inventories are still too low, so demand is a positive and the supply chain is able to respond quicker," Fiore said. "(Manufacturing) is in a good position going into the close of the first quarter and into the prime manufacturing months of March through June."
The Report On Business® roundup:
Advanced Manufacturing: Manufacturing Growth Slips in February, ISM Says. "While growth slowed last month, it was widespread. ISM said 16 of 18 industries surveyed reported economic expansion. Among them were printing, textiles, fabricated metal products, primary metals, miscellaneous manufacturing, transportation equipment and machinery. Only non-metallic mineral products reported economic contraction."
ISM Manufacturing Index for February slipped -2.4 points to 54.2, its lowest level in two years. New orders slipped -2.7 points to 55.5. That said, the index remains in unambiguous expansion territory (>50). pic.twitter.com/mf33PG8NJ4

— Patrick Chovanec (@prchovanec) March 1, 2019
Associated Press: Survey: U.S. Manufacturing Grew at a Slower Pace in February. "U.S. factories appear to have downshifted recently. The Federal Reserve's report on industrial production found that the manufacturing sector had contracted 0.9 percent in January, including a sharp 8.8 percent drop in the output of motor vehicles and parts. The companies surveyed for the ISM index suggested that the U.S. economy is healthy, although concerns exist about the trajectory of the global economy and any lingering impacts from the import taxes imposed by President Donald Trump."
.@ISM® Report On Business® survey respondent in fabricated metal products: "Business so far this year is meeting, but not exceeding, our forecast. We are concerned about indicators showing a slight recession for the second half (of 2019)." https://t.co/AtOuq8N2xR #ISMROB #economy

— Institute for Supply Management (@ism) March 1, 2019
Bloomberg: U.S. Factory Gauge Falls to Two-Year Low as Orders Cool. "The factory gauge, which extended declines from a 14-year high just six months earlier, adds to signals the economy may be poised to lose momentum this year amid slower global growth. It also contrasts with Thursday's report showing strength in business investment helped push fourth-quarter economic growth to a faster-than-expected 2.6-percent pace."
CNBC: ISM Manufacturing Index for February Weaker Than Anticipated. "That's definitely weaker than we were anticipating. … It's the weakest number since … the end of 2016," analyst Rick Santelli said. Among the subindexes, he added, "New Orders also dipped — not good news. (The index was at) 58.2 last (month) and 55.5 now, so a bit soft."
Feb ISM Manufacturing: Both top line sentiment & new orders sub index eased implying slower growth in manufacturing sector through Mid February. Employment sub index also pointed to slower growth in sector hiring. pic.twitter.com/SB8H3UXwBi

— Joseph Brusuelas (@joebrusuelas) March 1, 2019
MarketWatch: Manufacturers Grow at Slowest Pace Since Trump's Election, ISM Finds. "The economy slowed toward the end of 2018 and it may have slowed further still early in the new year, but the U.S. is still growing at a steady pace and the odds of recession are low. The Federal Reserve recently decided to stop raising U.S. interest rates for the time being and the prospects for a tension-easing trade deal with China are rising — a pair of tailwinds that could boost growth in the spring."
The Wall Street Journal: U.S. Factory-Sector Growth Slowed in February. "The softer manufacturing index comes as economists expect growth to cool in the first part of 2019 after a strong 2018. On Friday, Macroeconomic Advisers lowered its estimate of first quarter growth to 1 percent after the Commerce Department reported a sharp slowdown in consumer spending in December. 'The story in the manufacturing sector should sound familiar, as it aligns closely with the broader narrative for the economy in recent months,' said Jim Baird, chief investment officer for Plante Moran Financial Advisors."
The Non-Manufacturing ISM® Report On Business® will be released on Tuesday. For the most up-to-date content on the PMI® and NMI® reports, use #ISMROB on Twitter.