Inside Supply Management Magazine
Including Robotics in Your Automation Plans
October 01, 2018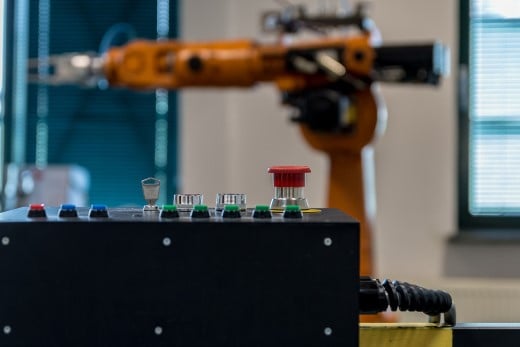 Companies have a lot of options when they decide to automate. Their choices include high-speed shuttles, fast conveyor systems or various forms of dispensing and picking technologies. Robotics is also one of the choices.
"Many solutions include robotics as part of the automation solution because you can achieve so many tasks with a robot — you can pick, you can put, you can palletize, it is now possible to inspect, and you can process manufactured goods," says Aaron Jones, president at Bastian Solutions, a materials-handling and robotics integrator based in Indianapolis. "It's one of the biggest — if not the biggest — parts of automation and the growth that is represented in our industry."
Robotics Adoption
According to a July forecast by the International Data Corporation Worldwide Semiannual Robotics and Drones Spending Guide, global spending on robotics and drones is projected to reach US$201.3 billion in 2022. Robotics will account for about 85 percent of that spend, the report states, and global 2018 sales are expected to be more than $86 billion.
During the first quarter of 2018, a record number of robots — 10,730 robots valued at $507 million — were shipped to North American companies, according to the Robotics Industry Association. That represents a 22-percent growth in units and 3-percent increase in dollar amount when compared to first quarter 2017, the industry trade group reports.
Despite the promising outlook, adoption of new technologies like robotics can be lagging. "Some companies don't want to be the first to experiment with a new technology, but there are those that have a directive to experiment early in order to be successful in the automation/robotics field," Jones says. "I would say most companies are more likely to adopt the technology after it is proven in order to have a higher level of probable success. Once a robotic technology is proven, more times than not, it grows exponentially."
Others want to gain a competitive edge — and being the first to adopt gives them that. "What we've seen is that, in some cases, a technology has gone from a push (to be adopted) to a pull — where the customers are now pulling it because they recognize its competitive advantage and desire to be leaders," Jones says.
New on the Horizon
Technology is ever-evolving, and new solutions are constantly in development. One is a robotic arm that can mix goods in an order.
"This technology will enable not only fulfillment but also storage improvements," Jones says. "The ability to mix SKUs within a storage location is important because it enables strategic put away and planning for prompt order fulfillment." He expects the technology to be popular in e-commerce, particularly among companies that deliver small quantities in a high-speed fashion. "Orders will be more accurate, resulting in fewer returns," he says. "Additionally, there will be improved picking and shipping quality, improved customer satisfaction and improved throughputs."
With e-commerce customers demanding real-time delivery options, technologies like the versatile robotic arm can move companies into the future, Jones says. "We've seen more companies design for future planning, for example, they're asking, 'What needs to be done so I can receive an order and ship within 40 minutes?' That's where it's going: The future is going to be speed and delivery. Automation helps us in both of these critical aspects."