Inside Supply Management Magazine
ISM® 2018 Salary Survey: Average Procurement Compensation Rises
May 18, 2018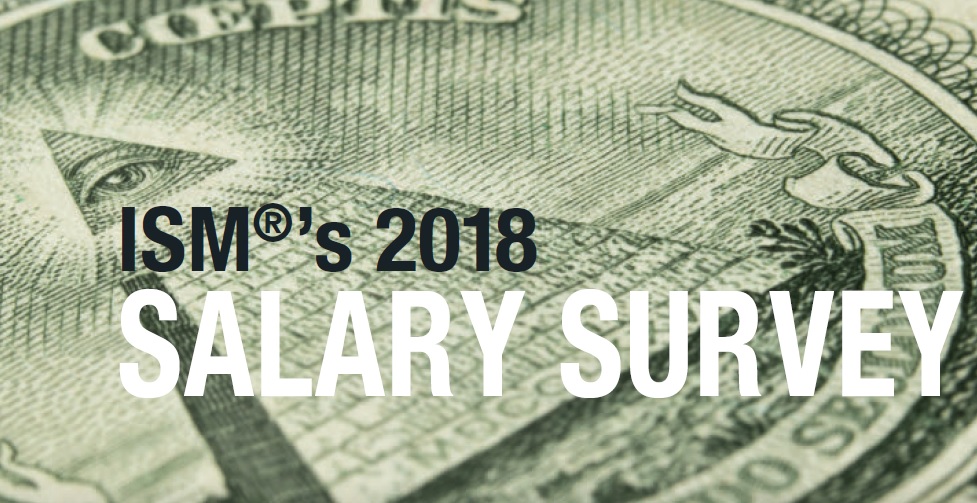 Institute for Supply Management® (ISM®) has published its 2018 Salary Survey.
A sampling of the findings from this year's report:
●In calendar year 2017, the average overall compensation for supply management professionals rose to US$117,425, an increase of 1.7 percent compared to 2016 ($115,440), Survey participants report.
●Looking specifically at salaries, supply management professionals reported their average salary was up 4.1 percent. This compares favorably to the 3-percent increase reported for professionals, generally, in 2017, and is in line with the 3.9-percent average increase for supply management professionals in 2016.
●Wages were the most important consideration when evaluating job opportunities. Asked to rank 14 factors when looking at potential jobs, 85 percent of survey respondents indicated wages paid as most important, followed by job satisfaction (mentioned by 81 percent of respondents). The next five factors were prospect of improved work/life balance (80 percent), benefits package (medical/dental/vision) (79 percent), pension/retirement plan/401(k) or similar plan (78 percent), organizational culture/work environment (75 percent) and work environment (73 percent).
●The average compensation of the top 10 percent of earners was $287,420, down 2.9 percent from $295,887 in 2016. The average base salary of the top 5 percent of earners in 2017 also showed a decline: $368,505, down 4.5 percent from $385,981 in 2016.
Providing data gleaned from nearly 3,000 supply professionals across the U.S., the latest Salary Survey from ISM includes information on an array of compensation specifics and related details, including: Wages; Bonuses and stock options; Additional benefits; Work experience; Education; Certification; Geographic region; and much more.
"The power of the Salary Survey lies in its objective data," says Paul Lee, ISM's Director, Research & Publications, and author of this year's Survey. "For an individual, it provides an effective tool when negotiating a new salary or pay raise. For an HR manager, it can help determine if an organization is offering competitive salaries or underpaying and losing high-quality talent to the competition."
The Salary Survey is available for free to ISM members; nonmembers can purchase the full Survey for $299. For more information, go to the ISM Store at www.instituteforsupplymanagement.org. in the main nav bar, and enter "salary" in the search bar. ISM members can also read a detailed "slice" of the Salary Survey in the May issue of Inside Supply Management magazine.