Inside Supply Management Magazine
Christine Breves Receives 2018 J. Shipman Gold Medal Award
May 11, 2018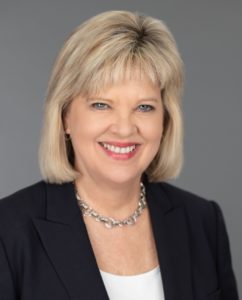 Christine S. Breves, C.P.M., Senior Vice President – Manufacturing Support & Chief Supply Chain Officer at United States Steel Corporation, has been named the 2018 J. Shipman Gold Medal Award winner by Institute for Supply Management® (ISM®). Breves was honored during the 2018 Shipman Award ceremony at ISM2018 in Nashville, Tennessee.
The award, created in 1931, is ISM's most esteemed award and is presented annually to an individual who personally contributes to the advancements of purchasing and supply management, while providing assistance and guidance to other professionals.
Breves has served in a variety of leadership roles in the supply management sector. Her ISM contributions include two terms on the ISM National Board of Directors, multiple years on the Shipman Selection Committee, ISM Conference Committee participation, Richter Scholar mentorship and several speaking appearances at various ISM events. Outside of ISM, Breves has previously served as the chairperson and vice-chairman of the CAPS Research Executive Advisory Board, currently sitting as a board member. She is a past chairperson and current member of the Purchasing Round Table and a contributing author for the book Next Level Supply Management Excellence: Your Straight to the Bottom Line Roadmap, named one of the "10 Greatest Purchasing Books Ever Written" by SupplyChainOpz.com.
Breves has responsibility for execution of U. S. Steel Corporation's global procurement and sourcing strategy, which includes raw materials, indirect materials, services, energy and capital procurement. She also has responsibility for sales and operations planning (S&OP), logistics, and Transtar, the company's short-line railroads. In addition to global supply chain accountabilities, Breves has responsibility for U. S. Steel's asset revitalization program, implementation of reliability centered maintenance in USS, corporate engineering, quality, and process health, global information technology, and business support.
After graduating from the College of Charleston as the top business school graduate, Breves began her career in accounting as a cost accountant for Raybestos Manhattan and then moved to Exxon Chemical and Alumax. She was promoted to a maintenance superintendent role in Alumax, where she was an "internal customer" of the supply chain function, helping her learn the importance of purchasing and material supply management. She was chosen in 1997 to serve as the corporate director of leveraged purchasing at Alumax. In 1998, Alumax was acquired by Alcoa and Breves was made the director of leveraged procurement for the combined organization. She was named vice president of procurement for Alcoa in 2000. She became a pioneer in marketplace technology, participating in the development of an e-marketplace for metals and mining companies called Quadrem. In 2004, Breves was selected to lead the transformation of Alcoa's decentralized procurement groups into one global organization and was named the chief procurement officer. The effort resulted in significant savings for the corporation and tremendously improved procurement capability. She was a founding member of the Alcoa Women's Network.
Breves moved to U. S. Steel in July 2013, as chief procurement officer. There, she led a transformation of U.S. Steel's procurement function, which was an enabler for the company's Carnegie Way Transformation. Breves and her teams have significantly improved U. S. Steel's working capital position. She continues to be an advocate for women, serving as the executive sponsor for the U. S. Steel Women's Network. Additionally, she mentors new supply management professionals in the Richter Scholars program.