Inside Supply Management Magazine
Inside Supply Management's Best of 2017
December 19, 2017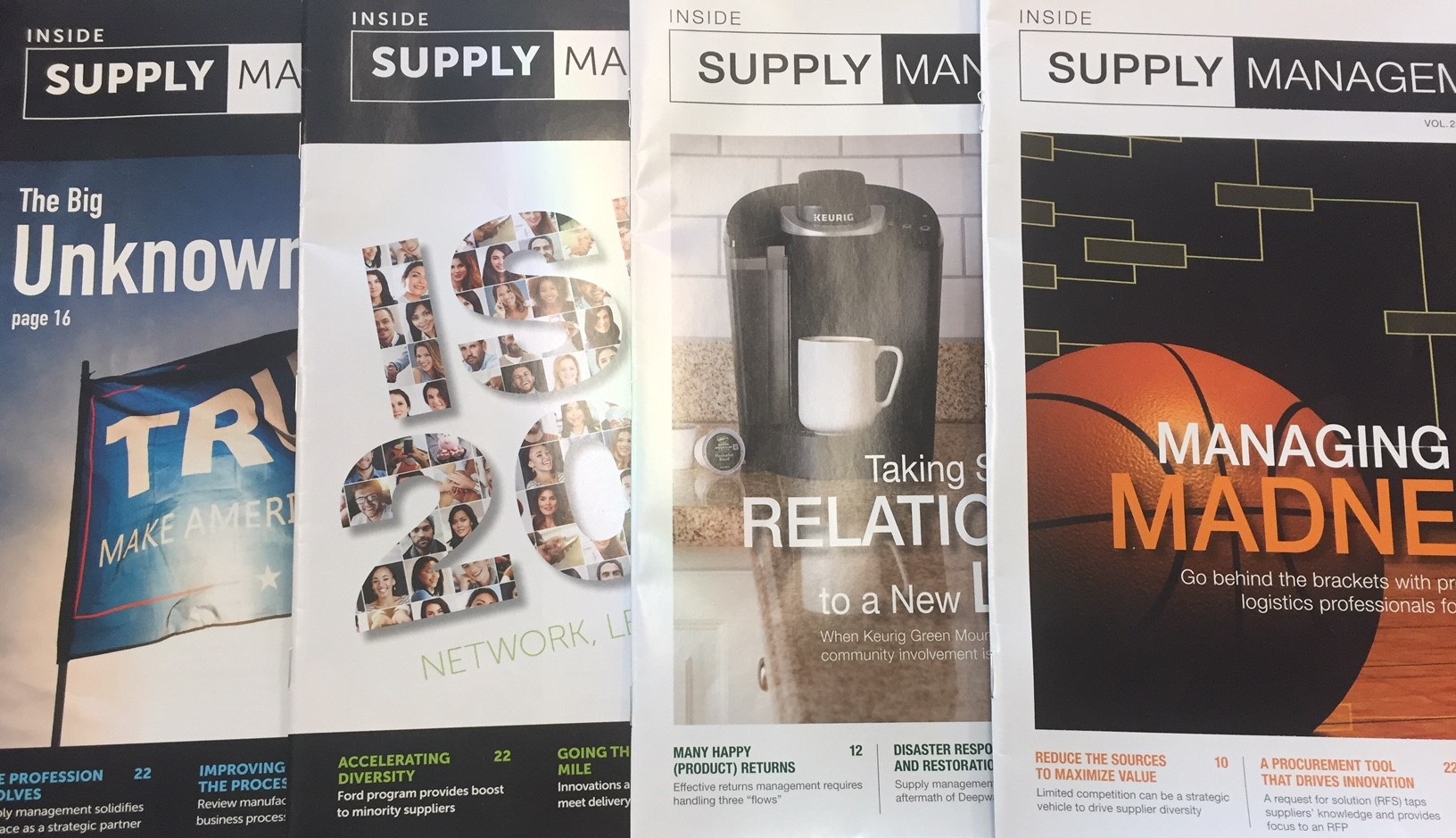 At the end of business on Friday, Institute for Supply Management® (ISM®) begins its end-of-year close. Our office will be empty until January 2.
It's been a year of change for Inside Supply Management®. We debuted a new design with our January/February issue. We said goodbye to two longtime staffers and will welcome our new Publications Manager, Gregory Sharpless, in January.
Through that change, we've done a lot of work that we're proud of — the best of Inside Supply Management® in 2017. Before departing until 2018, we would like to leave a Christmas bag of goodies for our readers; these stories and blog posts are worth revisiting or discovering in case you missed them:
"Delivering Last-Mile Options," March issue: In an era of high delivery demands from customers, new innovations are helping companies get parcels to their destinations faster.
"The Nuts and Bolts of MRO Spend," April issue: Performing cost analyses and working closely with end users can help companies corral one of the most complex and challenging areas of spend.
"Advancing Artificial Intelligence," August issue: Artificial intelligence will impact supply management like few other technologies, and practitioners need to be prepared to harness its potential.
"Taking Supplier Relationships to a New Level," September issue: Keurig Green Mountain emphasizes one of the company's core values — community involvement — when partnering with suppliers.
"Managing the Madness," October issue: Procurement and logistics professionals for college basketball's Final Four gave Inside Supply Management® an inside look at staging one of the biggest events in sports.
(To find more Inside Supply Management® magazine and digital supplement articles worth checking out, use #ISMMagContentCafe on Twitter.)
On our blog, we introduced The Monthly Metric, which examines advanced analytics supply management practitioners can use. We featured posts that delved into such supply management topics as human-rights issues in technology supply chains; the attributes of the highest-performing procurement teams; how to seize initiative on legal spend; the "procurement" and "purchasing" facets of the profession; and the resiliency test supply chains received from Hurricanes Harvey and Irma. At ISM2017 in May, we had a lot of fun detailing how the Conference was being received on Twitter.
For Inside Supply Management®, this year brought much change, but a constant is our objective to always deliver compelling, useful content, both in print and online. After taking holiday time to relax and enjoy our families, we'll return to the office on January 2 recharged and ready to resume our work.
We wish you all the best this holiday season. See you in 2018.