Inside Supply Management Magazine
The Monthly Metric: Cycle Time
October 31, 2017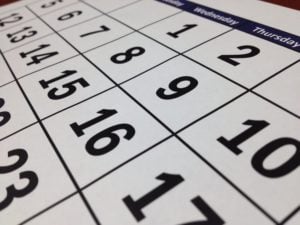 The October installment of The Monthly Metric is designed to provide multiple treats for supply management practitioners. For some of the most valuable metrics are those that can help evaluate other metrics — and by reaching into the candy bowl that is cycle time, one can pull out other advanced-analytic goodies to help raise supply chain efficiency.
Institute for Supply Management®'s ISM® Glossary of Key Supply Management Terms defines cycle time as "the time required to complete a process." The definition of a process can vary — we'll get to that in a moment — but Jim Fleming, CPSM, CPSD, ISM Program Manager, Certification, says that analyzing cycle time can help practitioners evaluate measurements related to supplier-base size, spend and quality.
"There are a lot of interdependencies from a metrics standpoint," Fleming says. "You can analyze your cycle time to see if you need supply-base rationalization. Do I have too many suppliers? Do I have instances where if I shorten cycle time, my costs go up? Thus, (cycle time) fits into your cost data. There's also quality of care. If I speed up the cycle, do I have a trade-off in the quality? If there are certain quality checks that must remain, what can we do to get them a little bit more streamlined?"
Like with other metrics, cycle time's definition (specifically, what constitutes a cycle) can differ among practitioners. Some consider procurement cycle time — generally defined as the time between requisition approval to PO placement — as most critical. Others take more of a lead-time approach, starting the clock at when items are ordered and stopping it when they arrive at the warehouse.
Fleming, a supply chain manager at Intel Corporation from 2007-14, says that in his experience, strategic organizations adopt a more-encompassing definition.
"I've found that companies dig into all the details, not just PO to payment," Fleming says. "They start to understand the complexity of the supply chain and all the variables. They work with the stakeholders, whether they be suppliers or engineers, and together, they figure out if there are things in the supply chain that be changed. ... You need to dig deeper and really understand the whole ecosystem that is the supply chain."
Procurement Cycle Time
A 2014 report by CAPS Research, a Tempe, Arizona-based program jointly sponsored by Arizona State University and Institute for Supply Management® (ISM®), identified benchmarks for average procurement cycle time for direct goods in such industries as aerospace and defense (13.7 days), chemical manufacturing (2.5), engineering and construction (40.5), industrial manufacturing (1.7), petroleum (10.7) and utilities (3.9).
For indirect goods and services, the benchmark procurement cycle time was 10.9 days in aerospace and defense, 1.4 in chemical manufacturing, 6.9 in financial services, 1.5 in industrial manufacturing, 19.6 in petroleum and 5.9 in utilities. (The report is available after creation of a free CAPS Research account.)
In some industries, the procurement phase can take up more than half of the beginning-to-end cycle time. Fleming says a common fallacy is that procurement is quick or simple, and that engaging stakeholders and suppliers can help combat impatience and get an entire supply chain on the same page.
"When you look at procurement, it's about finding the sourcing and getting a good sourcing plan in place, doing the negotiation and getting a contract in place that can withstand any kind of litigation. You also have to take risk management into account," Fleming says. "Sometimes, stakeholders don't see that part of supply management, and they say, 'Why it's taking so long? Can't you just fill out the PO?' "
The U.S. Agency for International Development, a federal organization primarily responsible for administering foreign civilian aid, recommends establishing procurement cycle time guidelines by (1) identifying key transactions and process steps, (2) reviewing a year of procurement data to establish baseline times and (3) using average cycle times as a guideline. Unusually high averages should be identified for performance improvement targeting.
Case studies
Reducing cycle time means reducing non-value-added time, states a seminar session description from the 1996 National Association of Purchasing Management (NAPM, now ISM) Annual Conference in Chicago: "All too often in organizations, less than 5 percent of the total elapsed time performing a process has anything to do with real work. The rest of the time is spent scheduling, waiting, needless repetition, getting lost, getting found, the left hand not knowing what the right hand is doing, and the like. ... By making innovative use of information technology and organizational redesign, business processes can often be re-engineered such that non-value-added activities are eliminated, thereby cost-effectively reducing cycle time."
Procurement practitioners, Fleming says, "have more capability within the system than they probably are aware of" to help improve cycle time. An enterprise resource planning (ERP) system identifies where time is being consumed in the procurement process, and a Pareto analysis can find potential areas of improvement. "Some are areas that might not be an easy reduction or require more resources or funding, but at least you have a snapshot," he says.
Such technology solutions as e-sourcing can also reduce cycle times. Global professional services firm Genpact revamped a technology firm's e-sourcing platform, developing strategies to account for each commodity and geographical region and — perhaps most importantly — getting internal stakeholders on board. The company's level of e-sourcing spend increased from 11 percent to 28 percent, and median purchase cycle time was reduced from 77 days to 69 days.
At Intel, Fleming dealt with a single technology supplier in Europe, a small company that did not accept electronic payments. "We had to pay with a check or cash, and you don't realize in our world of e-commerce how such a situation can strap you and impact cycle time," Fleming says. "This supplier had a key piece of our production line, so we had to get creative." Intel worked with a bank in the supplier's area to provide the payment, and ultimately, it found a second source.
To suggest a metric to be covered in November, leave a comment on this page, email me at dzeiger@instituteforsupplymanagement.org or contact us on Twitter: @ISM_Magazine.
And finally, ISM Seminars' Business Analytics for Procurement Workshop on November 13-14 in Chicago is at capacity. Another workshop, with Fleming as the instructor, is scheduled for June 14-15, 2018 in San Francisco.