Inside Supply Management Magazine
The Monthly Metric: Total Cost of Ownership
August 29, 2017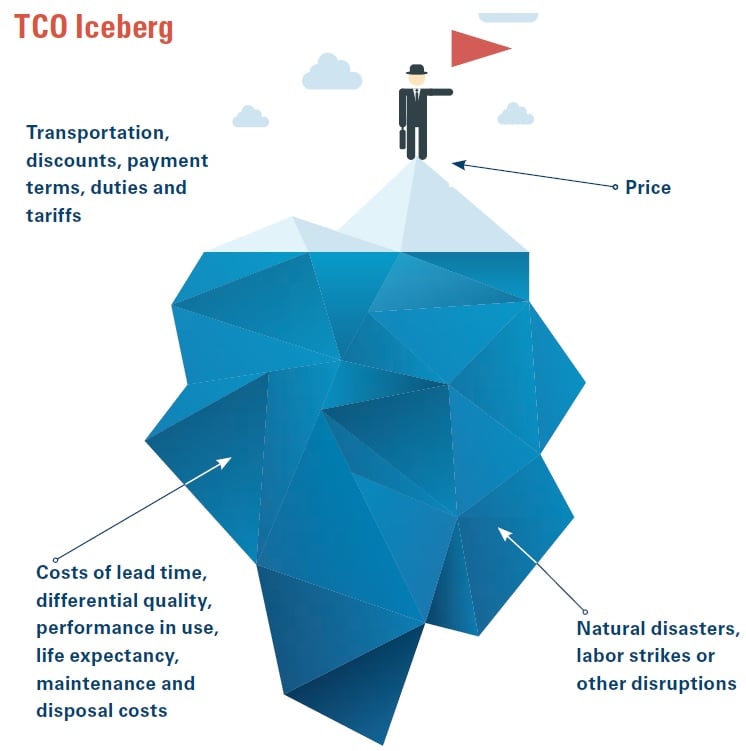 The purpose of The Monthly Metric is to (1) inform supply management practitioners on advanced procurement analytics that can help them do their jobs better and (2) provide a fresh perspective on a metric they are already likely using. This month's edition falls under the latter, as the focus is on total cost of ownership (TCO).
Institute for Supply Management®'s ISM® Glossary of Key Supply Management Terms defines TCO as: "The combination of the purchase or acquisition price of a good or service and additional costs incurred before or after product or service delivery. Costs are often grouped into pre-transaction, transaction or post-transaction costs, or into acquisition price or in-house costs. To use cost of ownership analysis as a cost-reduction tool, it is necessary to identify and analyze the cost drivers to look for any avoidable costs."
Did you catch that last part? To make TCO analysis useful, practitioners must identify and analyze cost drivers. That's not as simple as it sounds, says Jim Barnes, Managing Director of ISM Professional Services. Barnes says that when he conducts workshops in which TCO is the topic, many attendees are surprised at how many moving parts the measurement has.
"Whenever we do a TCO course, it's eye-opening," Barnes says. "With the metric of TCO, people have a hard time getting around what it means, let alone doing something about it. There are factors beyond the supplier price — transportation, inventory, and the fees, customs and tariffs. That's just finding a part and getting it into the product. Within the supply chain itself, there's cost to quality for inspecting, procurement transactions and inventory costs. Wanting a supplier to be more flexible could cost you something. What if a product is not on time? What if it needs to be returned?"
To help workshop attendees get a better grip on TCO, Barnes uses two visual images. We'll discuss those, then report on how TCO factors into a concept that is being increasingly mentioned in engineering and procurement circles — designing for the supply chain.
Putting TCO in Practitioners' Sights
Perhaps the most effective TCO visual is an image of an iceberg, with a man near the tip, holding a flag. The man represents the most obvious cost, supplier price. Above the water's surface are other cost issues — including transportation, inventory and tariffs — that most experienced practitioners should be able to identify. However, most of the iceberg is under the waterline and not visible, and the same is true for TCO factors.
Lisa Ellram, Ph.D., Rees distinguished professor of supply chain management at the Farmer School of Business at Miami University in Oxford, Ohio, describes the below-surface costs in a March 2016 Inside Supply Management® column: "These are things that we intentionally refuse to acknowledge, perhaps because they are too complex — such as costs of lead time, differential quality, performance in use, life expectancy, maintenance and disposal costs. Beneath that, we have probability issues that may be difficult to anticipate — such as the likelihood that one supplier is more subject to natural disasters, labor strikes or other disruptions."
A second effective visual is a TCO "trade-off" triangle, with points labeled, "risk," "cost" and "cash." This graphic emphasizes that if a procurement organization puts too much importance on one area — like cost — the other two can be negatively impacted. Having a product delivered once a month can lower cost, Barnes says, but that cash could go into extra inventory expenses. And the risk of capacity shortages is increased.
Analyzing TCO does not entail uncovering every supply chain element, Barnes says. "You should determine the three or five main drivers of TCO. Do you have a handle on those?" Barnes says. "Don't try to get everything to the last decimal point. Understand what the big drivers are and make sure you're managing those from a cost and purchasing standpoint, then you will drive value."
Designing for the Supply Chain
Barnes says 100 percent accuracy is not realistic when determining TCO, since such elements as currency exchange rates and fuel costs are instable. And not all supply chain fixes or enhancements have an easily-calculable dollar value. However, industries with government contracts — such as aerospace and defense — must be as close to the target as possible. "Understanding costs when working with the military is a must," Barnes says. "You cannot pretend you don't know the cost in your supply chain."
As a result, TCO is one of the drivers behind a growing trend — designing for the supply chain. Under this concept, engineers who previously designed products and services in a vacuum are involving suppliers and procurement practitioners. Barnes says, "Basically, engineers are saying to suppliers: What are we doing that makes it more expensive for you to produce this? What can we do to take those costs out in the design stage of the game?"
Some companies initially overspecify products, intending for suppliers to help streamline them, Barnes says. He adds that designing for the supply chain is being driven primarily by government contractors, but the concept can be just as effective with consumer products.
"You're telling your supplier that you expect to take cost out over time," Barnes says. "Those are strategic relationships with suppliers, when you have a heavy TCO burden, you want supply management people working with engineering to challenge specifications."
We'll wrap up this month's edition with an announcement: ISM will conduct another Business Analytics for Procurement Workshop seminar November 13-14 in Chicago. Lane Burkitt, ISM Director of Global Services, is the instructor.
To suggest a metric to be covered in September, leave a comment on this page, email me at dzeiger@instituteforsupplymanagement.org or contact us on Twitter: @ISM_Magazine.