Inside Supply Management Magazine
#ISM2017: Magic Tweetdom
May 22, 2017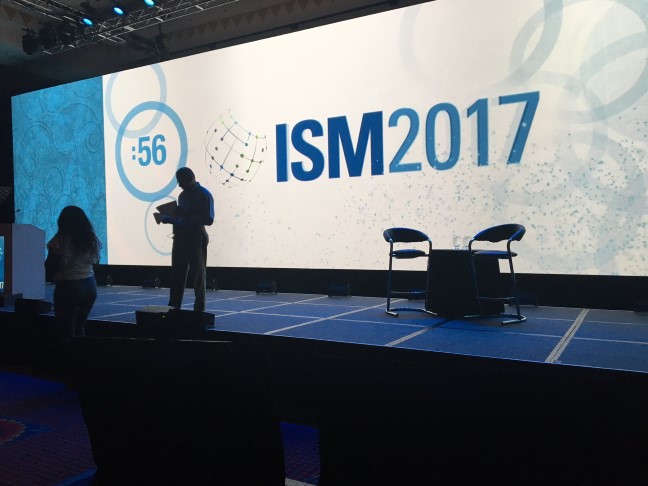 In time, we'll find out if the 2017 edition of ISM®'s Annual International Supply Management Conference is the biggest ever. However, if Monday's Twitter activity is of any indication, ISM2017 at Walt Disney World in Orlando, Florida, is on pace to shatter supply management social-media records.
Inside Supply Management® asked Conference attendees, presenters and exhibitors to make liberal use of the #ISM2017 hashtag, and they delivered. We collected enough tweets to fill three days' worth of entries; however, we'll stick with our favorites and encourage Conference-goers to keep posting. We'll compile and present the best tweets from Tuesday and Wednesday as well.
The Magic Kingdom lifted the lid on ISM2017 in style on Sunday night, during a Welcome Party at Epcot that culminated with fireworks — and featured Disney's multi-colored glowing ice cubes that, I can confirm, are not just for kids.
By all accounts, #ISM2017 is off to a great start. The Welcome Party was clearly the place to be on Sunday night! pic.twitter.com/K1pos5PHC2

— ISM Magazine (@ISM_Magazine) May 22, 2017
Welcome party for #ISM2017 was a blast. Disney, as always, did not disappoint. pic.twitter.com/3hmr6KjtHA

— James Chaney (@Sportsjim81) May 22, 2017
Big crowd for the #ISM2017 kickoff event at #Epcot and who knew this huge hall was hidden behind England? pic.twitter.com/hJFJ72rrQn

— Karen Eboch (@kceboch) May 21, 2017
The event got down to business on Monday, after Institute for Supply Management® CEO Tom Derry and Conference attendees were welcomed by their host — who, one could say, used a comical attempt at logistics to introduce himself to the world.
Mickey at #ISM2017 to welcome over 4000 Supply Management thought leaders! pic.twitter.com/Ot4x1zcfRR

— CapRelo (@caprelo) May 22, 2017
The biggest dignitary on Monday was General Colin L. Powell, USA (Ret.). During his keynote address, Powell (1) discussed the procurement and logistics efforts that helped the U.S. win the Persian Gulf War and (2) shared thoughts on such current international issues as trade and geopolitical turbulence.
Inspiring, humorous and thought-provoking speech by General Colin Powell. What an honor to be in the audience. #ISM2017 pic.twitter.com/y5tHaya1ft

— Amanda Hamilton (@ARennHamilton) May 22, 2017
Colin Powell: I think the US withdrawal from TPP was a mistake because the only country that really benefits is China #ISM2017 pic.twitter.com/Emgu5YlkQF

— Dave Blanchard (@supplychaindave) May 22, 2017
To stay up with #technology, you have to spend money. You have to invest. Those who don't will go out of business. - Powell at #ISM2017.

— Brian Wheeler (@BrianLWheeler) May 22, 2017
Listening to key insights from @GeneralCPowell at #ISM2017. Almost in tears listening to his background & immigration. #inclusion pic.twitter.com/ja7GCeoWBj

— Rainey Alben (@raineyalben) May 22, 2017
The future of procurement took a bow with the 30 Under 30 Rising Supply Chain Stars, a program sponsored by ISM and ThomasNet.com.
Congratulations to the @THOMASNET and @ISM 30 Under 30 Rising #SupplyChainStars at #ISM2017 pic.twitter.com/GnWAgsXsMY

— Brendan OConnell (@BrendanOConnel) May 21, 2017
The breakout sessions offered content to make anyone's Mickey ears perk up.
"What you do is directing impacting the bottom line...tell the story & educate your stakeholders." - Alpar during his session at #ISM2017 pic.twitter.com/vNhxiHdT8f

— WNS - Denali (@WNSDenali) May 22, 2017
Insights were shared at a media round table at #ISM2017. pic.twitter.com/zE20EEjElI

— Institute for Supply Management (@ism) May 22, 2017
"Supply chain is designed to help the bottom line, but who says we can't do more to help our business top line?" @gutweiler_beth #ISM2017

— Shawn Fitzgerald (@sfitzgerald9) May 22, 2017
The CPO perspective on supplier diversity @ColgatePH @Disney @DuPont_News Jeannie Maddox Rick Wersching and Shelley Stewart @ism #ISM2017 pic.twitter.com/carR22JXER

— Marquis Miller (@marquism1) May 22, 2017
Our CPO @JWincel and @missbedeaux engage emerging leaders by facilitating the session Things My Professor Never Taught Me. #ISM2017 @ism pic.twitter.com/wpNT1P9fPr

— ON Semiconductor (@onsemi) May 22, 2017
Main value propositions for managing your strategic suppliers: cost reduction, risk assessment, innovation..#ISM2017 #golupr #procurement pic.twitter.com/Fz1ERdwyrf

— Vered Maor Semel (@VSemel) May 22, 2017
The Exhibit Hall was bustling, and the smiles and sense of humor of good procurement people are always among the best sights at an ISM Annual Conference.
What a great first day at #ISM2017---record-breaking numbers and the largest procurement conference ever! Come see #ADTRAV at booth 318! pic.twitter.com/lLogXpKRrk

— ADTRAV Travel Management (@ADTRAVtravel) May 22, 2017
#ISM2017 #TeamThomas w/ a pre-game huddle. Come see the all new v 3.0 of our @THOMASNET platform. pic.twitter.com/g29NSxYEUC

— Tony Uphoff (@TonyUphoff) May 22, 2017
Stop by #ISM2017 and have @MarkTolandLive read your mind. pic.twitter.com/T49gXnwzZy

— Lauren Patterson (@laurenpat4) May 22, 2017
People are queuing up for some green screen photo #fun. Join us at booth #302 @ #ISM2017 pic.twitter.com/TxZuYsz4LK

— Zycus (@Zycus) May 22, 2017
And finally, here's perhaps the day's best Exhibit Hall experience. We trust this echoes her feelings on the Conference as a whole.
This was way too much fun!! #ISM2017 pic.twitter.com/MmafN8AHDK

— Ashley Marie Sieb (@AshleySieb) May 22, 2017