Inside Supply Management Magazine
Tuesday's ISM2016 Sweet Tweets
May 17, 2016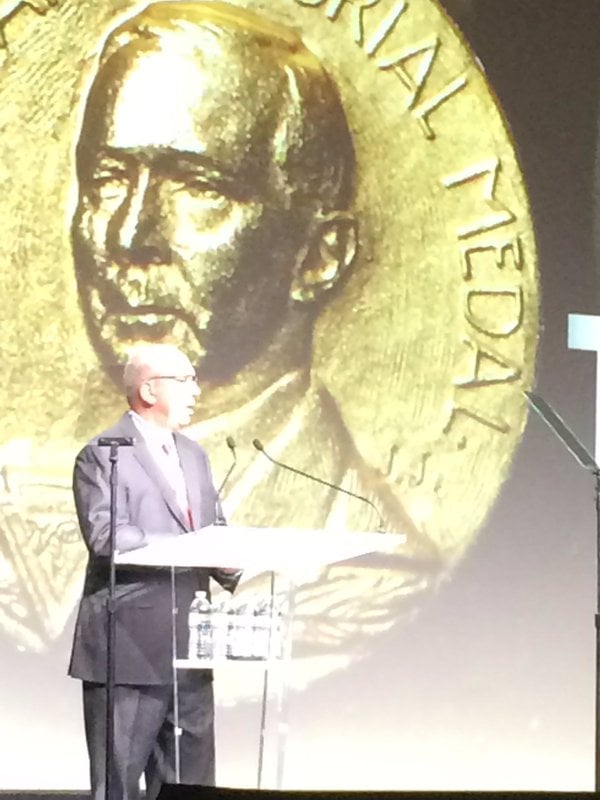 The #ISM2016 hashtag continued getting liberal use during the second full day of ISM's Annual Conference in Indianapolis. Here's a sampling of the experiences that presenters, exhibitors and attendees shared on Twitter.
On Tuesday, the supply management world was Tim Fiore's; everyone else was just conferencing in it. That's the case when the J. Shipman Gold Medal Award is presented, and Fiore, a former senior vice president of supply management and CPO for ThyssenKrupp NA, is this year's recipient of the profession's highest honor.
Congratulations to Tim Fiore, J. Shipman Award recipient, at #ISM2016 & thanks for your support of @CAPSResearch! pic.twitter.com/xeuLXBKZJF

— CAPS Research (@CAPSResearch) May 17, 2016
The Shipman Award wasn't the only hardware distributed on Tuesday; the 30 Under 30 Rising Supply Chain Stars and R. Gene Richter Scholarship Award winners were spotlighted.
"A few 30 under 30 #supplychainstars share insights with media on the future of #supplychain @ThomasNet" pic.twitter.com/M7637PDOMy

— Institute for Supply Management (@ism) May 17, 2016
Congratulations to the 2016 Richter Scholarship Winners by @ism You're starting off in a great profession! https://t.co/ZSiPoncMQc #ism2016

— Andrew Bartolini (@andrewbartolini) May 17, 2016
Best-selling author Susan Cain's keynote stressed that — amid the cacophony of a world that typically talks rather than listens — businesses are wise to tap the quiet power and strength many introverts possess.
Susan Cain - Game changing trend of the decade: The Quiet Revolution. How do you harness the talents of introverts? #ISM2016

— Andrea Stroud (@AJStroud_APQC) May 17, 2016
"In a typical large meeting, 3 people do 70% of the talking." - @susancain #listenmore #ISM2016

— Thomas (@Thomasnet) May 17, 2016
There were more lessons learned during Conference sessions.
James Haile, JWH & Assoc: Trustworthiness is the most important factor in how people or companies evaluate you #ISM2016

— Dave Blanchard (@supplychaindave) May 17, 2016
.@JoeVKnight - this is the best, most relevant and understandable #finance class I've had. I'm an MBA. #beautifuldayforfinance #ISM2016 @ism

— Genevieve Gil (@inkietud) May 17, 2016
Informative and entertaining session from @PatrickHenryInc on Sales Negotiation Tactics for Procurement #ISM2016

— Doug Grubbe (@DougGrubbe) May 17, 2016
You could win some cool toys among the buffet of booths at the Exhibit Hall.
Congrats to Peter, winner of our drone giveaway at #ISM2016. Happy flying! pic.twitter.com/dOKxMINlbE

— BuyerQuest (@BuyerQuest) May 17, 2016
We're giving away an Amazon echo at 7pm tonight. Stop by booth #607 for details. #ISM2016 #procurement pic.twitter.com/pyG4n7p5OD

— CreditRiskMonitor (@CreditRiskMon) May 17, 2016
And finally, with the Indianapolis 500 in two weeks, auto-racing metaphors are appropriate.
Aha moment: I just realized I'm on a current pit stop in my own career. #ISM2016 #mindblown

— SA Procurement (@sa_procurement) May 17, 2016