Inside Supply Management Magazine
Leave a Lasting Imprint: Tips forMoving Up the Corporate Ladder
May 17, 2016

Leadership Fast Track — Learn How These Young Professionals
Have Raced Ahead and Plan to Stay There
ISM2016 session on Monday, May 16
Presenters: Dion Ferrell, vice president, strategic sourcing, Simmons Bedding Company, and Scott Ottenheimer, vice president, QBE North America.
What prevents employees from moving up the corporate ladder? Often it's lack of experience, say the presenters of this session. But experience can be relative.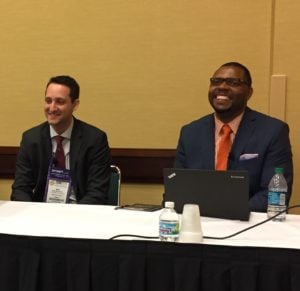 Key takeaways from each presenter:
Ottenheimer's five-step approach for climbing the corporate ladder:
●Innovate. Challenge the norm. Look at things differently. For example, look at the total cost of ownership rather than the price and treat suppliers like they are partners.
●Work harder than everybody else. If your employee is working late, so are you.
●Partner with your team (in addition to the stakeholders). You can learn as much from your team as they will learn from you.
●All of your decisions should be data-driven.
●Be passionate about your job. Be excited about going to the office.
Ferrell's tips:
●Be willing to take action to move ahead. The onus is on you to manage your career. No one else is going to do that.
●Come up with a plan. Change the plan as often as you need to.
●Be prepared. Leaders will ask you how they can help you. Have an answer ready, as 90 percent of those who get asked that don't have an answer. Follow through with the leader.
Key quote: "Being this tall taught me the world is built average," says Ferrell, who is 6 foot, 6 inches tall and admits he loves change. "We can't accept the world as it is around us."
ISM2016 continues through Wednesday, May 18, in Indianapolis.