Inside Supply Management Magazine
March/April 2023
Sustainability
March 08, 2023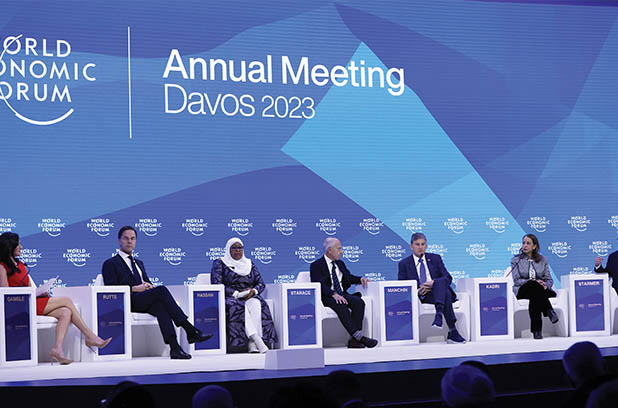 At Davos, Climate Words Are Usually Followed by Waiting
From a sustainability perspective, the annual meeting of the World Economic Forum (WEF) in Davos, Switzerland has a reputation of being more about words than action. And the most recent convening in January appeared to fit that mold, with soundbites from former Vice President Al Gore and climate activist Greta Thunberg generating as much attention as any commitments made by business leaders.
"Companies come together to make large, voluntary commitments," says Tim Mohin, partner and director at Boston Consulting Group, the global management consulting firm. "Often, unfortunately, these commitments are not fulfilled, and no one is held to account. So, it is sort of an accountability crisis, as I've called it, where people are going to start getting fed up with so many unfulfilled promises."
With that critical context, among the climate commitments at Davos:
Nine industrial clusters in the U.S., Europe and Asia have joined a WEF initiative that aims to secure net-zero commitments from 100 clusters by 2050. Industrial clusters account for nearly 20 percent of global carbon dioxide (CO2) emissions; the current 17 signatories pump out a combined 451 metric tons of CO2 annually.
The Global Battery Alliance launched a proof of concept designed to add transparency to electric vehicle battery supply chains. A "passport," or digital twin, would track information on a battery's mineral sources and manufacturing process.

A philanthropic initiative was announced: Called the Giving to Amplify Earth Action, it aims to raise the financing necessary to achieve net-zero emissions and other climate objectives. It will demand serious generosity, as US$3 trillion in public and private funds are needed each year to meet such goals by 2050.
While many companies are leaders in environmental, social and governance (ESG) standards, others will have to be prompted by regulations (page 38). "There's a lot of blah blah blah, a lot of words (on sustainability progress)," Gore said during a session at the WEF. "And there are some meaningful commitments. But we are still failing badly."