Inside Supply Management Magazine
November/December 2022
Celebrating Achievement, Providing Inspiration
November 08, 2022
The inaugural ISM® Supply Chain Trailblazer Awards recognize organizational programs, teams and initiatives that have addressed problems, optimized processes and set examples for the profession.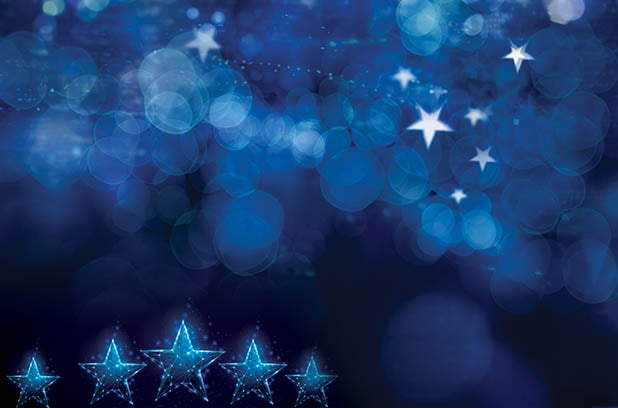 With the profession focused on solutions and strategies to ongoing disruptions and challenges, Institute for Supply Management®'s (ISM®) inaugural Supply Chain Trailblazer Awards are appropriately timed. The awards recognize 17 programs from 15 organizations that have addressed supply chain challenges, exceeded expectations and set new standards.
The Trailblazer Awards are about recognizing companies, but more so about learning from them, ISM CEO Thomas W. Derry says. "ISM is a peer-to-peer community that exists to advance the strategy and practice of supply chain management," he says. "Organizations participate to learn what 'good' or even 'great' is in fflexmanaging a supply chain network."
Derry continues, "What are the best practices today? What will be best practices tomorrow in response to a changing macroeconomic and geopolitical environment? Organizations turn to ISM to point them toward the best and most relevant examples. That's why the Trailblazer Awards are important. It's a venue for discovering best-in-class strategies and methods to address major business issues."
ISM announced the Trailblazer Award winners in a series of LinkedIn Live events in September, with representatives from winning teams providing comments and context about their projects. The events are archived at ISM's LinkedIn page: linkedin.com/company/institute-for-supply-management.
The Trailblazer Award companies will be recognized at the ISM Awards Gala — alongside such dignitaries as the J. Shipman Gold Medal Award winner, the 30 Under 30 Rising Supply Chain Stars and R. Gene Richter Scholars — during the ISM World 2023 Annual Conference, May 7-10 in Grapevine, Texas.
The winners' achievements are detailed here for recognition — as well as direction and inspiration for companies facing similar supply chain challenges today.
DIVERSITY CHAMPION
How an organization has advanced diversity within its company and the profession, and the impact this has made on its talent base and/or supply base/partners.
Charter Communications
Stamford, Connecticut
In 2018, Charter Communications, which had launched a supplier diversity program a year earlier, established a goal to double the company's initial diverse spend percentage within five years. Charter's procurement team initiated a process to identify companywide opportunities for success and engaged stakeholders across the company to take action, resulting in a significant increase in diverse spend in 2021, and a detailed plan for meeting the 2023 goal.
The team identified a number of opportunities to yield additional diverse spend, including the increased use of existing suppliers and identifying and onboarding new diverse suppliers. Through this initiative, Charter exceeded US$1 billion diverse annual spending from 2018 through 2021. The initiative yielded other benefits, as well, including helping Charter build an even more diverse supplier base and increased opportunities for suppliers.
In 2021, Charter's supplier diversity team produced its first economic impact study, which evaluated the extended impact of its prior year diverse spend. The company leveraged study results to educate internal stakeholders on the ripple effect of the dollars spent with suppliers throughout the communities it services across Charter's 41-state operating footprint.
Judge's comment: "Outstanding effort to include leadership and grow supplier diversity."
MGM Resorts International
Las Vegas
As part of an effort to elevate the overall impact of diversity, equity and inclusion (DE&I) initiatives and further infuse supply chain inclusion across the company, MGM Resorts International created a cross-function supplier inclusion task force to identify and remove barriers within processes, policies and supplier engagement.
Efforts included analyzing spend by business unit and identified areas with high spend but low diversity engagement, developing a multiyear roadmap, expanding the geographic reach of the company's supplier diversity mentorship program, and collaborating with sourcing on category strategy and revision of inclusion policies and procedures throughout the bid and contracting process.
In less than a year, the task force exceeded expectations, achieving MGM Resorts International's 2025 percentage goal of at least 10-percent biddable spend to diverse-owned businesses. There have been many achievements, including:
A 45-percent supplier inclusion into major RFP bid opportunities
Decreasing payment terms by 50 percent for all suppliers and 75 percent for diverse suppliers
Developing and implementing a dynamic diversity spend tracker scorecard to determine impacts by leader, region, property and department to measure contribution to company goals
anchor
Tying leaders' supplier diversity goals to compensation.
Judge's comment: "Solid work, high stakeholder involvement, I can see the impact!"
San Jose Water
San Jose, California
San Jose Water wanted to increase its diverse supplier spend, but this was unlikely without new diverse suppliers within its top spend categories.
In a meeting with the company's board of directors, best practice considerations were presented according to two factors: ease and impact of implementation. The board approved numerous measures that could be funded and/or implemented with existing resources. These included tying a formal company supplier diversity KPI to compensation and implementing contract language requiring prime suppliers to subcontract part of contract value to diverse suppliers. Other approved action items included enacting supplier diversity goals for management that are tied to compensation and identifying each major business unit as a "supplier diversity champion."
As a result, the company experienced "a supplier diversity culture shift," characterized by increased communications between the supplier diversity program manager and major business units and discussion of opportunities. Due to this process, San Jose Water developed the idea of approaching its largest, non- diverse supplier to engage in a joint venture, and ultimately "we were able to certify them as diverse," the application stated. The company achieved a 133-percent increase in diverse spend in 2020.
Judge's comment: "Tying results to executive compensation is a powerful motivator and indicates a true commitment."
INNOVATION
How an organization has used innovative practices to create opportunities, accelerate revenue, reduce costs, add value, create a competitive advantage, or solve a pervasive issue.
Flextronics Technologies India Pvt. Ltd.
A division of Flex; San Jose, California
Flex's global business services master data management (MDM) function is an integral part of the company's global procurement and supply chain organization, which is responsible for maintaining key data fields for procuring parts in ERP for 50 production locations. Because this task is manual, time-consuming, and prone to error, the company's innovation team implemented robotic process automation (RPA) bot using software that mimics human clicks done on screen.
The solution — the first step toward digitalization journey — supports three regions, 50 sites and 23 ERP sessions. The bot executes 500,000 transactions per month with a 99.95 percent success rate. Among other benefits, it offers end-to-end process transparency for stakeholders, faster execution, and a savings of five full-time employee positions, which is repurposed to perform more strategic work.
There has been a change in the teams' mindset, from center of work to center of process excellence. The successful MDM bot implementation has served as a proven case study — and other functions like program management, finance and engineering have started RPA bot development to automate processes and improve productivity.
Judge's comment: "Worthwhile project."
GlaxoSmithKline (GSK)
Brentford, England
Within the oncology area, GSK's focus is maximizing patient survival through transformational medicines, and to deliver first-to-market and first-in-class solutions that have the potential to address some of the biggest challenges. The cell and gene therapy area requires specialized skills and experience to rapidly progress the novel technology for personalized medicines, establish new production techniques, address logistical challenges in the supply chain, and identify ways to cost effectively scale-up a very complex scientific process.
In addition to focusing on cost reduction, the team prioritized the patient journey, the purpose being "to save, extend and improve lives." The result was increased patient access to innovative medicines, reduced the amount of time patients wait to receive a potential cure, and reduced cost of goods through negotiations with contract manufacturing organization partners.
"Overall, the impact from these procurement-led initiatives resulted in improved patient access and significant cost reductions, which makes these novel cutting-edge treatments more commercially viable at scale. Procurement has had a measurable impact as a trusted partner working hand in hand with GSK's scientific and manufacturing teams," the application states.
Judge's comment: "Highly innovative shift from cost reduction to 'patient journey.'"
Hilton Supply Management
McLean, Virginia
Hilton's procurement team, Hilton Supply Manage- ment (HSM), developed a bedding solution that (1) enhanced the overall guest experience, (2) supported the company's commitment to sustainable sourcing and (3) could be scaled and customized to reflect each brand's personality.
In collaboration with a textile supplier, brand teams, select properties and third-party quality control groups, HSM launched a new duvet cover that is not only cost-effective, but also more sustainable and allows properties to conserve their water and energy usage.
Judge's comment: "Innovative in driving sustainability, cost reduction, labor cost reduction, design and customer satisfaction."
Vantiva
Paris
Vantiva (formerly known as Technicolor), which partners with service providers to help them embrace complex broadband and video technologies to deliver seamless connectivity and premium entertainment experiences, was faced with inefficient manufacturing of multiple product types that resulted in unnecessary costs.
Use of dedicated, inefficient production lines limited the company's ability to respond swiftly to changes in customer demand of dozens of product types. Some products took too long to get to market. Additionally, high test equipment capital expenditure costs were being inappropriately allocated across product families, impacting the bottom line.
Vantiva applied a Lean Six Sigma approach to discover problem causes, develop solutions, and make changes. The company's manufacturing team "created a smart line solution focused on reducing the complexity of the assembly lines, improving utilization of the lines with enhanced product model flexibility and capacity planning, and developing test stations with quick change interface solutions," the application stated.
The solution has enabled the company to improve product line utilization by 62 percent, reduce capital expenditure by 30 percent and respond more quickly to changes in customer demand, achieving greater market share and reduced costs across all regions and products.
Judge's comment: "That's moving the needle."
WESCO International
Pittsburgh
With COVID-19's unprecedented supply chain disruptions and product shortages making historical lead time data unreliable, on-time delivery became much more challenging. In order to remain best in class, Wesco International needed to validate scheduled delivery dates with suppliers regularly and react to changes as quickly as possible. With the global distributor's massive PO volume making a manual process daunting, Wesco needed an automated solution — and fast.
Wesco's intelligent automation center of excellence designed and implemented a framework to take supplier data, compare it to the open PO list, then identify and upload changes into major ERP systems. To feed that framework, nearly 100 microbots were developed to collect and normalize data from suppliers.
As a result, WESCO was able to set realistic expectations and meet or exceed customer goals for on-time delivery. In rare cases when it couldn't meet the original terms, customers were alerted as soon as suppliers updated the dates, giving customers as much time to react as possible. The entire solution was done using intelligent automation technologies, without adding resources or additional information technology (IT) development, a significant cost avoidance.
Judge's comment: "Impressive use of developer 'bots' to address a range of issues deep in the supply environment.
RISK AND CRISIS MANAGEMENT
How a supply chain organization has managed, mitigated and/or resolved risk issues, disruption, or crises.
Mercury Marine
A division of Brunswick Corporation; Fond du Lac, Wisconsin
The coronavirus pandemic greatly impacted Mercury Marine across all supply chain tiers. Factory shutdowns constrained such supplies as petroleum derivatives, fiberglass, resins and semiconductors. In addition, the company faced labor shortages.
"With this constrained supply chain as a backdrop, the business plan also entailed a significant production capacity expansion … exiting 2022, requiring capital expenditure spending for machinery and buildings," the application stated. "In summary, our challenge was to deliver a materially significant expansion in business in a dynamic and constrained environment across all products, where only the resilient and agile teams can deliver outstanding results meeting business expectations."
To achieve this, Mercury Marine created centers of excellence to drive collaboration, formed internal talent pools to solve problems, and accelerated design while ensuring safe, quality products. Additionally, the company developed a supply chain intelligence module to map supply chain complexity and creating business analytics tools related to supplier performance "to help detect supply risk faster and create input to support rapid decision-making."
Efforts have resulted in a boost in production, growth in market share and partnerships with suppliers.
Judge's comment: "Real innovative thinking applied and excellent supplier relationships."
Zimmer Biomet
Warsaw, Indiana
Last November, Zimmer Biomet learned that, due to a significant supply chain disruption, there was a shortage of a critical adhesive ingredient in a packaging component used in more than 80 percent of the company's products. Without it, substrates would fail, creating possible contamination issues.
The packaging supplier was forced to suddenly switch to an alternate adhesive ingredient supplier. Zimmer Biomet set up a cross-functional internal team to ensure, including through rigorous performance equivalency testing, that the supplier change did not adversely impact the adhesive's performance. "In addition, we were able to conclude that there is no impact to sterilization, bio-burden, bio-compatibility, sealer validations, design verification or aging studies," the application said. Zimmer Biomet's critical supplier now sources this ingredient from multiple suppliers in two locales to ensure business continuity.
While these types of changes could take more than a year, a thorough comprehensive evaluation process that ensured a quality product was completed in only three months. Lessons learned from this experience, including the need to increase dual sourcing at the raw material level, have been built into further Zimmer Biomet risk-reduction processes.
Judge's comment: "Comprehensive and successful."
SUSTAINABILITY COMMITMENT
How an organization has demonstrated its commitment to some or all of ISM's 11 Principles of Sustainability and Social Responsibility and/or environmental, social and governance (ESG) standards, the process for doing so and the results that were achieved.
Johnson & Johnson
New Brunswick, New Jersey
With impact as a focus, Johnson & Johnson (J&J) launched its Onward Sustainability program in 2021. The program, which complements the company's supplier sustainability efforts, engages smaller suppliers who have fewer capabilities and resources dedicated to sustainability.
The team was recognized for its supplier sustainability efforts that include Onward, which connects J&J subject matter experts directly with thousands of suppliers through webinars and workshops, as well as provides suppliers the coaching and tools they need to succeed in meeting the company's environmental, social and ethical obligations.
The program covers four areas: (1) supply base sustainability principles, (2) preparing for environmental and social disclosures, (3) human rights and policies and (4) setting up a supplier sustainability program. It has resulted in continuous improvement discussions and enables J&J suppliers to create their own supplier sustainability engagements, thus promoting sustainability awareness among suppliers of all sizes.
More than 1,200 attendees from 45 countries have attended 2021-22 webinars, exceeding engagement expectations. "The Onward program creates community with our suppliers so we can have that personal touch with what Johnson & Johnson's expectations are of them, ultimately reducing risk and increasing our reputation as a partner in the sustainability space," the application stated.
Judge's comment: "(A)ligning (training) with purpose, strategy, tools and a global supply chain reach is hard to do. Well done and important new platform with suppliers for the future."
Loadsmith
Denver
An environmental waste lawsuit settlement agreement required Santa Barbara County, California to export recyclables to developing countries struggling with sourcing raw materials to produce supplies like paper. However, hiring a drayage carrier to haul recyclables to the Ports of Los Angeles and Long Beach, about 140 miles away, would create additional environmental concerns, including the impact of emissions generated by diesel semitrailer trucks on communities along the route.
Partnering with recyclables post-production exporter, Berg Mill Supply USA, Loadsmith, a capacity-as-a-service logistics platform, sourced a fleet of near-zero-emission compressed natural gas (CNG) drayage trucks to haul out the recyclables. Each truck, which had been paid for by county environmental grant funds, was fueled by gas recovered from the landfill, thus creating a sustainable, closed-loop fuel program.
In addition, the solution also resulted in increased capacity at the landfill until the county could build a state-of-the-art sustainable waste management facility at a new site. It also reduced environmental impact near the landfill as well as to communities along the route.
"The program has not only met the requirements of the lawsuit settlement but also changed the county's waste management function to a more proactive, sustainable strategy, improving public perception and relationships with neighboring communities and environmental groups," the application stated.
Judge's comment: "(A) great example of innovative solutions for scalable sustainable problem solving."
THOUGHT LEADERSHIP GAME CHANGERS
How a company has advanced the supply management profession through thought leadership, and the significant impact that has resulted.
GSK
London
GSK is a global company with an internal manufacturing footprint of more than 35 sites and 70 procurement sites. Each procurement team was somewhat siloed, not sharing their best practices or connecting enough across the vast network. Procurement's role on-site was often focused on more tactical issues, versus being considered a true strategic business partner.
To bridge this gap, a Site Procurement Excellence (SPE) initiative was launched focusing on five pillars of success: (1) business partnership and procurement leadership, (2) financial acumen, (3) supplier excellence, (4) culture and pride and (5) proactive risk management and responsible sourcing. Training modules were developed, taking best practices observed across GSK's sites and a coaching approach between team members, encouraging trainers and learners to connect across markets and continents.
The SPE Playbook has propagated hundreds of ideas and become a reference point for stakeholders and new joiners to clarify and elevate the role of procurement at GSK's sites. This framework helped its supply chain weather a turbulent 2021 and led to a 70-percent increase in the savings pipeline across directs and sites teams.
Judge's comment: "Outstanding global approach to tapping into the full strength of the global procurement organization to build alignment, culture, and deliver a symphony of positive results, especially needed during the remote/COVID challenges."
TRANSFORMATION
How an organization has transformed its supply management/procurement function and the impact this has created.
ADM
Chicago
Since 2014, ADM's procurement organization has focused a multi-year approach to transformation through the 3Ps: people, process and platform. The company revisited its procurement operating model to build and drive a sustainable category management framework servicing the company's multibillion dollar spend. Efforts included the formation of a center of excellence team to add strategic capability; supplier diversity, inventory and asset management enhancements of existing processes and policies; digital enhancements, including an e-sourcing platform; and professional development.
ADM's global procurement team developed a multifaceted strategy focused on (1) building a culture of innovation, empowering the team and providing ISM certifications and training, (2) reviewing processes to understand gaps and bridge them, (3) building a best-in-class S2P digital enterprise, and (4) repositioning procurement resources to maximize value generation.
Results have included procurement brand recognition within the organization, increased ROI, greater employee retention, business value creation and increased source-to-contract effectiveness. "As the work done by ADM global procurement improved the way we buy, comply and get supply, all ADM colleagues and suppliers were positively impacted by this transformation," Hitesh Rathod, ADM's director source to contract, stated in the application.
Judge's comment: "Excellent multiyear and thought-out approach to transformation."
DC Water
Washington, D.C.
In 1996, the engineering team at DC Water — or the District of Columbia Water and Sewer Authority — began conducting all capital project procurements independent of the procurement office. When CEO David Gadis joined DC Water, its capital program was struggling to meet aging infrastructure, climate change, social equity and regulatory compliance challenges. In 2019, Gadis recognized an opportunity to introduce private sector practices into a public authority by centralizing procurement.
In the past, capital procurement had been considered a tactical function and opportunities for procurement synergy and strategy were often overlooked with technical and schedule requirements taking priority. To change this perception of procurement and to capitalize on the benefits of private industry practices, DC Water pursued category management as the primary supply management approach.
Critical success factors included designing and implementing a new procurement function; building accountability and efficiency through technology; removing departmental silos; overcoming internal-external stakeholder skepticism; increasing diversity, equity and inclusion; and developing a strong change plan and leadership to manage expectations and risks,
As a result, DC Water has improved its early procurement and supplier engagement; creation of strategies, solutions and innovation; strategic sourcing; supply risk management; and collaboration.
Judge's comment: "Amazing transformation story of applying purchasing talent and best practice capabilities into a public authority."
GSK
London
With GSK dividing into two entities — pharmaceutical and consumer health care — in mid-2022, the company conducted a review of the procurement function's operating model. The goal: To right-size each entity while finding efficiencies and opportunities through the operating model change.
"In the development of this new operating model, we wanted to focus on building a truly agile organization, where work is allocated to individuals based on their capability, capacity, and development needs, rather than on their physical working location or current category team," the application stated. "Building flexibility into the organization would allow us to develop a talent-oriented organization that manages the peaks and valleys in workload through data-oriented workload management."
The transformation has resulted in an operational performance that has exceeded expectations, with increased efficiencies, a greater focus on global strategy development by category teams and higher emphasis by local teams on business partnering. The people-oriented value proposition has been the "most exciting achievement" — with results including high employee engagement and low attrition. "By focusing on recruiting brilliant procurement professionals and enabling them with the data and tools needed while stripping back process, we have been able to create the trust and freedom needed to produce a truly agile operating model," the application said.
Judge's comment: "(T)he transformation is well connected on a broader organizational basis under the catalyst of a company split."
Schneider Electric
Rueil-Malmaison, France
Schneider Electric had no single, global organization accountability for indirect procure to pay (P2P) and no standard processes, and many legacy indirect e-procurement tools, the company said in its application statement.
"With a clear P2P program vision authored by procurement, information technology and accounts payable, a massive, global program started two years ago to transform the company's indirect P2P to a global, harmonized standard core model, representing nearly 90 percent of its indirect procurement spend," the statement said.
Business spend management software "was deployed across 68 countries, leveraging agile methodology and robust change management to secure the desired adoption. Catalog volume, compliance and organizational efficiency all increased."
Judge's comment: "This is a large undertaking with measurable progress. I observed that the transformation seems to be 'in progress' with more implementations and adoptions to come."