Inside Supply Management Magazine
March/April 2022
E$G
March 01, 2022
Companies can achieve bottom-line benefits through environmental, social and governance standards, and the ISM World 2022 Annual Conference will focus on helping supply management professionals deliver that value.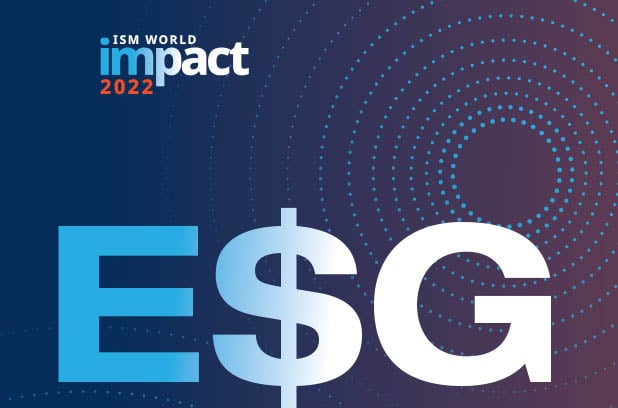 When Tim Mohin started his career in the U.S. government more than 30 years ago, sustainability guidelines would not be commonly known as environmental, social and governance (ESG) standards for at least another decade.
"Industry was fighting environmental groups, and those of us in the government were the referee, so to speak," says Mohin, whose first roles were as an Environmental Protection Agency section chief and a Senate senior committee staffer. "But the paradigm has changed."
In many ways, industry is leading the way on ESG, says Mohin, chief sustainability officer for Persefoni AI, a Tempe, Arizona-based climate management and accounting platform. These days, however, it's supply management professionals who are under increasing pressure to achieve their companies' ESG objectives.
As a result, ESG will be a major focus of ISM World 2022, Institute for Supply Management®'s (ISM®) 106th Annual Conference on May 22-25 at Rosen Shingle Creek resort in Orlando, Florida; Mohin is a keynote speaker.
Supply management is the function picking up all of that compliance responsibility," ISM CEO Thomas W. Derry says. "Whether it's fair labor conditions and treatment of employees, the materials we use and their impact on the environment, supplier diversity and who we do business with, and other issues involving sustainability, increasingly the CPO and chief supply chain officer are at the center of it."
He continues, "It's no longer a mindset of just getting the right products on time and as cheaply as possible. There are new sets of responsibilities, and that will be discussed a lot at our Conference."
For the first time in three years, the ISM Annual Conference will be held on-site. The 2020 event in Boston was canceled due to the coronavirus pandemic; last year's Conference, originally slated for Denver, was all-virtual. Though ISM World 2022 is a hybrid event — online participation includes live general sessions and breakout sessions available on demand (see box on page 25) — Derry says the current issues and challenges supply managers face are best addressed through in-person collaboration, done safely.
"We received a lot of positive feedback from our virtual Conference last year," Derry says, "but we also heard that it wasn't the same as being together. We learn best through interpersonal exchange. The problems that supply management professionals face are so complex and global, nobody can solve them alone. You have to build a network of people you trust. That happens organically — and best — when it's in person."
Private Sector Leading the ESG Movement
Few people are more qualified to address Conference attendees on ESG standards than Mohin, who worked on federal environmental policy, held sustainability leadership roles with Apple, Inc. and Intel Corporation, and from 2017-20 was CEO of the Global Reporting Initiative (GRI), the developer of the world's most widely used ESG reporting standards.
During his tenure at Apple, the global technology giant had to confront forced- and bonded-labor abuses in its supply chain, and Mohin founded Apple's Supplier Responsibility Program, which is considered an industry leader in its standards, auditing and transparency. But given the massive scope of its supply chain, the company continues to find violations: In its 2021 supplier responsibility progress report, Apple stated that its suppliers have returned US$32.4 million in "recruitment fees" paid by workers — a form of bonded labor — to almost 37,000 workers since 2008.
Like Apple, many companies have recognized their responsibility to operate more sustainably — and understood the consequences of not doing so. "What started as an environmental movement broadened to other social issues, spreading in scope to the entire value chain," Mohin says. "So, where a single company was once worried about its own sphere control, it now has to be concerned about its sphere of influence. … (ESG) has gone from being a reputational concern to a financial concern for many companies. It has implications not just for the corporate responsibility department. Boards, C-suites and certainly investors are following it very closely."
Around the world, governments have been accused of addressing climate change at a glacial pace. COP26, the United Nations (U.N.) climate change conference held in November in Glasgow, Scotland, left many environmentalists wanting stronger measures regarding climate change.
In September, a U.N. report indicated that countries are collectively failing to meet climate targets set by the 2015 Paris Agreement. This could lead, the report stated, to a projected 16-percent increase in greenhouse gas (GHG) emissions — thus potentially putting the globe on a "catastrophic pathway" to being 2.7 degrees Celsius (nearly 5 degrees Fahrenheit) warmer by the end of the century.
However, Mohin is optimistic, and he will share with Conference attendees his ESG optimism, which is fueled by the private sector and investors picking up the pace. More a third of Fortune 500 companies have net-zero (a balance between the GHG amounts emissions produced and taken out of the atmosphere) emissions or other climate targets, and investments in ESG-focused market funds and climate technologies soared in 2021
to set records.
"Previous upswings in environmental technologies and sustainability in general were met by another downturn, but this time feels different," Mohin says. "The entire investment community has discovered the value of tracking and monitoring ESG performance. All of this capital flowing through the global economy is aligning with not all, but some sustainability issues. While governments may be moving at a plodding pace, sometimes frustratingly so, there's unprecedented movement in the private sector."
Companies Have Human-Rights Responsibilities
Governmental sluggishness on sustainability measures has a notable exception: The United Kingdom, Japan and Singapore are among countries that have that mandated companies include ESG reporting in their financial statements, and a similar rule is being discussed by European Union policymakers and the U.S. Securities and Exchange Commission.
Also, one of the more positive developments at COP26 was the formation of the International Sustainability Standards Board to develop a global baseline of ESG standards, not only for integration with financial reporting, but also for investors' information needs.
"Sustainability reports won't cut it anymore," Mohin says. "ESG information will have to be integrated (into financial reports) and audited, meaning the CEO will have to sign off on them and be liable if they're incorrect. This ups the ante considerably."
Such disclosure requirements — and legislation like the Uyghur Forced Labor Prevention Act (see story on page 34) — put the onus on companies to show that they are meeting sustainability and human-rights responsibilities. And they will help separate companies that are serious about ESG from those just paying it lip service.
Mohin understands the daunting task of developing and maintaining visibility into a global, multitier supply chain; he lived it at Apple and other companies. But companies have an increasing number of tools, with one of the most powerful being collaboration — with suppliers, and sometimes competitors.
While senior director of corporate responsibility at Advanced Micro Devices (AMD), a position he held from 2009-16, Mohin chaired the Electronic Industry Citizenship Coalition (EICC) that includes AMD and about 90 other companies. One of the EICC's missions was to shut down sourcing of "conflict minerals," those from the trade that supports unrest and such human-rights abuses in the war-torn Democratic Republic of Congo (DRC).
EICC companies collaborated to find the conflict-material sourcing choke points: smelters and refiners. Through audits, the EICC identified facilities using the materials (tin, tantalum, tungsten and gold) and determined "conflict-free" smelters and refiners.
"When you find something as egregious as the conflict mineral situation, it doesn't matter which part of the supply chain or how deep it is," Mohin says. "You have to go after it and rectify it. Collaboration among competitors can be difficult, but it's necessary if it involves something deep in the supply chain. But we did it and mitigated a major issue."
Sustainability is Smart Business
In recent years, data has shown that consumers, after years of talking about wanting more sustainably-produced and -sourced products, are starting to put their money where their mouths are. This sentiment is especially evident among millennials and Generation Z, consumers groups that are gaining more purchasing power.
"I would love to say it's all based out of altruism," Mohin says of companies' putting greater emphasis on ESG standards, but consumer demands have been a big motivator. An even greater incentive is the bottom line: "There is value associated with ESG. That's the biggest reason it's taken root in 2021 and '22."
Among an abundance of sustainability financial success stories, a report by global management consulting firm McKinsey & Company points out two:
After British consumer goods company Unilever developed a dishwashing liquid and other household products that use less water than those of competitors, sales outpaced category growth by more than 20 percent in several key markets.

American consumer goods and equipment company 3M has saved US$2.2 billion since 1975 through such pollution-reduction efforts as reformulating products, redesigning equipment and manufacturing processes, and recycling or reusing production waste.
More sustainable business can also reduce regulatory pressures and legal fees, improve employee recruitment productivity and retention, and increase investment and asset optimization (in big part through less capital in energy-draining facilities and equipment).
"Not only can you protect workers and the environment, but a company can avoid certain risks, lower costs and create opportunities to be more efficient," Mohin says. "I think that's why Wall Street in particular has determined that (ESG standards) are going to have staying power, because (investors) have seen the correlation to financial results."
As the supply management profession gathers in person and virtually for four days in May, ISM World 2022 aims to help executives and practitioners leverage sustainability value opportunities for their companies. "More than ever before, professionals are dealing with regulatory and consumer pressures as they try to build supply chain resiliency," Derry says. "Having access to smart people to solve problems is critical, and that's the ongoing value of the ISM Annual Conference."