Inside Supply Management Magazine
September / October 2020
The Supply Chain Election
September 15, 2020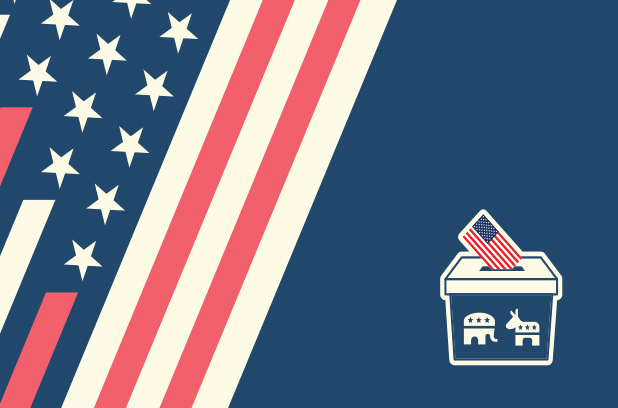 From China to COVID-19, from tariffs to transportation, from education to immigration, issues that matter to procurement professionals are on the ballot in 2020.
Two months after the 2016 U.S. elections, the cover of Inside Supply Management® reflected the uncertainties of many in the profession about the incoming administration's impact on procurement, as well as the overall economy and other issues.
The headline on the cover of the January/February 2017 issue, which hit mailboxes the week of Donald Trump's inauguration as president, was "The Big Unknown." It didn't take long for those supply management presidential-policy blanks to be filled in, as Trump's action on issues (and his inaction on others) have impacted the profession.
The 2020 presidential election between Trump, a Republican, and former vice president Joe Biden, the Democratic Party nominee, as well as the balance of power in Congress and state governments, will be decided on a wide variety of voter criteria. However, it's possible that November's decisions will involve more issues — including trade and tariffs, infrastructure, sustainability and the coronavirus (COVID-19) pandemic — that directly impact supply chains than any U.S. election in a generation.
"You have to go back more than 30 years, to the time when there was so much talk about how Japanese manufacturing was impacting American jobs, to see so many issues that are important to supply managers at the forefront," says Shay Scott, Ph.D., MBA, executive director of the Global Supply Chain Institute at the University of Tennessee in Knoxville, Tennessee, where he is also a faculty member.
Bernard Baumohl, chief global economist at The Economic Outlook Group, a Princeton, New Jersey-based firm, evaluates supply chain election issues from three perspectives: (1) the impact on economic and trade policies, especially regarding companies' decisions to move manufacturing and sourcing operations closer to the U.S., (2) such national-security dynamics as the issue of government intervention to protect supply chains or punish intellectual-property theft and (3) the political environment, especially the candidates' philosophies and approaches to governing and diplomacy.
"Those elements have an impact on business confidence and the supply chain industry," Baumohl says. "For example, both parties are highly critical of China, and with good reason. But the approaches will be radically different — on China as well as other issues critical to supply managers. There's a lot on the line for (the profession) in this election, no doubt."
Constant Conversation on China
As with the last time supply chain issues were so prevalent in U.S. elections, much of the focus is on a Far East country: China, thanks to the trade war, the country's rising labor and production costs, charges of intellectual-property theft and its supply chain dominance in many industries. Also, China is home to more than 80 percent of the world's capacity to process the rare-earth minerals that go into many electronic devices.
Amid the pandemic, discussion about China has moved into overdrive, particularly with shortages of personal protective equipment (PPE) and other medical supplies plaguing America.
"There's no doubt lawmakers were caught off-guard by the extent of U.S. dependence on China as the source of nearly all elements of the medical supply chain — from active pharmaceutical ingredients for drugs to electronic components for medical devices to critical PPE," says Thomas W. Derry, CEO at Institute for Supply Management ® (ISM ® ). "We should expect efforts in the new Congress aimed at revitalizing U.S.-based manufacturing for medical products. Tariffs are still a big issue. And confronting China on trade policy is one of the few areas that has bipartisan support among politicians."
Capitol Hill chatter from both parties has focused on exploring legislation to reduce the dependence on China among supply chains that serve American consumers, particularly in the health-care sector. Meanwhile, economists and academics warn that Beijing's manufacturing and supply chain advantages are deeply entrenched, meaning breaking that dependence is much easier said than done.
"As is the case in most elections, you're hearing a lot of oversimplifications from politicians who don't understand the complexity of supply chains, or who have gotten most of their understanding in the last few months," Scott says. "(Moving operations from China) is not like flipping a switch."
Platforms and Personalities
Other election issues with a connection to the supply management profession include strengthening the U.S. manufacturing sector and addressing the nation's deteriorating infrastructure. Also: education, particularly the vocational/ technical training that has helped power China's supply chain prowess; immigration, as migrant labor impacts workforces in sectors like manufacturing and agriculture; and sustainability, with climate events creating higher levels of operational risk. (See "Biden and Trump on Supply Chain Issues" below.)
From a business standpoint, Scott says, the parties have had their traditional platforms, and voters chose candidates that best aligned with their views. "However, some of those lines have become blurred in this election," he says. "I would advise supply chain professionals to think about each issue and what drives their alignment with candidates, because in some cases, things may not fall in line like they traditionally have."
The election results will impact economists' and companies' forecasts for 2021 and beyond. Baumohl says that such projections will likely account for the candidates' personalities and approaches as much as their positions — particularly with Trump, who would be unconstrained in a second term.
"Trade is a cornerstone of Trump's policy, and he would be expected to throw up more trade barriers and more sand in the supply chain gears," he says. "That's been the reality of how he operates. Biden is likely to be much less belligerent and to pursue a coalition of countries to go against China. So, the differences between the two candidates, in style alone, will impact the levels of tension and uncertainty about the supply chain and international trade."
A Duty as Practitioners and Citizens
For decades, an emphasis on social responsibility has been a pillar for ISM, and an element of that is citizenship. Derry says it's critical for supply management practitioners — as caretakers of the profession and the people it serves — to be active, informed and engaged participants in their democracy.
With the supply chain issues at stake in November, he adds, it's also a part of the job, one with perhaps its greatest level of importance in a generation.
"One of the key responsibilities of a supply management professional is to understand how changes can interrupt, disrupt or even sever established supply chains," Derry says. "Before 2020, most supply risk issues were related to natural disasters, supplier bankruptcies, factory fires and the like. Now, the risks include geopolitical rivalries and economic policies, including tariffs. And the political tension between the world's two largest economies is only increasing."
He continues: "Supply bases will be impacted by changing policies, regardless of the results of the election. It's our job to understand the implications and prepare for change."