Inside Supply Management Magazine
September / October 2020
Talent Acquisition in the 'Next Normal'
September 15, 2020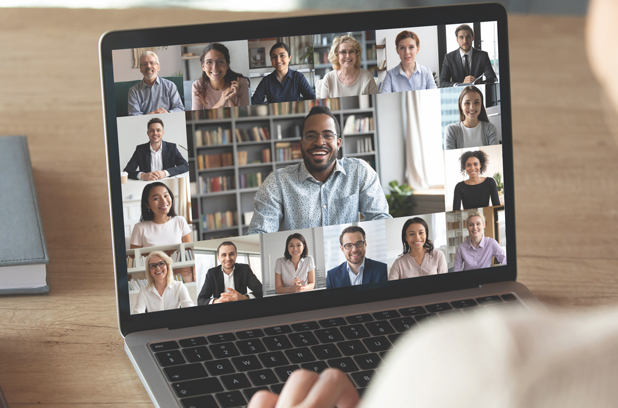 Not many of us would have factored a global pandemic into our 2020 planning strategy. The coronavirus (COVID-19) has shown us how difficult it is to forecast the long-term future with any degree of certainty. But there is one thing we can say for sure — how and where we work are changing.
Whether it's the end of the office as we know it, a 6-foot spacing rule in meetings until 2022 or compulsory face masks in the boardroom, returning to the "normal" we knew just a few months ago might never happen. For right now, most workers continue to stay at home, communicating digitally and picking up on "watercooler moments" via online video platforms like Zoom and Microsoft Teams.
Some people would be happy working forever from their home offices or kitchen tables. Others miss everyday human interaction and the ability to connect and discuss work issues face-to-face. Nevertheless, it looks likely that remote work, for at least some days of the week, is here to stay — and not as a perk, but as a mandate.
Video platforms are handling the extra demand, and many managers and executives are now wholly supportive of — and getting better at — leading their teams from afar. The "next normal" (as termed by management consulting firm McKinsey & Company) will further demand that companies adapt how they engage and recruit top talent, as well as how individuals go about managing their careers.
How to Hire Remotely
How can hiring managers attract and evaluate the best prospects without meeting them in person? It isn't enough to conduct a traditional interview on a videoconference or phone call. Hiring managers must replicate the other benefits of in-office interviews, including leaving candidates with a positive impression of the organization. They must convey the company's "heartbeat" and the diversity and energy of its people — all without the prospective employee stepping foot in the office.
It's important to be sensitive to the fact that videoconferencing interviews may cause some candidates to be out of their comfort zone. It's essential, therefore, to offer help and advice beforehand: You want interviewees to perform well, and company and candidate share the responsibility of creating an interview process that brings the best out of everyone in the meeting.
Also, consider how you can replace the physical experience of the office using technology. This can be a difference maker, especially when candidates are evaluating multiple job offers. For example, pre-interview video office tours can help candidates feel at ease and see the environment you have created, thereby engaging the best talent in a more intimate way.
How to Be a Remote Candidate
Candidates should prepare for interviews just as they would have done before the pandemic. That means being smart, presentable and prepared. Practice beforehand with a family member or friend, rehearsing potential questions and answers. For a video interview, make sure your technology works flawlessly and that your background and interview space are uncluttered. Also, try to avoid potential interruption, but understand that if it happens, don't panic. We're all human. If the interviewer can't get past it, consider whether you would want to work for that person.
Using and reading body language effectively is critical; obvious social cues and behavioral traits will be harder to pick up when not in person. As best as you can, maintain eye contact and a good posture, and be engaging. If you can't drive the conversation confidently during a phone or video interview, the hiring manager will probably question your ability to do so with an internal stakeholder or supplier, whom you'd likely be interacting with using the same technology. Consider that you might need to ask additional questions about the company and your prospective colleagues, since you might not be meeting them in person for a while.
Lastly, be decisive. A virtual interview has limitations, so consider carefully, in advance, what you need to learn about the company, its people, the job opportunity and the career-enhancement potential. Proactively seek that information and, if you're able to check the right boxes and the offer is competitive, accept with the same confidence you ordinarily would.
Personal Branding and Your Career
Candidates also need to think about their personal brand. With face-to-face networking currently unavailable, it's crucial to develop an online presence so recruiters and hiring managers can find you and learn more about you. Think about sharing content — or creating your own — on such sites as LinkedIn (or publications like Inside Supply Management®). Be topical and focus on the functional area and industry you specialize in or want to get involved in.
Nearly every recruitment journey starts with the human resources department or hiring manager investigating your social media presence, and not just on the business-focused platforms. Make sure it is professional and reflects you well. Take part in relevant virtual events and online networking days and compare what you learned with others on LinkedIn or Twitter. Take things up a notch by starting a podcast or doing a video featuring your thoughts on supply management.
Personal Branding for Hiring Managers
There is an adage, "People leave bosses, not companies." People also join bosses. Effective employer branding undoubtedly helps attract potential candidates. But the same is true of those in leadership positions — and I would argue this dynamic is an even bigger factor in where people choose to work.
As hiring managers, you are trying to attract the best talent to your company, not your competition. You are the conduit between the organization and the prospective employee, and often the first person the candidate will have contact with. It's likely that candidates will also look at your social media platforms to (1) observe your personal brand and (2) get a sense of who they might be working with. Consider how you and your organization will stand out when companies resume normal hiring levels. If you're not investing in your external reputation, you may pay the cost.
The pandemic has provided a culture shock to the job market. The way we hire and get hired is evolving quickly. The ability of professionals and employers to adapt to "the next normal" will fundamentally determine their success.